Oct 8 2009 2:29PM GMT

Profile: Ivy Wigmore
When you work from home, no one hears you sneeze.
Which is kind-of too bad, because if I had to be in the office to work right now, I would be home lying on the couch in my PJs. As it is, of course, I'm home slumping on the couch and tippity-tapping away on my laptop keyboard.
So, here I am sniffling, whining, and reading email. And in the MIT Technology Review newsletter, I see a link to Schrodinger's virus.
Here's the scoop, in a nutshell: Science has already demonstrated that single particles can be in multiple locations simultaneously. Now Doctors Ignacio Cirac and Oriol Romero-Isart are looking at demonstrating the same thing with the flu virus, which is a living entity. And if that works, next up is this little guy, a tardigrade arthropod.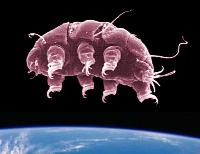 Can cats and editors be far behind?
Some years back, I wrote a bunch of definitions for the site related to quantum theory, including Schrodinger's cat. Fascinating stuff — I was thrilled to get the chance to research an area like that and write about it, if not a little daunted.
I think it was at the point where I first heard of superposition that I reared back from the page, carefully put the book down and leapt up to pace frenetically for an extended time period, occasionally clutching my head and giving it a shake. Pretty much the way you see ubergeeks and mad scientists do in the movies, on the threshold of some great discovery.
Except, in this case, the discovery's been made and demonstrated — we know that superposition actually occurs at the subatomic level, because there are observable effects of interference, in which a single particle is demonstrated to be in multiple locations simultaneously.
All I had to do was grasp the implications. For example, as demonstrated in the double-slit experiment:
"What actually occurs is that each photon not only goes through both slits, but also simultaneously traverses every possible trajectory en route to the target. Research into this phenomenon has demonstrated that other elementary particles, such as electrons, exhibit the same behavior."
So. We're back to single entities being in multiple locations, simultaneously: Photons > molecules > viruses > arthropods > cats > me?
An alternate state of being flu-less right now would be nice — or even taking an actual sick day… can someone show me how to switch between dimensions? I'll be in flannel, watching Mary Tyler Moore reruns before you can say "Oh Lou!"
~ Ivy Wigmore