Sep 19 2007 10:11AM GMT

Profile: Ivy Wigmore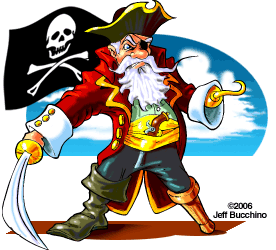 Avast, all ye scurrrrrvy sons o' sea cooks!
I don't usually talk to readers that way — but September 19th be Talk Like a Pirate Day.
Not talking about those folk that plunder the Web for ill-gained software booty. Nay! I'm talking about the power of the Web to spread the news about festive events like this and to provide trinkets for our amusement, such as:
A great assortment of videos from the originators of Talk like a Pirate Day, Cap'n Slappy 'n' Ol' Chumbucket.
A pirate name generator. Rancid Eve Barossa? I'm going to try my luck elsewhere…
Here's a quiz to scientifically determine your pirate name.
(My pirate name is: Black Mary Bonney. There's also a little personality sketch to go with your name…
>> Like anyone confronted with the harshness of robbery on the high seas, you can be pessimistic at times. You can be a little bit unpredictable, but a pirate's life is far from full of certainties, so that fits in pretty well. Arr!
Advice for the lovelorn pirate
And English-to-Pirate / Pirate-to-English translators.
Ahoy. Ahem. Arrrrrr. There be lots more treasure where that came from but SOME of us have work to do. Have fun and be safe out there, landlubbers.
And remember, if it's software ye be wantin', buy retail.
~ Black Mary Bonney