---
March 31, 2008 11:58 PM
In 2008, April Fools' Day Jokes are everywhere. Here's a roundup list of some of the best/worst of the lot. Gday, MATE, from Google Australia. Future...
March 31, 2008 9:53 AM
Linking to...
---
March 28, 2008 8:53 AM
John Belmont demonstrates IBM's newest mainframe, the Z10. It has a starting price of about a million dollars. [kml_flashembed movie="http://www.youtube.com/v/LN4J4mClckA" width="425" height="350" wmode="transparent" /] IBM asserts that it represents...
---
March 27, 2008 9:42 AM
Geek Squad's Ish Matos examined the demonstration of wireless charging for iPods and cell phones at the iVolta booth at Macworld 2008. ...
---
---
March 26, 2008 10:46 AM
In the video below, Tmuster demonstrates how to create thousands of false SSIDs by using
---
---
March 24, 2008 6:24 PM

Profile: Ivy Wigmore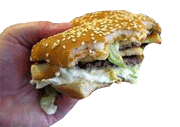 No more free...
---
---
March 19, 2008 3:26 PM
Network security expert Omar Santos presents material from his latest book,
---