---
September 24, 2007 12:41 PM
Ok, I admit it: calculus is now officially a decade in my past. Math, or "maths," as the Brits put it, however, is very much in my present, considering the importance of algorithms to modern life. (For more on that, just review this thread on the
---
September 21, 2007 11:09 AM
Thanks to the terrific, frequently hilarious Geekend over at TechRepublic (I love anyone who can be as unabashedly geeky about scifi and fantasy as
---
September 19, 2007 10:11 AM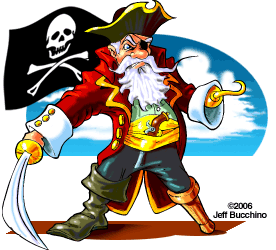 Avast, all ye scurrrrrvy sons o' sea cooks! I don't...
---
September 17, 2007 1:49 PM
One of my favorite discoveries of the past year has definitely been Marc Andreessen's blog. From the moment he first started posting long, chewy, thoughtful discussions of his thoughts on technology,
---
September 14, 2007 11:45 AM

Profile: SarahCortes
I'm sure we all have an old laser printer or two around the house - you know, the one that's sits in the corner unplugged, gathering dust.  One of these days, we'll put it up for sale on eBay or Craigslist.  One of these days.  Well, that printer just might contain technology that can aid in...
---
September 12, 2007 10:21 AM
Birds do it, bees do it... Well, ok -- that wasn't true. Birds and bees aren't getting into wikis and social networking yet but almost everyone else is. Even spies are all over it. Last year the feds launched a wiki for the 16 US intelligence agencies (Did you know there were that many? I didn't.)...
---
September 11, 2007 9:36 AM
This past weekend, many of the world's foremost thinkers gathered at the Singularity Summit within the Palace of Fine Arts in San Francisco. You might ask what the Singularity is, of course, as the focus of all of this heady cogitation? It's the...
---