Jan 6 2011 12:32PM GMT

Profile: Tessa Parmenter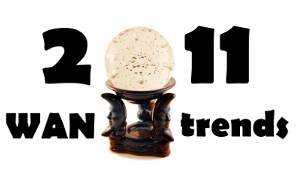 At SearchEnterpriseWAN.com, we looked into our crystal ball to determine the future of WANs for 2011. Our "crystal ball" consisted of three analysts from different firms who announced a few surprising trends in the wide area networking space — the first being that MPLS networks are becoming a luxury.
According to Gartner research director Ted Chamberlin:  "Even as prices for MPLS [networks] have declined, it's flattening out, and some enterprises are finally saying, 'You know what? There are certain remote sites … [where] the premium of MPLS over broadband is not worth it."
This WAN trend comes as a surprise given TechTarget's 2011 IT Priorities Survey of over 2,000 IT decision makers: IT budgets and priorities are returning to health in 2011. According to TechTarget editorial director Mark Schlack, "Life in IT is returning to normal for 42% of IT departments, with 43% recovering slowly from the recession and 15% still stuck in it. That return to normal is reflected in a budget growth of more than 5% in 46% of IT shops."
If IT budgets are returning to normal, why would the dropping price of MPLS not be worth it? Perhaps, as Chamberlin suggests, SSL VPNs are sufficient for enterprises with branch offices that do not require jitter-sensitive traffic like VoIP. However, looking at statistics reported by Nemertes Research last quarter, perhaps Metro Ethernet is the happier Carrier Ethernet alternative to MPLS. (See the Metro Ethernet tutorial for more):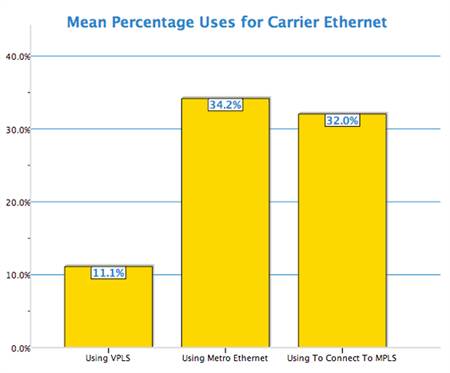 But a flattened growth of MPLS isn't the only WAN trend for 2011. As virtual WAN optimization matures we may see more acquisitions and mergers in the world of networking vendors. According to TRAC Research president Bojan Simic, nearly every vendor added virtual WAN optimization to their product portfolio last year. All that seems to be left for WAN vendors in the now-mature market is to fill out other portfolio holes, like QoS visibility solutions, and wait to be snatched up by IT vendor behemoths.
While mobile WAN optimization adoption is still slow, this does not the reflect the projection of increased teleworkers in 2011 — a third WAN trend for this year. According to Nemertes Research president Johna Till Johnson, 4G and iPads will drive mobile VPN and branch office growth. The recession greatly suppressed the uptick of branch offices and remote workers, but these numbers appear to be returning to a progressive state. Johnson said, "the recession led to zero growth in 2009 and a meager 1% growth in 2010. Branch office growth should rebound to 5% this year and WAN managers must be prepared to support broader remote access."
You can access the full WAN outlook 2011 report from SearchEnterpriseWAN.com reporter Jessica Scarpati below: