Jul 21 2009 4:55PM GMT
One of the most overused clichés in the English language may very well be 'give the shirt off my back', as in I would do anything I can to help you out or lend a hand. This hasn't stopped people from casually throwing it around (like an old shirt), or prevented enterprising companies from bending over backwards (whoops…there's another) to use it as the centerpiece of a marketing campaign.
This is the case with Uplogix, Inc., a Texas-based provider of automated network management solutions that recently launched a promotion campaign that offers a free t-shirt to promote its technology that reportedly extends network management capabilities to the very edge of your wired and wireless architectures. The solution claims to reduce the cost and complexity of managing networks by offering the ability to automate the process of remote management and recovery even when the network is down. The promotion debuted late last month at Cisco Live! in San Francisco (Uplogix is a Cisco partner).
All very well and good and important, but I have to admit I sort of like the striking black t-shirt, which boldly states 'Keep Your Edge' on the front. It could be referring to personality, or maybe one's management skills — although I am sure Uplogix wants to keep its automated network management solution top of mind. The t-shirt is available free from Uplogix to anyone who takes the time to write in and tell the company about their best 'life on the edge' experience.
The company's t-shirt promotion doesn't stop there, however. If you send in your edge-estential story Uplogix will enter your name in a drawing for a Rovio Wi-Fi-enabled mobile Webcam with streaming audio and video. This is a really cool device that can be remotely controlled via computer, cell phone, PDA or game console from anywhere in the world. With it, you can wander through your home or office and use the built-in video camera and microphone to see and hear everything in its path. The device even has an LED headlight for dimly-lit locations, which might very well be the career path of anyone who uses it to spy on people at the office or spends too much time using it during business hours.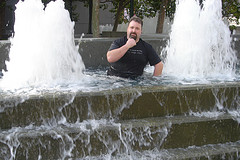 Once you get your t-shirt, the company invites you to upload a photograph of you wearing it in the most unique or clever location. Photos are posted on the company's official t-shirt Web site, although I have to admit many of them look like mug shots from a cable access version of CSI. A number of t-shirt wearing people also seem to be having way too much 100% pre-shrunk cotton fun.
Remember the good old days, when t-shirts were simply given away at trade shows, or maybe shot from one of those cannon devices into an audience? The times, they are a changin', and hopefully the t-shirts once they are worn a little too long.