---
January 31, 2011 9:06 AM
In no particular order, here are five over-arching wide area network (WAN) technology trends for 2011:
Bye-bye address space: According to several IPv4 address depletion counters, the Internet Assigned Numbers Authority will run out of IPv4 addresses tomorrow: February 1, 2011. For enterprise networks, this means you better have a service provider with IPv6 and you better have v6 planned into your budget. You can learn more in this Q&A with IPv6 expert Scott Hogg: Who needs IPv6?
Wider-spread WANs: WAN technology is here to support our more distributed and remote workforce. Nemertes president Johna Till Johnson says 4G and iPads will drive mobile VPN and branch office growth.
Virtual WAN optimization: This WAN technology makes it possible for enterprises to optimize traffic in those hard to reach places, like the cloud (which is another technology trend companies already have or are willing to implement).
WAN op-as-a-service: According to Gartner research director Ted Chamberlin, carriers are going to get better at offering and understanding WAN performance services in 2011 — a long-awaited capability by enterprise customers.
Bigger, faster WANs: Future-proofing is vital to a company's survival. As evidenced by Certes Networks' 10 Gbps variable speed network encryptor, large enterprises with lots of traffic are implementing 10 Gbps. In the words of Charles Kolodgy, IDC security VP, "Though you might not need 10 Gbps right at this moment, there will be a time when you'll need it."
January 27, 2011 10:09 PM
When a vendor stays around long enough for it's market to change, sometimes it's time to close up shop. In other cases, it's time to get a new facelift and identity. This is what Certes Networks, formerly CipherOptics, did to change with the evolving network security market.
In the words of the company: "The name no longer fits the company, nor the markets we serve, so a change was needed."
The fact that I even call it a "network security" market speaks to how the market has converged. Information security and IT networking markets are merging as a result of centralizing data and holding it accountable. Take "network access control" for instance — a term popular up until maybe 2008. It has since been replaced by "data loss prevention" (DLP).
The company began in the optical encryption market, hence the former name "cipher" — a key to a secret — and "optics" (optical). Now that the company has made its mark in network encryption, it only made sense to shed "optics" and replace it with "networks" — a new company strength.
It turns out the name Certes Networks doesn't stray too far from CipherOptics. The company likes to point out that "certes" is an anagram for "secret" — linking back to its roots. "Certes" comes from the word "certain" meaning "true." Certes Networks aims to protect data in a network using network access control, or data loss protection/prevention, I should say — hence, Certes Networks' 10 Gbps variable speed network encryptor announcement.
It should be the aim of every network engineer to understand where data is and how to secure it. Likewise, a security engineer will be hardpressed to secure a network they don't understand.
---
January 13, 2011 11:13 AM
A renewed interest has pumped up the WAN optimization controller (WOC) market according to multiple sources, including Gartner's Magic Quadrant 2010 for WAN optimization controllers. 
Evidence of this can be seen in the increased revenue of most WOC vendors last quarter (Expand, however, was knocked off the magic quadrant for not meeting the revenue threshold). And while many markets are becoming buoyant in the wake of the recession, the WOC market will rise higher due to an increase of teleworkers for 2011 (a topic I covered in my blog post last week, What does the future of the WAN look like for 2011?).
Silver Peak put it this way: "In the past, WAN optimization has been a Band-Aid solution…. Now, WAN mangers are planning to do WAN optimization in their networks from Day 1, because customers know they will be doing shared networks."
Creating shared networks for a distributed workforce is just one of the trends making WOCs a regular component of network infrastructure. While more remote employees are joining the workforce, resources are becoming centralized. In order to increase the speed of data between centralized data centers and remote offices/employees, Robin Gariess of Nemertes Research explains that WAN managers must evaluate WAN optimization tools, in her tip How remote users change WAN connection and bandwidth requirements.
Bandwidth, too, is another reason (and an age old reason) why enterprises will want to walk the way of the WOC. According to Gartner's Magic Quadrant for WAN Optimization Controllers (authored by Severine Real, Andy Rolfe and Joe Skorupa):
People need WOCs to optimize response times of critical apps and to reduce costs, given that bandwidth continues to represent a significant portion of operating expenditure for wide-area data networks…. But the cost of bandwidth isn't the only consideration–matching the allocation of WAN resources to business needs is also important.
Today, a combination of different traffic types and IT architectures have created the difficulties that WOCs can potentially alleviate. Ever hear from your users that response times are too slow? Outside of time-sensitive traffic like VoIP and video, Gartner says even traffic like "email, backups and personal Web access can swamp WAN links."
Gartner also reported that WOCs are now not only able to optimize traffic between every connection (from headquarter to branch offices; headquarter to mobile devices; and between data centers), but that WOCs are changing form: Branch office boxes are evolving under new network needs and virtual WOCs are optimizing branches as well as cloud environments.
WOC vendors are also emphasizing and incorporating security with their products as well as better and more-integrated reporting and monitoring–which are all steps in the right direction. In the words of TRAC Research founder Bojan Simic new WAN optimization solutions need application visibility and control.
When payback is often less than a year (according to Eric Siegel's WAN optimization market update), why wouldn't a large enterprise want to consider a WOC?*
*(OK, you might want to consider a less-serious and asymmetric WAN optimization solution — namely, an application delivery controller. If that's the case, check out The Network Hub's Magic Quadrant for application delivery controllers commentary from Shamus McGillicuddy.)
---
January 6, 2011 12:32 PM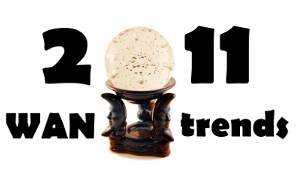 At SearchEnterpriseWAN.com, we looked into our crystal ball to determine the future of WANs for 2011. Our "crystal ball" consisted of three analysts from different firms who announced a few surprising trends in the wide area networking space — the first being that MPLS networks are becoming a luxury.
According to Gartner research director Ted Chamberlin:  "Even as prices for MPLS [networks] have declined, it's flattening out, and some enterprises are finally saying, 'You know what? There are certain remote sites … [where] the premium of MPLS over broadband is not worth it."
This WAN trend comes as a surprise given TechTarget's 2011 IT Priorities Survey of over 2,000 IT decision makers: IT budgets and priorities are returning to health in 2011. According to TechTarget editorial director Mark Schlack, "Life in IT is returning to normal for 42% of IT departments, with 43% recovering slowly from the recession and 15% still stuck in it. That return to normal is reflected in a budget growth of more than 5% in 46% of IT shops."
If IT budgets are returning to normal, why would the dropping price of MPLS not be worth it? Perhaps, as Chamberlin suggests, SSL VPNs are sufficient for enterprises with branch offices that do not require jitter-sensitive traffic like VoIP. However, looking at statistics reported by Nemertes Research last quarter, perhaps Metro Ethernet is the happier Carrier Ethernet alternative to MPLS. (See the Metro Ethernet tutorial for more):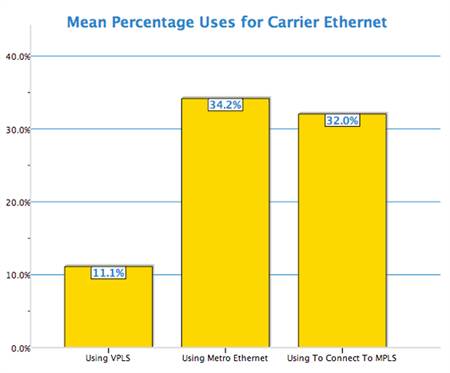 But a flattened growth of MPLS isn't the only WAN trend for 2011. As virtual WAN optimization matures we may see more acquisitions and mergers in the world of networking vendors. According to TRAC Research president Bojan Simic, nearly every vendor added virtual WAN optimization to their product portfolio last year. All that seems to be left for WAN vendors in the now-mature market is to fill out other portfolio holes, like QoS visibility solutions, and wait to be snatched up by IT vendor behemoths.
While mobile WAN optimization adoption is still slow, this does not the reflect the projection of increased teleworkers in 2011 — a third WAN trend for this year. According to Nemertes Research president Johna Till Johnson, 4G and iPads will drive mobile VPN and branch office growth. The recession greatly suppressed the uptick of branch offices and remote workers, but these numbers appear to be returning to a progressive state. Johnson said, "the recession led to zero growth in 2009 and a meager 1% growth in 2010. Branch office growth should rebound to 5% this year and WAN managers must be prepared to support broader remote access."
You can access the full WAN outlook 2011 report from SearchEnterpriseWAN.com reporter Jessica Scarpati below:
---
December 20, 2010 12:30 AM
The technology trend that defined this year in enterprise wide area networking — and, quite frankly, across the board — was cloud computing. That's not to say cloud computing didn't exist before this year — but the ubiquity of everything-as-a-service changed the game for enterprises. The promise of cheaper, flexible and take-only-what-you-need resources gave corporations an offer they couldn't refuse, and wide area network engineers were left to make the magic happen.
On top of being asked to manage cloud services you had no control over, companies told WAN professionals to complete a great deal more: "I want you to make sure our file transfers are secure and compliant," they said. "I want voice and video traffic sent to our most far-flung employees. I want you to make these applications work faster with less bandwidth on a non-existent budget. I also want you to migrate to IPv6 because we soon won't reach our intended customer base. And while you're at it, I want a pony." Sound familiar? Well, you weren't the only one.
While the year of 2010 was marked by a plethora of seemingly-impossible tasks, SearchEnterpriseWAN.com's readers turned to good advice, technical tips, and noteworthy news to help them understand and manage WAN technologies from this year.  Read the best pieces of content that came out of 2010 in our top WAN news articles, our top 10 WAN feature stories, our most popular WAN questions, or revel in our top 10 tips in 2010 on wide area network technology.
Above all else, have a happy holiday and New Year!
---
December 10, 2010 3:46 PM

Profile: Jessica Scarpati
News stories are often a moving target. We sometimes start out with one angle, hit a dead end and swerve in another direction entirely.
Today's story on SearchEnterpriseWAN explores some of the IPv6-specific consulting services that are emerging from telcos and colocation providers' professional services divisions. These services aim to help enterprises with all or part of their IPv6 migration strategies when they can't do it with in-house resources alone.
Obviously, pro services are an optional expense. In fact, the CEO of the American Registry for Internet Numbers (ARIN), John Curran, says in today's story that the "average organization today doesn't need to hire consultants" for the IPv6 migration.
But what about any unavoidable charges or hidden fees from service providers for running IPv6 transition technologies, such as dual-stack? That was actually the first angle I explored after I ran across one IT pro's answer to that question on our ITKE forums.
Denny Cherry, known everywhere in SQL circles simply as "Mr. Denny" (including his blog here at TechTarget), responded that two colocation providers had said they would charge "a setup fee to cover allocating the block to you and [for] the router configuration changes."
After I reached out to Denny, he declined to publicly share the names of the two colocation providers,  but he said they quoted him one-time fees of less than $1,000.
This was pretty surprising to me since I haven't heard of any service provider charging anything to transport or support IPv6 unless someone wanted to setup a new IPv6-only circuit (in which case they've said it wouldn't cost any more than an IPv4 circuit — and rightly so, as IPv6 traffic isn't "premium" by any means).
I asked around with some of the WAN and colocation providers — did they have any one-time or recurring charges for supporting IPv6 or its transition technologies? Any so-called "setup" or router configuration fees?
The official word out of Verizon Business, Global Crossing, Qwest Communications, Hurricane Electric, Cogent Communications, Telx, Savvis Inc — absolutely no fees. Networking and IPv6 guru Ivan Pepelnjak told me he had never heard of those charges, and another IT pro I contacted who colocates with AT&T in New York City had heard nothing of the sort either.
So, how can we explain Mr. Denny's experience? Did he have the misfortune of dealing with some overly eager sales reps trying to ensure they got their bonuses that month? Are IT pros being told by their account managers something completely different from what we hear from official mouthpieces? Is this an isolated incident?  I can't even begin to guess.
For us, it was an idea that fizzled. But obviously for WAN pros, no news is good news in this case. And if your sales reps try to tell you it's going to cost extra to support IPv6, send them the link to this blog.
---
November 24, 2010 6:22 PM
Pretty much every company has to deal with my-connection-is-slow and I-forgot-my-password trouble tickets. But there are ways to diminish VPN-related complaints. Take this case study by SearchEnterpriseWAN.com news writer Jessica Scarpati, for example: Simplifying secure remote access to make SSL VPN transparent to users. At Arizona State University (ASU), the IT department is consolidating the SSL VPN authentication process to simplify remote access to its 70,000 students.
Before the back-end authentication consolidation project, remote users had to connect to the wide area network (WAN) by going through two Web portals (one connected to ASU's Cisco Systems' AnyConnect VPN client and another through Citrix Access Gateway). This confused students and would flood IT with basic questions about logging into the WAN. If end users only had one place to log in, the IT department could reduce the number of helpdesk calls — which cost the university every time a call is made to the outsourced helpdesk center.
"I really hate VPNs," said Robin Manke-Cassidy, enterprise architect and director of emerging technologies at ASU. But they are a necessary evil to protect against the much greater evils that permeate the wicked Web. The least one can do is make SSL VPNs as simple as possible to operate, both internally and externally for users.
---
October 22, 2010 4:52 PM
Site news writer Jessica Scarpati reported recently that latency is the biggest concern among networking professionals considering a virtual desktop infrastructure (VDI) deployment — and well it should  be. Not only are delay and network outages inevitable, they're exacerbated over a wide area network (WAN) connection compared to a local area network (LAN).
According to a survey of 1,197 VMworld 2010 attendees conducted by storage vendor Xiotech and WAN optimization vendor Silver Peak, 55% of respondents said they would deploy VDI outside of a LAN. Of those attendees 22% would do so over private WAN, 27% over virtual private networks (VPNs) and 6% over a third-party or cloud computing infrastructure. That's almost a quarter of networking professionals who are in for a surge of "the network is slow" phone calls after implementing virtual desktop infrastructure over their enterprise wide area network.
Although latency is unavoidable, this doesn't mean that there's nothing you can do to make virtual desktop infrastructure perform better over the WAN or that businesses should forgo the idea altogether. Eugene Alfaro, manager of global IT operations and support at Simpson Manufacturing Company, Inc., has been working with virtual desktop infrastructure over the WAN for several years and has found a way to make users satisfied with VoIP performance. To learn his tips and tricks, read VDI over the WAN: How latency affects virtual desktop performance.
---
September 26, 2010 10:47 PM
Many vendors and analysts alike have agreed on one technology trend that's here to stay: cloud computing. While the hype around cloud computing has been deafening over the last year or so, many industry experts agree that cloud hype has died away (which is not to say that the Gartner cloud hype cycle will die down). Instead, cloud deployments have taken the place of cloud buzz. Verticals that have caught the cloud deployment fever include the healthcare industry (as seen in this Help at Home case study) and the manufacturing industry (as illustrated in this private cloud computing case study from furniture manufacturer MasterBrand Cabinets).
Now that enterprises are seriously considering the cloud computing model, SearchEnterpriseWAN.com thought it time to feature a cloud computing tutorial for WAN managers. While it's one thing to understand what cloud computing is, it's another to understand what cloud means to the wide area network. Will you need to buy more bandwidth to support cloud computing? How do you know which networking tasks can be outsourced to cloud? These questions and more are answered in our comprehensive cloud tutorial. If you have any comments after reading it, send them to Editor@SearchEnterpriseWAN.com.
---
September 14, 2010 9:47 PM
The Nemertes 2010 PilotHouse Awards were announced today to highlight the highest-rated IT vendors in various markets ranging from WAN optimization to cloud carriers. These awards are not cherry-picked by Nemertes Research firm analysts and have absolutely no sway from vendors. Results came from over 2,000 IT executives who partook in the Nemertes' 2010 Communications & Computing Benchmark.
Of the WAN technology markets, several interesting observations came out of the webinar:
Between MPLS and Ethernet, Ethernet scores consistently higher than MPLS in terms of reliability and technology.
WAN optimization has become much more advanced and mature. Presenter Irwin Lazar said, "We've seen this technology explode in terms of technology."
Despite cloud security concerns around compliance, Security-as-a-Service (SaaS) was the highest rated of any other technology.
Of all the categories scored, carriers received the lowest scores for customer service.
Down to specific WAN technologies, here were the results for the Nemertes 2010 PilotHouse Awards:
WAN optimization: Blue Coat Systems won in the market leader category (anyone considered to have a high amount of customers, shipments and revenue), while F5 won in the market challenger category (a less-established vendor in the market space). Riverbed fell off about 13% compared to last year, while Blue Coat improved 4%. Cisco actually improved its WAN technology but stayed flat in value. WAN vendors overall went up across the board and have improved in every area.
The top 5 vendor scores broke down as follows for the Nemertes 2010 PilotHouse Award WAN optimization category (5=excellent; 1=unacceptable):
| | | | | |
| --- | --- | --- | --- | --- |
| WAN Optimization Vendors | Technology Rating | Customer Service | Best Value for the Technology | Averaged Ratings |
| Blue Coat | 4.14 | 3.95 | 3.89 | 3.99 |
| Riverbed | 4.15 | 3.99 | 3.77 | 3.97 |
| Cisco | 4.02 | 3.90 | 3.81 | 3.90 |
| F5 | 3.87 | 3.80 | 3.80 | 3.82 |
| Citrix | 3.85 | 3.83 | 3.76 | 3.81 |
MPLS technology: The top 5 vendors in the Nemertes 2010 PilotHouse Award MPLS category were these:
| | | | | |
| --- | --- | --- | --- | --- |
| MPLS Providers | Technology Rating | Customer Service | Best Value for the Technology | Averaged Ratings |
| Sprint | 3.96 | 4.01 | 3.92 | 3.96 |
| Qwest | 3.85 | 4.05 | 3.55 | 3.82 |
| Verizon Business | 3.86 | 3.63 | 3.70 | 3.73 |
| AT&T | 3.85 | 4.05 | 3.55 | 3.82 |
| Global Crossing | 3.23 | 3.15 | 3.31 | 3.23 |
Ethernet technology: The Nemertes 2010 PilotHouse Award top 5 Ethernet providers were rated:
| | | | | |
| --- | --- | --- | --- | --- |
| Ethernet Providers | Technology Rating | Customer Service | Best Value for the Technology | Averaged Ratings |
| Verizon Business | 3.99 | 3.77 | 3.87 | 3.88 |
| Qwest | 3.84 | 3.92 | 3.74 | 3.83 |
| AT&T | 3.95 | 3.71 | 3.71 | 3.79 |
| Sprint | 3.66 | 3.83 | 3.66 | 3.71 |
| Level 3 | 3.87 | 3.53 | 3.67 | 3.69 |
 The top 5 Security-as-a-Service (SaaS) carriers were:
| | | | | |
| --- | --- | --- | --- | --- |
| Security-as-a-Service Carriers | Technology Rating | Customer Service | Best Value for the Technology | Averaged Ratings |
| Google (Postini) | 4.35 | 4.14 | 4.33 | 4.29 |
| AT&T | 4.24 | 4.00 | 4.10 | 4.11 |
| Cisco | 4.03 | 4.01 | 3.96 | 4.00 |
| McAfee | 3.84 | 3.75 | 3.81 | 3.80 |
| IBM ISS | 4.00 | 3.73 | 3.60 | 3.78 |
The remaining cloud computing vendors that consisted of Platform as a Service (PaaS) and Infrastrucutre as a Service (IaaS) only had a 6% cloud adoption rate among survey participants, so no market leaders were awarded. However, IBM was the highest rated market challenger, mostly for its high customer service rating. IBM's technology and value were all above 4.17 points, which left IBM with a 4.20 overall rating.
To hear the full results, you can register for the free webinar on Tuesday, September 21, 2010, 2:00-3:00 PM EDT: 2010 Benchmark: The Characteristics (and Technologies) of Highly Successful IT Organizations.
---