---
April 25, 2011 8:28 AM
Feeling behind the curve on IPv6? SearchEnterpriseWAN.com is covering the largest IPv6 conference of North America: the 2011 IPv6 conference, put on by the Rocky Mountain IPv6 Task Force.
Today marks the first day of the summit, and it continues for three days at the Grand Hyatt in downtown Denver. For those of you who can't make it, we'll be interviewing summit track chairs and giving you the inside scoop from session speakers from our blog, Window on WANs, all this week.
Check into our 2011 IPv6 Summit conference page to stay up-to-date. Or, if you're attending, send us your thoughts and what you learned to tparmenter@techtarget.com.
April 22, 2011 10:20 AM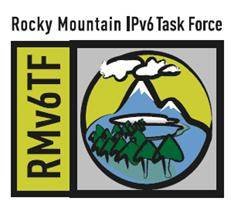 The Rocky Mountain IPv6 Summit
occurs April 25-27, 2011
at the Grand Hyatt
in downtown Denver.
2011 has proven to be a banner year for IPv6, if not in deployment, at least in training and learning about the "new" protocol.
This is what I learned when I spoke with Rocky Mountain IPv6 Task Force chairman Scott Hogg. As a consultant and trainer last year, most of his projects revolved around IPv4. This year, IPv6-projects dominate his time — a sure-fire sign that people are taking IPv6 adoption seriously.
"I've been doing lots of IPv6 training," Hogg says. "I've been helping a wide variety of companies, [both] service providers and enterprises, learn about IPv6, because they all waited until the last minute."
After years of telling the world to implement IPv6, today seems already too late to start an IPv6 migration. The Internet protocol version 6 has been in an implementable state for a decade now, and the fact that people have waited so long to implement it irks many IPv6 advocates, including Hogg. At least people are seeking training and acknowledging the fact that IPv6 is coming to an enterprise network near you — before the end of 2012 to be sure.
The reason Hogg says IPv6 training/education has been so popular as opposed to any other method is because "They don't want to go on and read a book, and they don't want to go and learn on their own. They all want to just go and buy a class. They want some sort of Matrix jack stuck in the back of their head … and say 'OK, tell me everything I need to know about IPv6.'"
While you can't take a red IPv6 pill, you can attend the 2011 Rocky Mountain IPv6 Summit for IPv6 training and classes, where you can learn how to practically implement IPv6 in your company.
If you can't make the summit April 25-27 at the Grand Hyatt in downtown Denver, our Q&A in the link above discusses where to find additional training and IPv6 conferences in 2011.
---
April 11, 2011 10:56 AM
Is WAN optimization a blur?
I'm surprised to find that there is still confusion as to what WAN optimization is these days. After all, one of the Gartner Magic Quadrant 2010 takeaways was that the WAN optimization controller market had matured and become a necessity for most enterprises. Instead of enterprises considering WAN optimization after users complain about slow response times overseas, businesses are adding WAN optimization to the beginning stages of network design. But what is it exactly that multi-site companies are needing and planning to use?
The definition of WAN optimization on WhatIs.com highlights that people use "WAN acceleration" and "WAN optimization" interchangeably — reasonable enough. While Dictionary.com doesn't consider "acceleration" and "optimization" synonyms, its computer definition of optimize means "to write or rewrite (the instructions in a program) so as to maximize efficiency and speed in retrieval, storage, or execution." "Accelerate" just focuses on the speed part of the optimization definition, making "WAN optimization" probably the most accurate term.
Still, different analysts and especially vendors will call various WAN bandwidth optimization tools different things.
"A number of players will say QoS is WAN optimization," Dragon Slayer Consulting president Marc Staimer said to me in a recent conversation. His school of thought does not lump QoS, quality of service, into the sum of WAN optimization: "QoS or packet shaping is not really WAN optimization, but a lot of people call it that."
He said what WAN optimization really does is this:
"In some cases … [WAN optimization is] done by caching data locally, [where data] just interchanges between the sites. In other cases, it's done by terminating the protocol and running a proprietary protocol between the sites — a variety of different methodologies," Staimer says.
These methodologies are so variant that some analysts insist certain "WAN optimization vendors" are not what they categorize themselves to be. In discussing the various WAN optimization techniques used by multiple WAN optimization vendors, I mentioned Blue Coat, to which Staimer replied, "They do things like Web caching and call it WAN optimization, and I kinda scratch my head and ask 'Is that WAN optimization?'"
Analyst Jim Metzler includes Blue Coat in his snapshot comparison of WAN optimization vendors. And of course, Blue Coat Systems calls itself a WAN optimization vendor.
Will different techniques broaden the definition of WAN optimization? Maybe to some, but as WAN optimization technology evolves, perhaps the definition will follow suit.
---
March 28, 2011 10:15 AM
A glimmer of a recession rebound and a favorable international market spark businesses into to expanding and creating new office locations across the globe. Remote offices are forecasted to increase 5% in 2011 and spike upwards thereafter. This trend of remote offices will leave wide area network (WAN) engineers with questions about how to manage, optimize and secure branch office connections to headquarters.
News writer Jessica Scarpati asks these questions: Is remote wireless access for teleworkers simpler and safer, and does wireless remote access give WAN engineers more control?
Another question explored in SearchEnterpriseWAN.com's WAN security and performance tutorial is "how do I maintain a secure connection to my remote office without bogging down network speed?"
As with any form of security you want to implement, the answer depends on your remote office infrastructure and must be sensitive to your particular business processes, which is why we break up one section of the tutorial into connection types:
Looking at these resources and answering those questions now will help you manage the increased load of branch office connections you will surely have in coming years. If you have questions about your remote offices now, don't hesitate to ask our experts.
---
March 23, 2011 10:11 AM
Why certify? Career training expert Ed Tittel explains that certain certifications get you access to software licenses, early access to beta software and all kinds of technical information you can use in your workplace and with customers. Still, not having enough time; not having the right resources; or not having enough money keeps many IT professionals from adding these merits to their resumes. Here are ways around these career-building roadblocks:
For those who don't have enough time, anyone dedicated enough can squeeze in a page of reading or make flashcards to break out for those times you're standing in line or waiting for transportation. Take it from any of these IT professionals who earned their certifications using techniques like this certification game plan.
Not having the right resources can be solved by doing research: There are many free resources on the Web for those looking to obtain networking certs. This networking material on the CompTIA A+ 220-701 and 220-702 Exam Cram is one such example. Buying the right book used or new can also be enough to get you to pass your exam. I've received feedback from networking professionals that reading a book from front to cover was enough to get them to pass their exam on the first try. If you're not sure which materials are best, SearchWinIT.com recommends these practices for finding the best certification prep materials.  
When it comes to price, imagine not getting a job because your competition had a certification. Not having a cert could be what costs you your next job interview — especially in such a competitive job market. For networking newbie Melissa Snider, it wasn't until she earned an MSCE certification after her degree that she received phone calls from potential employers. (You can read her success story in this article: Career advancement in four steps: Computer networking certification and career advice.) Often times, too, certification centers run promotions to get you to take their tests for free, like this Microsoft beta cert exam.
Then again, I know many bright networking and wide area networking professionals who are in jobs that make them happy, and they do not have a certification on their resume. In those cases, a certification can be insurance. If you are in the field, chances are you already know the basics covered in A+ or Network+ certifications (the most basic of network-related certifications). If you're not sure about your networking prowess, take a look at common WAN networking misconceptions A+ exam test takers make or view the quintessential IPv6 basics every professional should know to stay relevant in their field.
The bottom line is if you know it, show it. Having the proof that you're a professional can prove to potential employers that you're worth the hire — and to companies you're already working for, that you're worth keeping around.
---
March 16, 2011 12:31 PM

Profile: Jessica Scarpati
The U.S. military has temporarily blocked access to 13 popular streaming-media websites — including YouTube, Pandora, ESPN, Amazon — across its entire .mil WAN in an attempt to free up bandwidth for recovery operations in Japan, CNN reported this morning.
This comes after reports that many of Asia's telecom operators are scrambling to repair undersea cables that were damaged by the devastating earthquake and tsunami that struck Japan last week. However, it's unclear from CNN's report whether the military blacklisted these sites as a preemptive measure or if bandwidth (particularly for its U.S. Pacific Command, which requested the ban) was directly affected by service disruptions.
The news sparked some suspicions that the bans were related to security concerns or productivity, but notably absent from the list of blacklisted sites is the king of time-wasters — Facebook.
Aside from some of the Flash-heavy games, such as Farmville (which I'm guessing the Department of Defense already has some means in place to block), Facebook isn't a comparatively huge bandwidth hog. That seems to corroborate the military's claims that their chief concern is making sure there's enough bandwidth across their network for critical applications.
However, a small debate appeared in the reader comments below CNN's story: One reader suggests that blocking the sites is unnecessary because the same goal could be achieved by using quality of service (QoS) to prioritize critical applications and websites above the ones currently banned. Another reader countered that implementing those policies would be too time-consuming under emergency circumstances.
That counterpoint struck me as interesting, considering how much we hear from vendors such as Ipanema (and to some extent, Riverbed)  about automation, ease of configuration and dynamic QoS.  It sounds good in theory, but I guess when you are in the midst of a major environmental, humanitarian and nuclear crisis, do you really want to risk spending too much time fiddling with configurations to throttle Internet radio?
---
February 28, 2011 10:12 AM
For those of you who don't already know, as of February 1, 2011, there are no more IPv4 addresses left for the Internet Assigned Numbers Authority (IANA) to allocate. Is this another Y2K? Must enterprises devote all of their resources to begin an IPv6 migration?
"Let's step back and take a deep breath. Yes, it's true that the available IANA address blocks are gone. But an IPv4 depletion from the IANA doesn't mean we're out of available IPv4 address space just yet…. And there are other possibilities to extend the IPv4 lifespan," says Nemertes Research vice president Irwin Lazar.
However, this doesn't mean that enterprise IT can sit back and ignore the inevitable. The IANA's IPv4 depletion should be a wake-up call for organizations. Lazar explains that now is the time to plan an IPv6 migration strategy and overcome the five common pitfalls associated with IPv6 transitioning. Learn the least you should do in his IPv6 reality check article series:
---
February 22, 2011 11:53 AM
While I wrote a few blog entries about what the future of the WAN will look like, a trend that fell short of the WAN technology trend shortlist was smart grid technology, the catch-all name for adding today's more advanced technologies to a "dumb" electricity distribution system.
While it's clearly about electricity and power management, it's also about networking, data management, data analytics, storage, security, customer communication and privacy. Consider it a new market an IT manager can and should be privy to. Those in first-world countries will need to worry about it primarily, since those regions of the world were the first to take part of the industrial revolution a few centuries ago. The now-outdated infrastructure needs efficiency and economy — today.
Enterprises should realize that smart grid technology will affect homes as it affects businesses, and those in IT will be the first to manage them. Having a clue about smart grid will give you a competitive advantage at your company. If you're left wondering how exactly it applies to a wide area network, view our smart grid tutorial to lay the foundation to your smart grid smarts. With IT networking vendors like Cisco on the smart grid bandwagon, do you really want to leave your skill set behind?
---
February 10, 2011 4:47 PM
Egyptian government is one cry short of a miliatry coup. Anyone listening to or watching live news right now knows that Hosni Mubarak may step down tonight from Egyptian power (if he takes 8-year-old Saudi girl JuJu's advice). As hundreds of thousands fill Tahrir Square awaiting his speech, the country is put on hold.
How does such an event impact businesses? News reporter Jessica Scarpati spoke to Ernest Ostro, who was in Cairo the day protests started. As director of information services at Pathfinder, a global nonprofit providng reproductive health services, it was his mission to set up a branch office for his company. As timing would have it, the Egyptian government ordered Internet service providers (ISPs) and mobile carriers to shut down Web access across the country. This not only prevented protesters from posting to Facebook and Twitter, but it kept Ostro from setting up a remote office for Pathfinder's wide area network (WAN); businesses were put on hold.
"When Egypt [got] completely cut, there [wasn't] really any alternative for where we could reroute traffic," Ostro said.
Ostro isn't the only person to have world-changing events affect his business. Unfortunately for WAN managers, CEOs and chief financial officers typically favor cheap land and labor in developing countries and fail to consider how problems such as civil unrest or limited broadband availability challenge WAN connectivity. Such wide area network outages can contribute to financial bottom lines, and companies who can't afford an outage should consider a WAN disaster recovery plan.
Before you turn to our engineer's guide to a wide area network disaster recovery plan, companies should also consider whether the costs of creating backup links outweigh the soft and hard costs of an outage.
Organizations that don't offer transaction services, like banks and credit card companies, will probably say "If we lose communications because of social disorder like Egypt, we'll tell our people not to come to work anyway,'" explains CIMI Corp president Tom Nolle.
But if your businesses is already running operations in areas subject to political unrest, Ray Barber, senior executive and consultant at decision/analysis partners LLC, recommends this: If WAN managers have any choice about where a new branch is constructed, they should make sure that the new location is not in a risky spot, like a police station, where being nearby would cause your corporation to be collateral damage.
Read the three other pieces of Barber's advice in SearchEnterpriseWAN.com's article: Developing a wide area network disaster recovery plan for civil unrest.
---
February 3, 2011 11:55 AM
Surprise! The IPv4 address pool is draining…

… which means, the "new" Internet Protocol is coming to a network near you. If you've been ignoring the signs and keeping your head in the sand, well here's one of your last warnings: There's no more IPv4 addresses left in the Internet Assigned Numbers Authority (IANA) pool. The last two IPv4 address blocks from the IANA were allocated to the Asia Pacific Network Information Centre (APNIC) on Tuesday, February 1. While conservative estimates predicted the IANA IPv4 address pool to drain this day — most industry analysts expected this to actually occur mid-2011.
This last allocation from the IANA prompted the final five IPv4 address blocks to be distributed to the rest of the Regional Internet Registries (RIRs) according to global policy. With IPv4 addresses gone earlier than expected from the IANA, it's only a matter of time before the RIRs distribute IPv4 addresses to providers and your telecom provider runs dry. Experts predict 3-7 months for the RIRs to run out of IPv4 addresses.
So this is why IPv4 depletion counters have stopped counting down. (Some claim that they will be revised to count the addresses left on RIRs). This is why, even from an enterprise standpoint, you need to start your migration to IPv6 if you haven't already — because — guess what? There's nothing else that will feasibly support the Internet (as much as the Pouzin Society would like to argue with you).
Let's not get ahead of ourselves though…
"The world is not going to come to an end. Even if all the IPv4 address space is allocated, the Internet will continue to function," IPv6 expert Scott Hogg says. So what will IPv4 address depletion mean for your business network?
Silvia Hagen, SearchEnterpriseWAN.com's resident IPv6 expert, says "The IPv4-based Internet will not stop working, but it will stop growing, while the IPv6-based Internet is designed to grow for generations to come."
She advises enterprises to plan carefully before deploying IPv6, especially in the areas of IPv6 addressing, IPv6 security and managing IPv6. The bigger your enterprise the sooner you need to start looking into IPv6, she says. Hire help if you need to. Talk to a specialist. There are professional services to help with your IPv6 migration, but not all vendors have IPv6-compatible products. This explains why some vendors, Certes Networks for example, have had to push back their product launches. Make sure you find IPv6-compatible appliances and applications for your WAN.
"There is equipment out there, and there is [a] lack in IPv6 support with some vendors or equipment types, but by the time companies get to the real deployment, the market will have changed already. So start the planning and do it thoroughly and carefully," Hagen says.
So that's it. IPv4 addresses are gone. There is no more swimming in the pool of IANA IPv4 addresses. In the Internet ocean, the only life preserver is IPv6. She may be bulky, but at least she's buoyant.
---