Sep 25 2009 8:39PM GMT
There is a classic line in the movie Jaws when Roy Scheider's Chief Brody first encounters the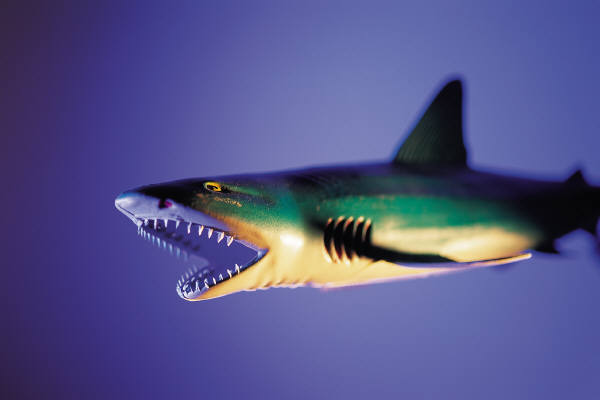 great white shark face-to-face on the open water and remarks, "We're going to need a bigger boat."
That same line could also be applied to wide area networks today, as more applications reside on the Web, software as a service (SaaS) activities increase and companies make more use of virtualized environments. We're going to need a bigger boat, or, more accurately, a faster and more robust network to handle the demands that are coming in terms of new applications and computing environments.
This became very clear at MIT's Emerging Technology Conference (EmTech) this week that showcased some of the more innovative applications under development, selected by the staff of Technology Review magazine, and provided an opportunity for companies like Mozilla to talk about upcoming developments.
One of the more interesting applications profiled at the event is a computer game, called Foldit, that enlists tens of thousands of players worldwide to engage in "citizen programming" by determining the best structure for complex proteins – an exercise termed protein folding. By relying on more than 90,000 players, scientists can not only eliminate the need for massive numbers of dedicated servers, but can also hopefully unravel the complexities of things like the HIV virus.
The effort is supported by companies like Adobe and Microsoft and by the Defense Advanced Research Projects Agency (DARPA) – which makes me think there may be a more sinister side to protein folding than what is being presented.
One other project, called BitBlaze, comes out of the University of California, Berkeley, where they are working on a new way to combat computer viruses and worms by taking the same approach as fighting a flu virus. Just like flu viruses, evolving generations of computer bugs can morph to keep one step ahead of traditional checks and scans. The software under development targets the variant stalks to keep pace with these changes and prevent the spread of a computer virus across networks.
A new face for Firefox
Mozilla's chief evangelist and head of developer relations Chris Blizzard also took the EmTech stage to talk about upcoming plans for the Firefox browser, which have been under development for more than a decade and bouncing around as an Internet Explorer alternative for about five years. Firefox presently has about 300,000 users worldwide and is adding one million users per week, said Blizzard. However, it is still a distant second to Microsoft's IE6, which debuted in 2001 and is the most popular browsing platform in the world, even if it is showing its age.
The next version of Firefox will include accelerating 3-D rendering on the Web, which is perfect for advanced medical imaging applications. Subsequent versions will incorporate facial recognition technology, to automatically identify users, and then mix that with technology that will automatically associate users with their email, online chats, search histories and any other footprint left on the Web. This has huge implications in terms of security, retail, social computing, business intelligence and so on.
Dr. Ronald Dixon, who heads up the Virtual Practice Project at Massachusetts General Hospital in Boston, is looking to apply social computing and collaborative technologies to patient care by developing techniques that extend the doctor-patient relationship. He has used email, Skype, video conferencing and other technologies to interact with patients who may have moved beyond the boundaries of a hospital and insured coverage. He is presently coordinating trials of medical kiosks in Singapore and the U.K. that might one day be used by people in nursing homes, assisted care facilities, hospices and other places that right now are on the edge of healthcare.
If "information is the currency of democracy," says Dr. Dixon, quoting Thomas Jefferson, then "relationships are the currency of healthcare."
Unfortunately, "what is best for the patient may not be best for the system in terms of making money," Dixon said, noting that his email medicine and even the foreign trials of medical kiosks are viewed by the bean counters as nonessential since they do not directly drive revenue.
All of these technologies and many more profiled at EmTech require two things: Funding, to get them off the ground, and a reliable and effective network to support different types of data and the users who are pushing and pulling information. This is where companies like Riverbed, Silver Peak, Blue Coat, EMC, Brocade and even Google come in, especially as they work to develop new wide area and local area network schemes and change the rules of Web prioritization and access.