---
January 31, 2011 9:06 AM
In no particular order, here are five over-arching wide area network (WAN) technology trends for 2011: Bye-bye address space: According to several IPv4 address depletion counters, the


RSS Feed

Email a friend
January 27, 2011 10:09 PM
When a vendor stays around long enough for it's market to change, sometimes it's time to close up shop. In other cases, it's time to get a new facelift and identity. This is what Certes Networks, formerly CipherOptics, did to change with the evolving network...
---
January 13, 2011 11:13 AM
A renewed interest has pumped up the WAN optimization controller (WOC) market according to multiple sources, including Gartner's Magic Quadrant 2010 for WAN optimization controllers.  Evidence of this can be seen in the increased...
---
January 6, 2011 12:32 PM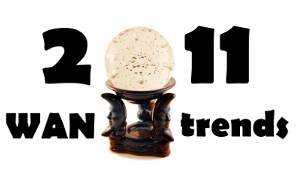 At SearchEnterpriseWAN.com, we looked into our crystal ball to determine the future of WANs for 2011. Our "crystal ball" consisted of three analysts from different firms who announced a few...
---