---
December 6, 2010 2:05 PM
Seeking to steal a little thunder (as well as a few customers) from Salesforce.com on the eve of its annual user conference, Microsoft today said it will pay customers directly to switch from Salesforce.com to its new Microsoft Dynamics CRM Online offering.
All Salesforce.com customers who switch from Microsoft Dynamics CRM Online between now and June 30, 2011 are eligible for a rebate of up to $200 per user that makes the switch. A minimum of 15 and a maximum of 250 are required.
"We will write a check to the customer to pay for the services required to do the transition," said Michael Park, corporate vice president sales, marketing and operations at Microsoft. "As we're gearing up for the [launch [of Dynamics CRM Online] we have a lot of customers transitioning off of Salesforce. We thought this would be a great way to build some momentum."
The offer is also good for customers of Oracle's CRM On Demand product. The $200 figure represents what Microsoft and its partners feel is appropriate for migrating data out of Salesforce.com and into Microsoft.
Such promotions are hardly uncommon. NetSuite's cash for clunkers, which promised $500 to $1,500 in services for customers who switched from on-premise software to NetSuite, was one creative program recently. It helps to bring a little attention to the competition, though how effective these programs really are in convincing customers to make complicated software purchasing decisions is questionable.
Price is an important factor in CRM buying decisions as we've reported recently on SearchCRM.com, but it's certainly not the only factor. According to Park, there are other reasons customers are moving to Microsoft from Salesforce.com, citing Salesforce.com's static reporting capabilities and poor integration with Outlook – and Microsoft's upper hand with the Office suite integration and flexibility. In fact, in an open letter to Salesforce.com customers, he suggests they ask the company those issues.
Setting aside the posturing and questionable effectiveness of any rebate program, the move does indicate that Microsoft's target as it enters the CRM market is Salesforce.com. Similar to the way Salesforce.com took on Siebel Systems when it entered the market, any competition is likely to be good for customers and that's the real news. As Park said:
"I think Salesforce has been uncontested for a while without us being out there aggressively to counter some of the claims they're making."
November 23, 2010 4:01 PM
The Oracle-HP-SAP market dynamic is playing out more like a soap opera than a quest for supremacy in IT. Even Salesforce.com is getting into the mix.
As a jury is preparing today to decide whether SAP owes Oracle $1.7 billion for copyright infringement, word emerged that HP is on the verge of signing a megadeal with Salesforce.com. HP will replace 35,000 to 40,000 seats of Oracle Siebel with Salesforce.com, Trip Chowdhry, an analyst with Global Equities Research wrote in a note to clients, citing industry contacts. Salesforce.com is hoping to close the deal before its Dreamforce user conference the first week of December, and if it does, someone from HP will deliver a keynote address at the event.
Before we examine the shift in the tech world that this would represent, let's consider the massive egos that are operating in this incestuous world.
If Chowdhry is right and this deal comes together then Apotheker may show up in San Francisco after all — on stage with Salesforce.com CEO Marc Benioff.
One can't help but wonder just what a giddy Benioff would come up with as he stands on stage with one of his former boss's biggest applications customers, now his own. Benioff already had a few jokes at OpenWorld in the wake of Ellison calling out Salesforce.com's security model, scalability and more.
But aside from the high drama what does it all mean for the market?
It would obviously be a big win for Salesforce.com but the company doesn't really need HP to validate that large enterprises will run its SaaS-based application. It's got plenty of similar customers that it's more than happy to talk about. It would be a major loss for Siebel, which is also losing a big customer in Microsoft as Microsoft deploys its own CRM system in house.
It would seem that CRM deployments increasingly are SaaS-based over on-premise. Even Oracle, by most accounts, is selling far more of its CRM On Demand product than Siebel.
So, how much of this possible move simply a matter of Apotheker being vindictive? How much is it indicative that people will not wait for the ultimate arrival of Fusion Applications and turning to alternatives?
---
November 4, 2010 3:35 PM
Cisco yesterday joined the ever increasing ranks of software companies jumping on the Social CRM bandwagon, releasing Cisco SocialMiner, a social media monitoring tool that takes comments and posts from social networks like Twitter and Facebook and filters and forwards them to a customer service queue.
Social CRM has evolved rapidly from a concept to a strategy with an army of consultants and "experts" professing its importance to the development of actual software tools. And where early social applications were focused on marketing and PR, it's now customer service getting the hype.
In the wake of all the attention, a healthy dose of skepticism is emerging. Michael Maoz, a Gartner analyst Continued »
---
October 15, 2010 12:38 PM
I tend to be pretty skeptical about vendor-sponsored research. For all the claims that the research firm conducts its study independently, the firm knows who's buying it and they want to get work in the future.
However, the results of the 2010 Customer Experience Impact Report by Harris Interactive and commissioned by RightNow are both interesting and not necessarily self-serving to RightNow. Plus, they include some infographics and we recently had some discussions here at work about using infographics a bit more. Here was my chance.
And here are the infographics.
---
September 23, 2010 1:02 PM
 As Marc Benioff strode to the stage at the Yerba Buena Center yesterday, many were looking forward to his response to Larry Ellison's jabs at him and his company just a few nights before.
Benioff's opening line?
"I come in peace."
Except he didn't. Not really. Benioff had plenty of material thanks to the release of Exalogic, Oracle's latest approach to the cloud, which apparently means purchasing a $1 million Web server.
Sunday night, during the OpenWorld opening keynote, Ellison took some shots at Salesforce.com, saying, "It's really a very weak security model. If that database goes down, all those customers go down. There is no virtualization. It's not fault tolerant. It's not secure. It's not elastic."
Exalogic, released by Ellison Sunday night, is a complement to the Exadata database machine. It's 30 servers bundled together with software for maximum performance.
But, Benioff countered, "the cloud does not come in a box." In fact he had a number of zingers he shared with a packed house, there partly to hear his response, partly to hear Salesforce.com's latest announcement, but likely mostly there for the free iPod Nano giveaway.
Among Benioff's responses:
"We are the cloud people and because we're the cloud people, we're a peaceful people."
"I'm not going to show you new computers that are taller than I am. I am not going to show you a cloud in a box because clouds are not in a box. They never were in a box."
"You don't have to have hardware and software engineered together because it is together. I'm not sure I understand that, but it is very exciting."
"I guess Amazon sides with Salesforce." [In response to Ellison's Sunday night assertion that Oracle's definition of the cloud is more in line with Amazon's definition and Amazon CTO Werner Vogel's subsequent tweet.]
"Larry I appreciate you advertising my book. Larry it's not called Way Behind the Cloud it's Behind the Cloud. Cute very cute, I appreciate that book sales went up Sunday."
To guest Michael Dell, who followed up his morning keynote at OpenWorld with an appearance at the Salesforce.com event: "You talk about barriers. Have you thought about these big boxes with exes on them and say 'do not come here'?" [A reference to Exalogic.]
It's not the first time Salesforce.com and Benioff were welcomed to OpenWorld with a jibe. Last year, in the run up to the show Ellison called Salesforce.com an "itty bitty" little application which Benioff responded to with a pitch for Service Cloud 2.
Similarly, the real reason Benioff made his appearance this year (and spent what was no doubt a significant amount of money) was not to trade barbs with Ellison but to promote Chatter 2, the next release of Salesforce.com's collaboration platform. Chatter was released just two and a half months ago, but Chatter 2's new features include: filters to allow employees to sort through separate conversations and groups; Chatter topics, similar to the Twitter hashtag; Chatter recommendations; a Chatter desktop client; and new dashboards and analytics capabilities.
Dell took the opportunity to promote a new product as well. He used the opportunity to provide a look at the Dell Streak and a sneak preview of a new seven-inch tablet PC.
Benioff ended his address by bringing out a flag with clouds and the word surrender on it. But it's obvious Salesforce.com has no such plans.
---
September 20, 2010 5:13 PM
Oracle CEO Larry Ellison showed off some of his company's forthcoming Fusion Applications here at OpenWorld Sunday night and while more detail is to come with his closing keynote, we do have some idea what those applications will look and feel like.
Fusion Applications will be generally available in the first quarter of 2011 and while it's unlikely that customers will be flocking to deploy this software the minute it becomes available, it has been a long wait for Siebel, PeopleSoft CRM and even Oracle CRM customers.
Here are a couple screenshots of what the CRM applications will look like: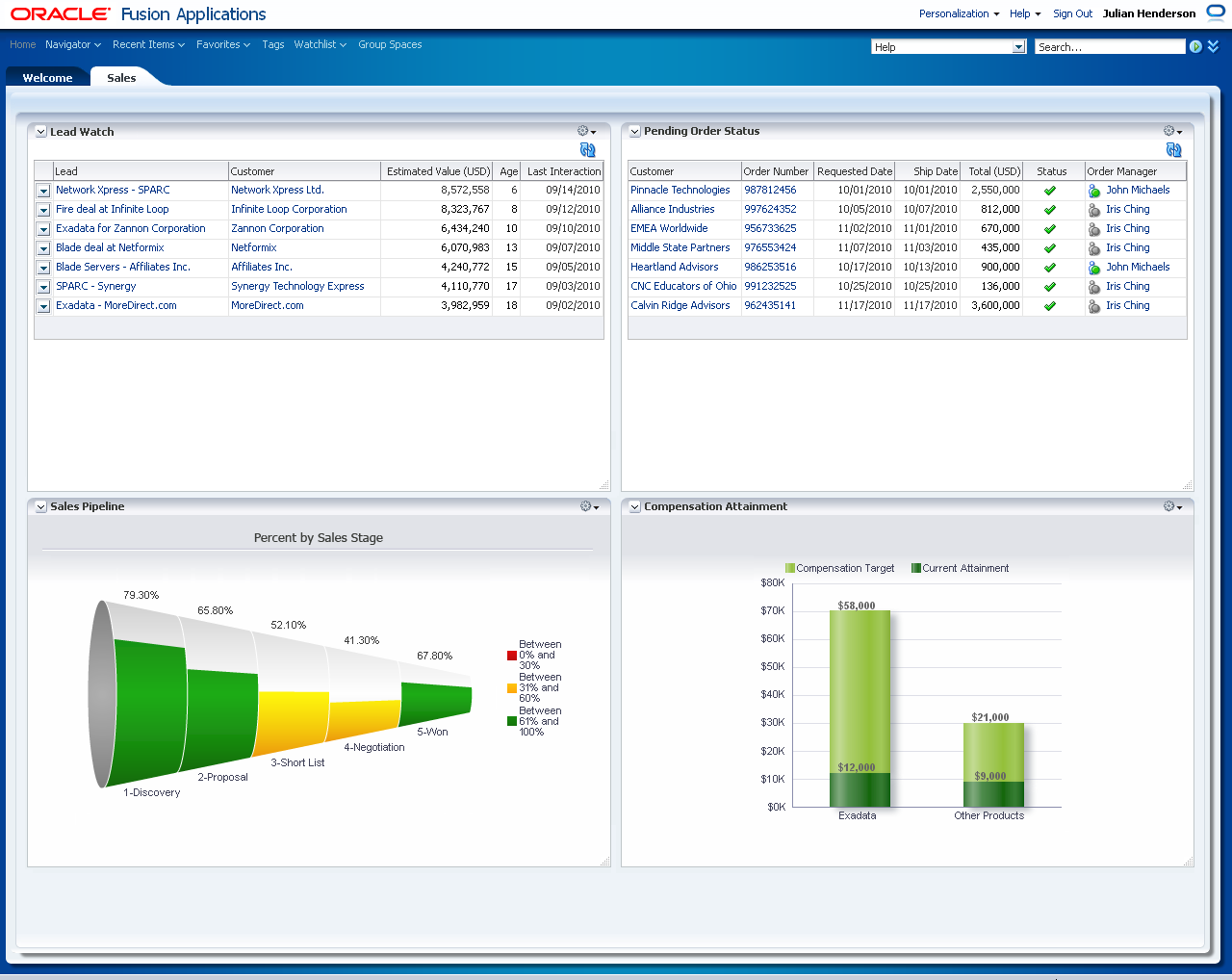 Click to enlarge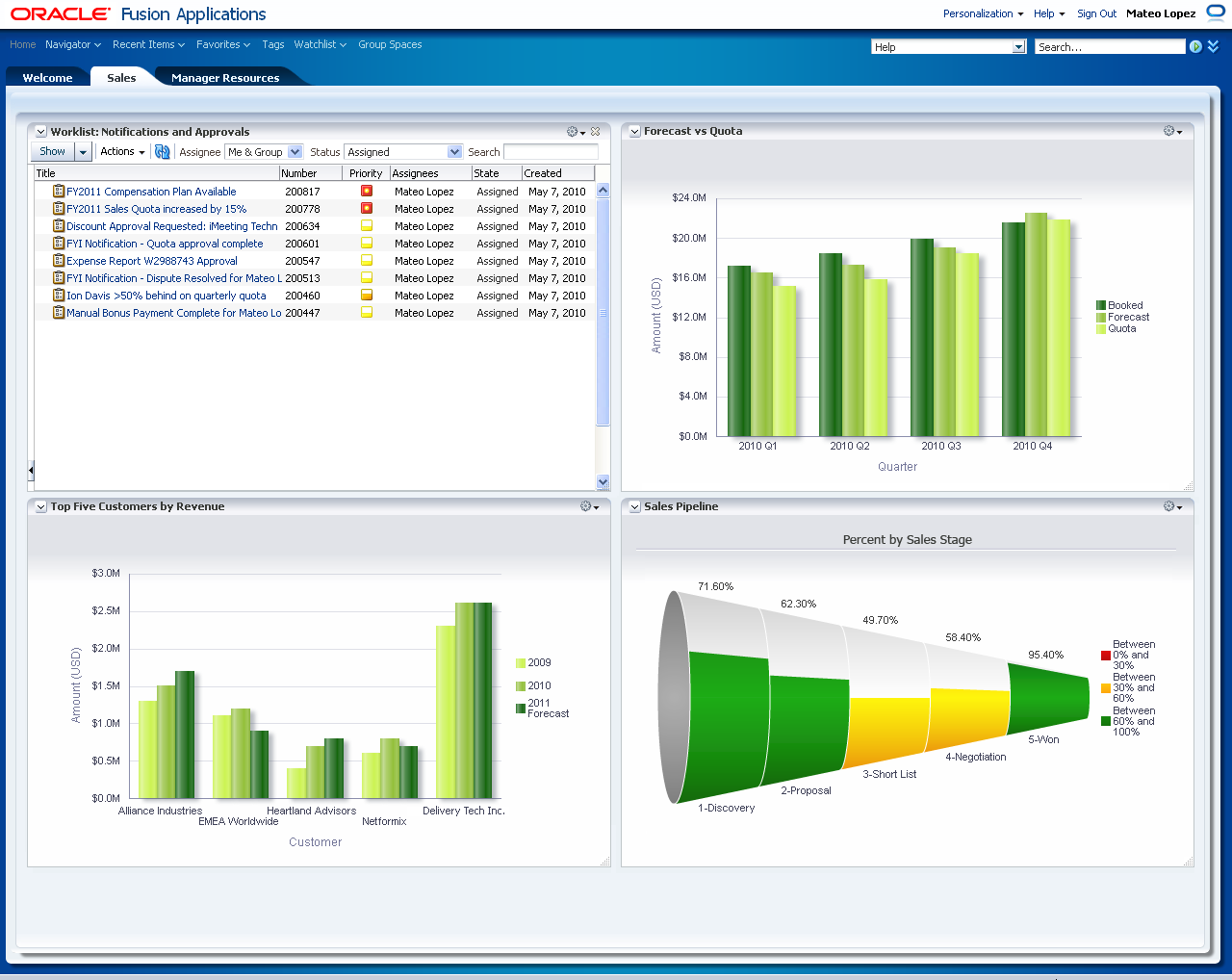 Click to enlarge
Additionally, I caught up with Chris Leone, vice president of applications development at Oracle, who ran through a couple of demos for me. The second shows a couple of CRM scenarios which might prove of interest.
 [kml_flashembed movie="http://www.youtube.com/v/XJKLSwB_z-c" width="425" height="350" wmode="transparent" /]
(Editor's note: In an effort to match the video with the application, we captured only a portion of the full screen)
More to come.
---
September 10, 2010 7:38 PM
Microsoft made the beta release of its SaaS-based CRM product available yesterday and continued to target Salesforce.com as it did.
Michael Park, corporate vice president of Microsoft Business Solutions, came in to the SearchCRM.com offices to discuss Microsoft's plans for Dynamics CRM Online. The beta version is available now and Park is hoping for "as many beta users as we can handle."
We've outlined what's in store for CRM Online and its on-premise partner CRM 2011 before, but Park also made clear that Microsoft has its eyes set on Salesforce.com when it comes to CRM. Not that this is the first time. Microsoft has already targeted Salesforce.com with a free CRM promotion.
"Last year Salesforce had 500,000 seat adds and Microsoft had 440,000.  With the advent of CRM Online we can catch or exceed the seat adds Salesforce.com is adding to the market, which is how we measure leadership," Park said, adding, "the fact that we've driven a lot of SharePoint integration into this release is a value paradigm that Salesforce can't hit."
It's an interesting point considering Salesforce.com has targeted SharePoint with its Chatter collaboration tool. It sets up an interesting rivalry for the direction of CRM software and how it intersects with collaboration tools in the cloud.
Additionally, Microsoft is also clearly taking aim at Salesforce.com's AppExchange with its own online application exchange site, Marketplace, which is also in beta.
"Our technological advances in infrastructure allow our partners to put their IP into the marketplace in a secure way," Park said. "Others, it's literally a catalogue to shim in a url, but you still need to transact with that vendor."
Microsoft is counting on its partner network to differentiate itself from Salesforce.com, and Park said the company would be recruiting heavily against Salesforce and Oracle's CRM On Demand partners. Microsoft revamped its partner certification program for Marketplace and gold certified partners now have to provide vertical expertise.
"What makes an exchange is the power of the partner network," he said. "We have 10,000 certified partners in Dynamics today."
But while Salesforce is committed to multiple devices with its mobile capabilities, recently announcing support for Chatter on the BlackBerry and iPhone, Microsoft remains focused on preparing for Windows Mobile 7 before turning to RIM, Android or Apple devices.
"The main bet now is how do we drive value to the Microsoft portfolio," Park said. "But there's a lot of consideration going on about [iPhone, BlackBerry and Droid]."
In fact, Park specifically cited Stephen Elop, head of the Business Division which includes Dynamics CRM, Dynamics ERP and the Office product lines, as leading that effort. Except later in the day, Elop took the top job at mobile device maker Nokia.
We'll see how that shakes out.
---
September 2, 2010 3:00 PM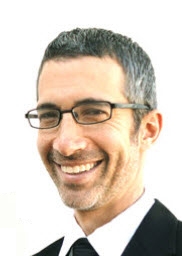 Can the contact center be a funny place? It has plenty of the ingredients for comedy, according to Greg Levin, who writes satirical songs about the contact center industry and has recently written a book on the market.
In this 20-minute podcast (with music), Greg shares some of his songs as well as insight he's learned in his many years of covering the contact center and customer service markets.  
He talks about:
Why the contact center is ripe for parody
Insights from his new book
The emergence and importance of at-home agents and
How customers need to be a part of agent training
 Greg's forthcoming book is entitled: FULL CONTACT: Contact Center Practices and Strategies that Make an Impact. Greg also sings and writes contact center commentary at his blog, Off Center.

Standard Podcast
[ 21:47 ]
Play Now
|
Play in Popup
|
Download
---
---
August 16, 2010 6:49 PM
Last week, IBM acquired Unica, entering into the marketing automation software market. While few people expressed surprise at the news, competitors saw it as a validation of the market and welcomed the competition. Below are some comments sent to SearchCRM.com.
From Phil Fernandez, CEO of Marketo:
"IBM's intention to buy Unica is exciting although not surprising to me," said Phil Fernandez, President and CEO of Marketo. "While we don't directly compete with Unica, we believe that the merger and acquisition activity in this space is evidence that marketing automation and enterprise marketing software are very much alive and thriving in the marketplace.  Unica's focus on marketing analytics is surely one of the reasons IBM is interested in the acquisition, and we believe that marketing analytics is an untapped area of the marketing software market.  Marketo released Revenue Cycle Analytics to address this.  We are looking forward to seeing a continued thriving market for marketing automation software."
Fernandez blogs on the IBM-Unica deal at the Marketo site as well.
Lisa Arthur, CMO of Aprimo:
The announcement that IBM is buying Unica Corporation validates what Aprimo has been saying for years now — that the function of marketing is undergoing a major change. It's more important than ever to integrate, execute and measure marketing initiatives across an entire organization. The acquisition means that executives are paying more attention to marketing in their organization and are demanding solutions to help them meet their business goals.  
Many components of marketing software — like campaign management, Marketing Resource Management (MRM) and performance management – areas which Aprimo has been leading  – is  now integrating into digital marketing.  Marketers are incorporating channels like email, direct mail, event management, blogging, just to name a few. As marketers, we need to tear down the silos and not have to rely on just services to integrate the function of marketing.
Marketing accounts for the largest discretionary spend of most companies and it is broken. With the rise of online marketing channels and increased pressures to demonstrate ROI, executives are in need of marketing software that enhances productivity, performance and measurement across their entire organization.
We feel this announcement will have a tremendous impact on our industry, and provide Aprimo a platform to raise awareness, discussion and opportunities. It strengthens the need for marketing to continue to embrace software and technology to improve its effectiveness and efficiencies in the market.
 Lucy Bickford, vice president, CRM, Infor:
Infor's larger customers are prioritizing marketing investments to realize relevant, multi-channel, customer driven interactions. IBM must also realize this trend as evidenced by this acquisition.
Infor views its relationships with complimentary technology providers, system integrators and marketing service providers (including Teradata, Comverse Technologies, CGI, Cap Gemini, IBM, Knowledge Based Marketing etc) as key to success. Such relationships are critical to achieving customer goals quickly, economically and with minimal disruption to their enterprise. Unica's ability to maintain momentum with partners remains to be seen. 
Infor CRM Epiphany thrives globally by capitalizing on: 1 – our market-leading Interaction Advisor product line; and 2 – our broad, modern CRM solution suite which includes Interaction Advisor, Outbound Marketing, Sales and Service. The strength of the Epiphany brand, the expertise of Infor's global CRM team and the value we continually deliver to customers to help them maximizes customer interactions will allow us to continue to outpace our competitors.
---