Nov 23 2009 7:29PM GMT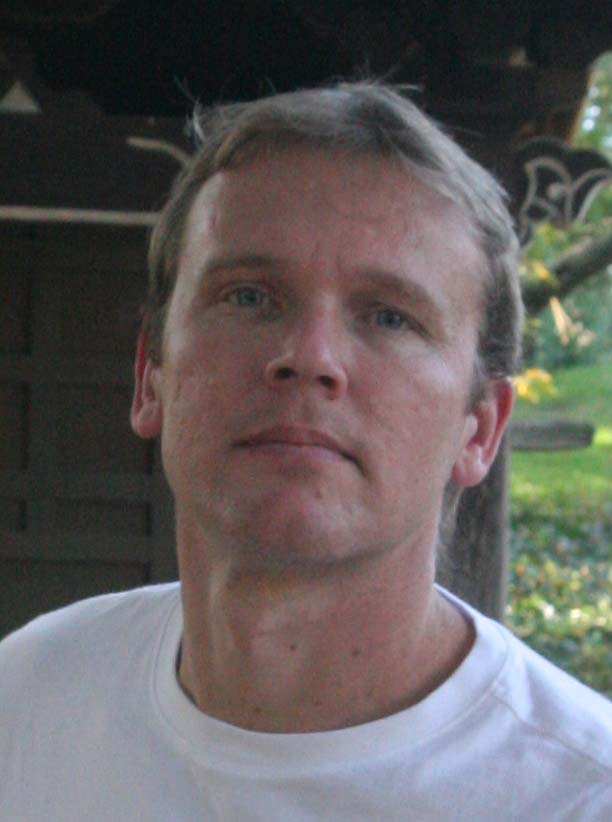 Profile: Barney Beal
I'm back from Dreamforce and I've have had some time to reflect on Salesforce.com's Chatter announcement (and to recover from Marc Benioff's nearly three-hour keynote address).
A couple of questions linger.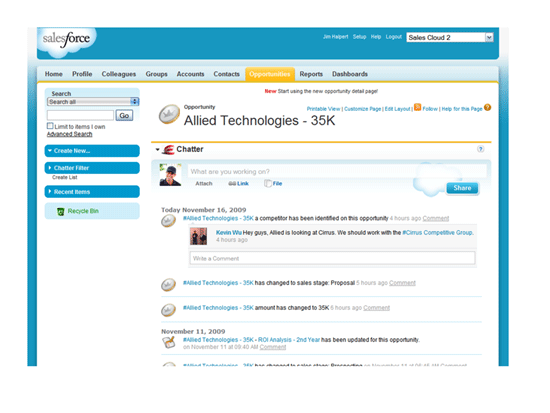 Chatter, which essentially adds a Collaboration Cloud to the Salesforce.com stack (in fact, by the second day of the conference, Benioff's slides were referring to it as such, alongside the Chatter branding), is yet another sign that social networking or Enterprise 2.0 is making its way into enterprise applications.
Several times during the conference — amidst his many speaking opportunities — Benioff remarked "there's nothing else out there like this."
Not entirely true.
Its competitors in the CRM market are building out similar capabilities, such as NetSuite in partnering with InsideView and RightNow in acquiring HiveLive. SugarCRM added Sugar Feeds, tools to let team members know when they've added a new contact, lead or opportunity. Oracle's Beehive has been out for more than a year. Then there are the Enterprise 2.0 vanguard like Jive and SocialText.
But, he's right, there are differences.
There's a difference between what NetSuite has done with InsideView, which acts more as a monitoring tool for outside social media and what Salesforce.com is doing with Chatter, which lets employees within the company talk with one antoher. And it's different from Beehive and the Enterprise 2.0 collaboration platforms, which are separate applications, in that Chatter sits within the Salesforce.com application. Additionally, Chatter provides something I hadn't seen before; updates from other applications, for example SAP automatically letting a sales rep know when an order has been filled.
So, rather than partnering with or acquiring an Enterprise 2.0 company, Salesforce.com elected to create its own collaboration platform and embed it within the Salesforce.com application. It's an effort to ensure users live in Salesforce.com as much as possible.
The most popular of collaboration tools will not go down easily
Yet Salesforce.com still has to convince its customers to leave the most popular of all collaboration tools — Microsoft Outlook. In fact, the announcement that drew some of the biggest applause from the 18,000 assembled at Dreamforce was news that the company had updated Salesforce for Outlook 2, associating to leads or cases automatically, when users click "send to Salesforce" from Outlook.
And Microsoft is not standing still either. On Wednesday, it also announced social networking plans. The next version of Outlook, Outlook 2010, will allow users to view the email sender's activity on Twitter and Facebook. The next version of Outlook, Outlook 2010, will allow users to view information from the person sending emails, showing their activity on Twitter and Facebook.
The other thing I have yet to see was any sort of filtering or semantic understanding. Chatter allows users to bring in results of searches on Twitter or Facebook and embed them in the Salesforce.com interface. At Dreamforce, Benioff demonstrated how an internal group at Salesforce.com, focused on competing with Microsoft SharePoint, could pull in all tweets regarding their competitor. Yet it offers no filtering, just a constant stream of information, be it useful or not.
Salesforce eyes the enterprise
Additionally, this is clearly an effort by Salesforce.com to extend itself into the wider enterprise. By offering a Chatter Edition for $50 per user per month, Salesforce.com hopes to reach employees outside of the traditional sales, service and marketing realms associated with CRM. Benioff said as much in a meeting with financial analysts, calling Chatter his "Trojan Horse strategy."
Salesforce.com undertook a similar effort with Content, its content management system, seeking to pick up additional users — and subscription fees — from employees outside of sales, service and marketing. Apparently Chatter is now the vehicle Salesforce.com intends to use to spread its footprint. A Chatter Edition license includes a Force.com and Content license.
Time will tell if users in the back office are as excited about Salesforce.com as the sales teams, the early adopters of Salesforce.com, who loved the application and forced it on the rest of the organization. And if they're willing to pay for it.