Jun 30 2008 9:53PM GMT
To many of us, some VMware product features and functionalities still seem like magic. Sure, I understand what the products do, but considering that my education and background is in writing and editing (read: not computer science), how they work still remains a mystery.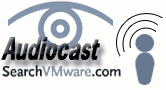 At least a few pieces of the VMware Infrastructure feature set were explained to me by Alliance Technologies solutions architect and Central Iowa Virtualization User Group (CIVUG) member Sean Clark. In a recent conversation, Clark explained how VMotion works, what Distributed Resource Scheduler (DRS) is and how the competition stacks up. Check out this audiocast if you're still using VMware Server or just the ESXi hypervisor but are considering moving into the rest of the suite as it more provide more information to help you with your decision.