Aug 20 2009 3:19PM GMT

Profile: Eric Siebert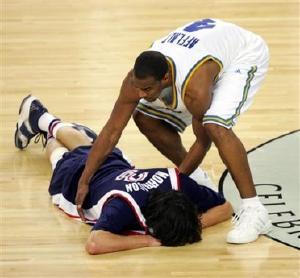 We live in a competitive world. People compete for everything: sports wins, business clients, gaming high scores, political positions and much more. But despite this competition most people are civil and treat their competitors with respect. Baseball teams are very competitive, every team and player is going for the big prize which is to get to and win the World Series. Yet despite their fierce competitiveness, the vast majority of players treat each other with the respect that you would expect one professional to show to another. If a player on one team goes down hard sliding into a base the player on the other team will usually give him a hand and help pull him back up. Despite being competitors, baseball players have a universal camaraderie that enables them to all get along despite their being on different teams.
This brings us to virtualization, which is also a very competitive arena with three major companies all trying to be on top. If you ask any one of the major virtualization companies they would probably all agree that they are very passionate about their product and virtualization in general. This passion, however, can sometimes lead to friction and conflict with competitors and one little spark can turn into a big flame war. This friction can include trashtalking which accomplishes nothing and is counterproductive; you don't need to trash your competitors to sell your product. When you stretch the truth and twist the facts all you are doing is hurting your own image and confusing the people that may buy or use your product or a competitor's.
So here's my plea to the virtualization companies: Can you please stop bickering with each other, be civil and work towards the betterment of virtualization and some interoperability with each other? Virtualization needs some common standards and if you are not working with each other we will never have them.
Virtualization doesn't have to be a destructive competition with a winner-takes-all scenario. It's a big world and there are lots of computer systems in it and there is room for more than one big player in the virtualization market. It would be a huge benefit to everyone if the virtualization companies set aside their differences and worked together towards a common goal of virtualizing the computer systems of the world.
It would be nice to see some cooperative competition for a change so everyone wins — the virtualization companies, vendors and the virtualization users. Instead of being a Xen guy, a Hyper-V guy or a VMware guy, how about we all just be virtualization guys? Once we start working with each other instead of against each other we'll see the benefits of virtualization as a whole. Ultimately its virtualization that we're all passionate about, regardless of the software we choose to implement it with.