Jul 1 2009 3:13PM GMT

Profile: Eric Siebert
Now that users have started using vSphere, I wanted to know which new technologies in the latest ESX platform release are most popular. I ran two polls on my website, and the survey results are in: Thin provisioning is the favorite new major enhancement and alarm improvements are the favorite smaller enhancement. Both features existed in VMware Infrastructure 3 (VI3) but were very limited and difficult to use.
In VI3, thin provisioning could only be used when creating virtual disks via the command-line interface, but in vSphere it is fully integrated into the vSphere client, which makes is much easier to use. Additionally, new alarms and reporting helps manage your thin-disk usage.
The second favorite new technology was Fault Tolerance, which takes high availability to the next level by providing continuous availability for critical virtual machines (VMs). Thin Provisioning is included in all editions of ESX and ESXi, including the free edition, which is probably one reason that it's so popular; the Fault Tolerance feature is included in the Advanced, Enterprise and Enterprise Plus editions. Trailing behind these two features were Host Profiles and Distributed vSwitche,s which are two features that are only included in the Enterprise Plus edition, which is not a free upgrade for existing users.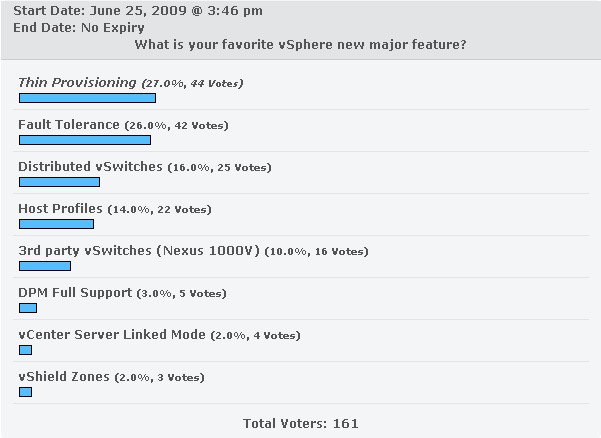 As far as smaller enhancements the favorite was the new alarm settings. To say alarms have been improved in vSphere is an understatement; they are vastly improved and actually usable now. In VI3 the number of alarm condition triggers that you could choose from was very limited, and so was their usability due to the lack of settings to control the length of the condition before triggering the alarm. With vSphere, there are dozens of condition triggers to choose from and you can now also set condition lengths.
Right behind alarm improvements was Storage VMotion improvements; Storage VMotion also existed in VI3 but was usable only through the remote command-line interface or through an unsupported third-party plug-in to the VMware Infrastructure Client. Storage VMotion is now fully integrated into the vSphere Client and includes a feature that lets you shrink a disk into a thin disk format. The alarm improvements are available across all editions of ESX and ESXi, including the free edition, but Storage VMotion is only available in the Enterprise and Enterprise Plus editions.