---
August 28, 2009 6:16 PM

Profile: Rick Vanover
Like many other virtualization professionals, I am anticipating a very exciting VMworld 2009 in San Francisco. One thing I have in my mind before the event start is, how big is too big for an event like this?
I am amazed at how action packed the schedule can be. Make no mistake, VMworld is not an easy 6-hour training class that you may take at your local IT learning center. VMworld is an all-engulfing immersion into a very broad virtualization space. An official number of expected attendees is not yet available, but I suspect it will top the 2008 numbers in Las Vegas.
From VMware's perspective they have a dead ringer. I have yet to meet anyone who has gone to VMworld and not found the experience enriching. In a way, I want it to continue on as-is instead of going all-virtual as Eric Siebert indicates in this post. In a way, I also want it to become a smaller and more personal affair. Maybe I'll go to Copenhagen for VMworld Europe next year instead, it is a beautiful city and I love to ride my bicycle!
For many in virtualization, today is the calm before the vStorm. We will all be inundated with news and other information, but VMworld is the virtualization event and it should be a great time.
August 28, 2009 4:00 PM
VMworld is just a few days away and the excitement is definitely in the air as everyone prepares for the show. Trying to cram all the various events, sessions, labs and everything else into one's schedule is like trying to assemble a jigsaw puzzle that has way too many extra pieces. I finally managed to prioritize and fit everything together as best as I could so I could make the most of my experience at VMworld. Here's a summary of some of the things that will be happening each day, along with what I'll be doing at VMworld.
Sunday – I arrive on Sunday and after doing some sightseeing with some friends and virtualization peers will be heading to the big party at the Thirsty Bear. You can also check in on Sunday to avoid the lines and get your conference badge and VMworld gear.
Monday – Monday is traditionally Partner day where VMware Partners receive various briefings from VMware. New this year is a Developer Day track with many sessions geared towards developers that focus on using the various VMware SDK's and application programming interfaces (APIs). Registration is required for Developer Day though and the cost is $249. Additionally there are many hands-on labs that you can schedule and attend on Monday, but they do fill up quickly. Lastly the Welcome Reception is held Monday evening in the Solutions Exchange where you can enjoy drinks and hors d'oevres and check out the all the vendor booths.
Be sure and stop by the Community Lounge where many of the bloggers will be hanging out at, there is also an informal vExpert booth that will be staffed by various vExperts (including myself) where you can come by and ask questions. We'll have access to a virtual lab there as well so we can do product demonstrations and also use it to help answer questions. Additionally be sure and stop by the TechTarget booth (#1232) as well where you might be able to catch various folks from SearchVMware.com and SearchServerVirtualization.com.
After the Welcome Reception ends head on over to the B Restaurant & Bar which is right by the Moscone Center for a Tweetup hosted by John Troyer from VMware. For those of you who don't use Twitter, a Tweetup is a social gathering of Twitter users to meet face-to-face and talk in sentences longer than 140 characters. Finally to end the night a few of us plan on heading over to a local cigar bar to enjoy some drinks and fine cigars. If you are interesting in joining us there just let me know via Twitter or email.
Tuesday – Tuesday is when things really kick off with Paul Maritz's keynote session at 8:00 AM. Afterwards there are a whole days full of sessions and labs that you can attend (if you've scheduled them ahead of time). Tuesday is also the day that a group of us judges visits vendors to decide the winners for the Best of VMworld awards. I am judging the security category again this year and also helping out David Davis and Scott Lowe with judging the hardware for virtualization category. After we meet with all the nominees we sit together in a room and discuss our findings and decide on winners for each category. Tuesday evening is when most vendors have their receptions and parties. If you haven't gotten an invite to one check with your vendors, there is a good chance one of them is having a party.
Wednesday – This is the keynote that most of the techies look forward to as Stephen Herrod takes the stage at 8:00 AM and delivers his presentation which is usually more technical then the previous day's keynote.
The Best of VMworld awards winners will be announced at the Solutions Exchange theater at 12:30 PM. I'll be doing a signing for my book at the VMworld book store at 1:00pm so if you have one bring it with you and if not (and you want to) you can buy one there.
If you're a vExpert there is a special lunch area for you at noon as well as a private session at 5:30 PM where you'll get a chance to meet Stephen Herrod.
Finally at 7:00 PM the official VMworld party begins, unlike last year where buses were required to get to the party, this year its right next to the conference at the Yerba Buena Gardens. Music will be provided by DJ Ravi Drums, Elastic Skye (VMware house band) and Foreigner. Entertainment includes rock climbing, mechanical bull riding, laser tag, video games and bowling. This is always a fun time and you also get to see the effects of alcoholic beverages on VMware geeks which is always entertaining in itself.
Thursday – Things tend to wind down on Thursday and is your best chance to get to sessions and labs as many of them are not full. The Solutions Exchange closes early (2:00pm) as many vendors are packing up to head back home.
I hope to see many of you who I regularly communicate with on Twitter at VMworld. I resisted using Twitter at VMworld last year but now that I'm using it I can honestly say it's a great mechanism for communicating with fellow virtualization professionals and conference attendees. If you're a Twitter user make sure and use the #vmworld hashtag in your twits. Additionally you can follow @vmworld for the latest conference information. I'll be doing daily blog posts here as well and will share my experiences at VMworld with you.
---
August 27, 2009 2:29 PM
VMware seems to be intent on virtualizing anything it can these days, so when is VMware going to get around to virtualizing VMworld? It would be great if VMware could take its annual physical conference and transform it into a virtual conference to reach a much larger audience. After all there are many people that can not attend each year for various reasons and having a virtual conference will allow them to experience the benefits of the conference without the extra travel expense that is required to attend.
Here are a few ideas I had if VMware ever chooses to implement this.
Virtual sessions – Recording and live-streaming all the sessions as they happen would allow virtual attendees to see the session as it happens and get all the benefits from it. Additionally they could ask questions via an interactive online interface which allows people to ask questions which could be relayed to the speaker. This would have an additional benefit of allowing physical attendees to view sessions that are full from their own laptops or offsite at another location.
Virtual labs – Virtual labs would pretty much be the same as physical labs with the only difference being the PC that's used and having a virtual instructor instead of a physical one. This is commonly done today by many training companies and is a very effective means for providing hands-on labs. Virtual attendees could sign up for the virtual labs which could accommodate more people as there are not any seat limitations.
Virtual Solutions Exchange – VMware currently has their Virtual Pavilion which attempts to mimic the physical Solution Exchange in a virtual way by providing some information about vendors. It would be nice to see this taken a step further though and enhanced so attendees could see product demo videos, interact with the products and ask questions directly to the vendors at the booth.
Virtual networking – VMware also a virtual lounge as part of its Virtual Pavilion with a chat room, but it's not very user friendly. Enhancing this with multiple chat rooms where virtual attendees could interact with each other — VMware developers/engineers, vendors and others — would allow for some great networking and information sharing to occur.
Virtual parties might be a bit difficult as attendees would have to supply their own food and drink, but live streaming from the official VMworld party would be a nice touch.
It wouldn't be all that difficult to implement these ideas as the technology already exists to make all this happen. VMware seems to be slowly heading in that direction, as evidenced by their Virtual Pavilion, but it would be nice to see this fully implemented
Having a simultaneous physical and virtual VMworld conference would allow VMware to greatly expand the number of attendees without having to worry about increasing the size of the facilities at the show. While it's hard to beat physically attending VMworld, having a virtual alternative would really be a great benefit to everyone who cannot physically attend.
Editor's Note: If you'd like to see what attending a virtual conference is like, you can check out TechTarget's most recent virtual conference, Advanced Enterprise Virtualization, with Eric Henderson, Greg Shields, Shannon Snowden and Rick Vanover. Click on the free registration button to view the archived content.
---
August 25, 2009 4:07 PM

Profile: Texiwill
So you have convinced your manager, team, et. al. that it is a wise idea to go to VMworld 2009 in San Francisco. You have booked your days solidly with the VMworld schedule builder and plan to attend several talks, sessions and labs to absorb all the information you can. But what do you bring with you? What are you going to do if you don't get in to a session or talk?
Here is what to expect at VMworld:
Crowds everywhere. This forum is huge and there will be lines for just about everything including some places on the show floor. Talk to your neighbors in line, they may just have information that will help you as you make your journey into virtualization.
Most talks will also be crowded. If you are not in the proper line early you may not be able to make it to the talk so it is important to pick your talks carefully. Since VMworld is crowded it will be difficult to get from talk to talk. Also, the labs are in a different location than the talks — and travel time from the Marriot to the Moscone Center is not just 5 minutes. Continued »
---
August 20, 2009 3:19 PM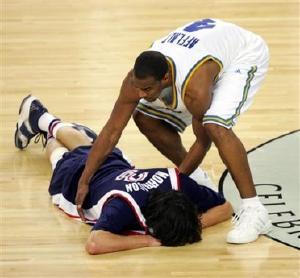 We live in a competitive world. People compete for everything: sports wins, business clients, gaming high scores, political positions and much more. But despite this competition most people are civil and treat their competitors with respect. Baseball teams are very competitive, every team and player is going for the big prize which is to get to and win the World Series. Yet despite their fierce competitiveness, the vast majority of players treat each other with the respect that you would expect one professional to show to another. If a player on one team goes down hard sliding into a base the player on the other team will usually give him a hand and help pull him back up. Despite being competitors, baseball players have a universal camaraderie that enables them to all get along despite their being on different teams.
This brings us to virtualization, which is also a very competitive arena with three major companies all trying to be on top. If you ask any one of the major virtualization companies they would probably all agree that they are very passionate about their product and virtualization in general. This passion, however, can sometimes lead to friction and conflict with competitors and one little spark can turn into a big flame war. This friction can include trashtalking which accomplishes nothing and is counterproductive; you don't need to trash your competitors to sell your product. When you stretch the truth and twist the facts all you are doing is hurting your own image and confusing the people that may buy or use your product or a competitor's.
So here's my plea to the virtualization companies: Can you please stop bickering with each other, be civil and work towards the betterment of virtualization and some interoperability with each other? Virtualization needs some common standards and if you are not working with each other we will never have them.
Virtualization doesn't have to be a destructive competition with a winner-takes-all scenario. It's a big world and there are lots of computer systems in it and there is room for more than one big player in the virtualization market. It would be a huge benefit to everyone if the virtualization companies set aside their differences and worked together towards a common goal of virtualizing the computer systems of the world.
It would be nice to see some cooperative competition for a change so everyone wins — the virtualization companies, vendors and the virtualization users. Instead of being a Xen guy, a Hyper-V guy or a VMware guy, how about we all just be virtualization guys? Once we start working with each other instead of against each other we'll see the benefits of virtualization as a whole. Ultimately its virtualization that we're all passionate about, regardless of the software we choose to implement it with.
---
August 19, 2009 3:30 PM
VMware users have been asking for a Linux version of the Windows-only VMware Infrastructure/vSphere Client for years. Last year at VMworld, VMware hinted that it may be releasing a version for Linux soon. But a year has gone by and there is still no sign of VMware releasing a client that will work with Linux. It is doubtful that VMware will release a Linux client for VMware Infrastructure 3 now that vSphere has been released, but a Linux version of the vSphere client is still a possibility. Continued »
---
August 14, 2009 4:11 PM

Profile: HannahDrake
Yesterday evening I stumbled across a Tweet originating from the @vmworld Twitter account that gave me pause. It referred to reserved seating versus a waitlist for breakout sessions at VMworld 2009.
@HPStorageGuy  Five minutes before the start of each session, any available seats will be offered on a first come, first served basis. (http://twitter.com/vmworld/status/3290986535)
This seemed to be in conflict with what we were told by John Troyer, Senior Manager of VMware Communities and one of the most active VMware voices on the various social networks.
A few weeks back and prior to session registration opening, he let the community know that all breakout sessions were going to be seated on a first-come first-served basis, meaning that the VMworld session builder tool was for personal scheduling and for VMware to gauge the general popularity of each session to determine room size, not to provide assigned seating.  
@AndrewSharrock  Don't worry about sessions:will be first come/first served this year. Do worry about the labs, but often can wait list Thurs http://twitter.com/jtroyer/statuses/3111587378

 

@theronconrey  Sessions aren't guaranteed this year, but more people reserving now = move to a bigger room. http://twitter.com/jtroyer/statuses/3107739147

 

@s1xth Sessions are NOT guaranteed this year; just labs. But schedule your sessions in the tool so we can make rooms big enough!  http://twitter.com/jtroyer/statuses/3107635221
When I saw those tweets I asked both @vmworld and @jtroyer for clarification and John immediately said he'd look into it. A little while later he got back to me saying that the event team had changed their minds and unfortunately hadn't informed him.
I usually don't rely on social networking alone for that kind of information, so prior to these tweets, and prior to sending out scheduling information to my clients attending VMworld, I confirmed that sessions were first-come first-serve on the VMworld Daily Schedule page.
A few weeks ago, under the heading "Breakout/Panel and Birds of a Feather Sessions"  this is what it read:
Adding a Breakout/Panel or a Birds of a Feather to your schedule does not guarantee your spot in the session. The sessions will be first come first serve at VMworld. We still recommend you use the scheduling tool as this will help us determine the popularity of the sessions and we can make sure they are placed in appropriate sized rooms.
Today, however, less than two weeks later, the text is completely different. But there is no indication that the policy has changed. Now it reads:
Registration is required for these sessions. During VMworld, any empty seats will be filled on a first come first serve basis. Waiting lists will not guarantee a spot in the session. If you have not been moved out of the waitlist by August 28, you will not be admitted into the session. Waiting lists will be cleared before VMworld begins.
As an indepedent consultant, I advise my clients on a lot of different things — one of which is how to sign up for VMworld sessions. I had told them to focus on signing up for the hands-on labs, since I was under the impression that sessions were going to be seated on a first-come first-serve basis. Now I have to  apologize to my clients and tell them to sign up for sessions, while my clients who didn't register for sessions have to try to find slots in the sessions that aren't booked  (which, by now, will likely be the least popular). Needless to say, not a pleasant position to be in — especially when an independent consultant's entire business revolves around his or her word and reputation.
Hopefully the VMworld event team comes up with a way to fix this for everyone who has been misled by its last-minute policy change, or VMworld is going to end up with a number of people disappointed to learn that they're on the waitlists for all the sessions they really cared about attending.
Oh — and if perchance you're looking for me at VMworld this year, I'll be the guy with the protest signs picketing all the really good breakout sessions. 😉
ABOUT THE AUTHOR: Andrew Storrs has been an IT consultant and contractor for ten years He is based in Vanouver, Canada and has worked with clients ranging from the smallest organizations to multi-national conglomerates with over 65,000 employees. His areas of expertise include IT infrastructure design, server virtualization, application delivery, storage, high availability and disaster recovery. You can follow him on Twitter at twitter.com/astorrs.
---
August 14, 2009 2:48 PM
VMware has been stating that the ESX Service Console (COS) will go away ever since it released ESXi, but so far this has not happened and it doesn't seem likely to happen any time soon. Despite the session at VMworld this year entitled "How to survive in a COS-less world", VMware doesn't seem to be moving that fast to retire the service console. Doing so would be a big change and is only likely to happen with a major new release; VMware had the chance to do this with vSphere but chose not to.
If VMware eliminates the ESX service console, VMware would basically have to retire ESX as ESX without the service console is essentially ESXi. Before I go any further, however, I'll explain what the service console is and the architecture differences between ESX and ESXi.
---
August 12, 2009 2:41 PM
VMware's VMworld session schedule builder went live last week so you can now start picking your sessions and planning your schedule for VMworld. This can be quite a challenge as the schedule builder will not allow schedule conflicts so consequently putting together your agenda each day is like putting together a puzzle with way too many pieces.
Three days is not a lot of time; out of the 200+ sessions you will be lucky to squeeze in five each day. Therefore you must carefully choose your sessions so you attend the ones that will be most beneficial to you.
When putting together my schedule I often had to make agonizing choices as I had a great many of conflicts and had to choose only one from the multiple sessions that I wanted to see at a particular time slot. Very few of the sessions repeat which makes this even more challenging and means I will have to wait until the sessions are recorded and published online to see the ones I missed at the event. Continued »
---
August 4, 2009 2:55 PM
VMworld is less than a month away, and if you're serious about VMware virtualization you can't afford to miss it. You might be having trouble convincing your boss to approve your attendance at the show, so here is a sample letter that you can use to justify the expense of attending the conference.
Dear [insert boss's name here],
I would like to attend the upcoming VMworld conference in San Francisco from August 31 to September 3. I know that as economic times are tough we need to be careful with spending, but I believe that this would be money well spent.
The cost of VMworld, including registration and travel expenses, is roughly the same as a one-week IT training class. But unlike a class where you are limited to covering only the material on the agenda, VMworld has a selection of sessions, labs, vendors, product experts and other VMware customers who attend. Here are some of the things I would experience at VMworld:
Sessions – There are hundreds of mini one-hour training courses available at VMworld so I could learn about a wide variety of topics.  There are dozens of sessions on business continuity and disaster recovery, cloud computing, desktop virtualization, application virtualization, operations and management, and much more. These sessions all contain great technical information, real-world solutions and strategies and customer success stories. There are more sessions than can be seen over the course of the conference, so attendees can view them online after the show is over.
Labs – There are dozens of self-paced and instructor-led labs on specific topics that will enable me to gain valuable experience in a controlled environment and get answers to any questions that may arise.
Vendors – Since all the third-party virtualization vendors will be under one roof I can  spend time reviewing all of the products we might be interested in and ask questions on the spot without having to schedule an office visit with the vendor. Being able to browse through the product offerings that are available will also allow me to identify those that could be beneficial to our environment.
Product Engineers – Many VMware engineers attend the conference, so VMworld is a great opportunity to get close to the people that have designed and developed the software and discuss any particular issues, questions or problems that we may have in our environment.
Customers – There will be thousands of VMware customers and users at the conference which will benefit me by enabling me to network and learn from other users' experiences. I may find others that are experiencing some of the same challenges that we are and be able to learn how they dealt with them and overcame them.
VMworld may only last a few days but I can access all of the content long after it is over. With the  knowledge I'll gain at VMworld I will be able to better support our virtual environment and grow my own knowledge and experience. I thank you in advance for taking the time to read my request and for considering the many benefits that attending VMworld this year will bring to our organization.
Respectfully,
[insert your name here]
---