---
September 24, 2009 9:34 PM

I've written about the vSphere's new Fault Tolerance (FT) feature several times and wanted to put the information together in one blog, as well as include some new information. We've broken this guide into several sections as it's a bit lengthy, so you can skim the witty titles and decide if a section for you, or if you'd rather keep on truckin' to the next section. But first, if you'd like to check out my previous posts on FT, they are available here:
I. And VMware said, 'Let there be Fault Tolerance'
Fault Tolerance was introduced as a new feature in vSphere that provided something that was missing in VMware Infrastructure 3 (VI3), the ability to have continuous availability for a virtual machine in case of a host failure. High Availability (HA) was a feature introduced in VI3 to protect against host failures, but it caused the VM to go down for a short period of time while it was restarted on another host. FT takes that to the next level and guarantees the VM stays operational during a host failure by keeping a secondary copy of it running on another host server. If a host fails, the secondary VM becomes the primary VM and a new secondary is created on another functional host. Continued »
September 22, 2009 8:00 AM

Profile: Halr9000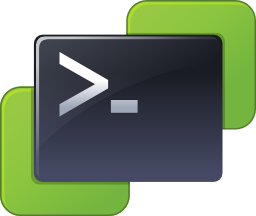 Before I get in to it, I guess I should introduce myself as this is my first post on Virtualization Pro.  My name is Hal Rottenberg and I've worked in IT for the past 13 years in and around Atlanta, GA.  While virtualization is certainly a passion of mine and I've been into that for several years, what I find even more compelling is the automation of an IT environment.
I'm a Windows guy at heart, so up until a few years ago, automation meant hacked batch files and some confusing VBScript mixed in. This didn't really scratch my itch, and I often found myself doing things the old manual way rather than attempting to automate things with scripts for the simple reason that it was too much work. I mean, I'm a lazy guy here! That, in fact, is the big lure of automation, right? Do more with less and go home early. That's my plan, anyway. But the problem back then was that VBScript was often not worth the effort, and my attention span is short at best.
Enter PowerShell. I still remember the first day I learned about PowerShell. It was a fine spring day, and of course I was inside at a computer with not a window in sight. Nevermind that. The point I'm trying to make here is that it was such an evolutionary change that I immediately felt compelled to learn all I could about it. And so I did. Newsgroup threads, forum posts and blog entries all flew by, and before I knew it, I'd been nominated to join the ranks of the very few that Microsoft allowed into their Most Valued Professional program each year. At the time, I was one of only 25 in the world to be a PowerShell MVP. As an MVP, I enjoyed (all but) a direct hotline to the PowerShell development team and the support of a world-class group of peer scripters and developers who were in the same boat.
The thing about PowerShell, though, is that it's an enabling technology. It's cool and all, but it's the glue and nails — not the framing — of a well-built IT infrastructure. So I set forth to apply my newly-learned scripting skills to my primary job function at the time, VMware Infrastructure administration. Around the time that I tried to put one and one together, I met the right people at VMware and obtained early access to a developer build of what became the VMware Infrastructure Toolkit, or VI Toolkit, which was later renamed to PowerCLI at the vSphere launch.
I wrote a book about it, and here I am today.
Now that we have the introductions out of the way, you might want to know what it is that I plan on doing 'round these parts. Glad you asked. 🙂 I'm going to be the PowerCLI guy, as you might have guessed. I'm taking it upon myself to keep you informed as to what VMware is up to with the latest releases of its scripting toolkit. On top of that, I'll help you keep up with some of the great content that I find around the Web that will help you be a better VMware admin. And last but not least, I plan on doing some article-length tips, tricks, and how-tos that you can really dig into.
Watch this space, and let me know in the comments what you think of my goals. If there's something specific that you want to see me hit (as long as it has a PowerCLI theme), by all means let me know. In addition to leaving a comment, you can also reach me on Twitter, and I maintain a profile on LinkedIn.
---
September 18, 2009 2:21 PM

Profile: Makking
The high-flying days of pre-Y2K seem a distant, fairy-tale like memory. IT has gotten far more complex. Capital budgets continue to shrink, corporate greed continues unabated, shareholder gain is as strong as ever, and the demands on IT have naturally increased to meet such demands. The demands on our time are ever greater. Yet we must still make time for training on new products and technologies, for how else are we to continue to dream about the IT glory days of the 90's?
Perhaps you have also noticed as well that budget constraints are causing us to rethink how we get training on the latest technologies. It is not always possible to take a week off work to take a class each time a new OS version is released, and additional weeks to receive instruction on all the individual components. Now it is expected that we somehow become proficient in dozens of applications from a score of vendors and implement the latest technologies while continuing to support legacy systems and contribute to the IT community.
---
September 18, 2009 1:45 PM
A reader recently sent me an email after reading some of my articles on SearchDomino.com on virtualizing Domino servers. He was wondering what IBM's official stance is on virtualizing Domino servers in VMware.
Here's the back story: He has a pretty nice existing VMware environment consisting of 18 version 3.5 hosts connected to a Cisco Fibre Channel fabric and EMC Clariion CX3-80 and CX4-480 storage arrays. Despite having a beefy, established VMware infrastructure, his organization is preparing to spend a good deal of money on new physical servers for a Domino upgrade to version 8.x. The reason for this is that the Domino administrators have told management that Lotus will not support a virtualized Domino environment. The person who wrote to me is trying to convince them to at least virtualize part of the Domino environment using their existing ESX hosts to save money. Continued »
---
September 18, 2009 1:25 PM

Profile: Rick Vanover
Fresh off the release of my recent SearchVMware.com tip on the inner workings of VMware's vStorage VMFS, I came across a VMFS-hater blog post. I am a big fan of VMFS for VMware implementations, frequently referring to the popular clustered file system as the most underrated technology VMware has ever made. Continued »
---
September 16, 2009 2:18 PM
Free administration tools can really make a VMware administrator's life easier, so when I heard that Vizioncore recently announced some free administration tools I thought I would check them out. The three tools are vConverter SC, a physical-to-virtual (P2V) and virtual-to-virtual (V2V) conversion tool; vControl, a multi-hypervisor workflow-based management console; and vOptimizer Wastefinder, a disk space and alignment reporting tool.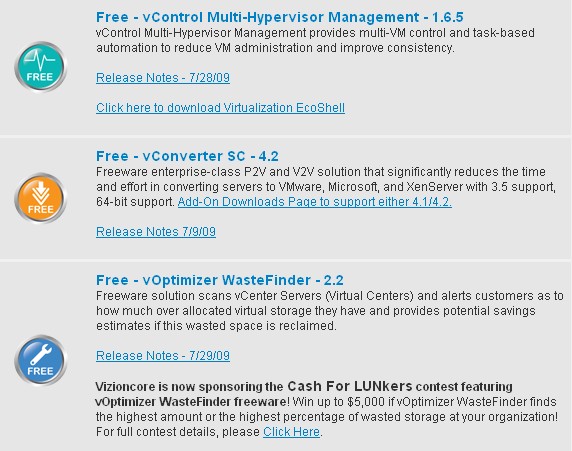 The first tool, vConverter SC (SC stands for server consolidation) is based on the full version of vConverter but lacks the continuous protection feature (recurring P2V replication) of the full version. VConverter SC is a powerful tool that rivals VMware Converter but has some additional features, better speed, and support for all hypervisors including Xen, Hyper-V and Virtual Iron.
---
September 15, 2009 2:27 PM
I wanted to comment on some recent controversy concerning the Best of VMworld award winners by explaining in detail the process and how the judges decide winners for each category. I've been a judge for two years now so I know how challenging it can sometimes be to pick the winners.
Let me begin by explaining what we are not doing when judging products. We are not installing each product and testing them out to determine a winner, that's not what the awards are about. So we are not installing product A in a lab and seeing how it performs against product B to try and determine which product is better. In fact in many cases product A may do something completely different from product B and a direct comparison is not possible. In the hardware category for example the winner was the Cisco UCS and one of the finalists was the Xsigo I/O Director, two very different products that aren't directly comparable to each other. Continued »
---
September 14, 2009 1:11 PM
Either someone needs to invent a time machine or VMware needs to make VMworld a two week show. There is just way too much to do at VMworld and not near enough time to do it.
Sleep is always the last thing on my priority list at VMworld; I was lucky to get about five hours each night. There were just so many people I wanted to talk to and spend more time with and so little time to do it in. Trying to fit everything into your schedule is a near impossible challenge and is comparable to the ESX CPU scheduler trying to handle a host full of busy vSMP virtual machines. This is the biggest complaint I hear from attendees each year, too much to do and not enough time to do it in. But now that the dust has settled, it's time to digest everything from the show and check out the sessions once they are posted on the VMworld.com website. The sessions are supposed to be posted September 14 for attendees only, however there are 17 online-only sessions that are already posted and are viewable by anyone. Continued »
---
September 10, 2009 2:50 PM
For the last few years at VMworld TechTarget has sponsored the Best of VMworld awards, which showcases the best products in many different categories. Last year was my first time being a judge and I had the privilege once again this year. Judges include TechTarget writers and editors and well known industry people/bloggers such as Scott Lowe, David Davis, Edward Haletky, Rick Vanover and Tom Howarth. It's not an easy job as you need to carefully evaluate each product that is nominated on several different criteria to determine the winner for each category. This includes doing some prejudging work before the show starts and then visiting vendors at the show to learn more about their products. Continued »
---
September 2, 2009 5:36 PM

Profile: HannahDrake
SAN FRANCISCO — Attending VMworld is like going to college (and no, I'm not referring to the many parties, although those are certainly present as well). While 15,000 people may go to the same school, one person can have a completely different experience than another. I thought I'd recap my experience with day one, which involved attending the opening keynote, chatting with other bloggers and journalists about the new technologies, and judging the best of VMworld awards. One of the most interesting parts of my day, however, was the keynote — and not because of what was said in the keynote, but because of the Twitter commentary going on during the keynote. Continued »
---