May 27 2009 4:06PM GMT

Profile: Eric Siebert
While looking at the newly published VMware KnowledgeBase article on processor support for the new Fault Tolerance (FT) feature last week, I noticed a link to a new utility called SiteSurvey. While it wasn't active at the time, this week SiteSurvey is available for download.
This utility specifically tests to see if the hosts in your clusters are compatible with the new Fault Tolerance feature. It is available as either a Windows or Linux download and once you install and run it, you will be prompted to connect to a vCenter Server.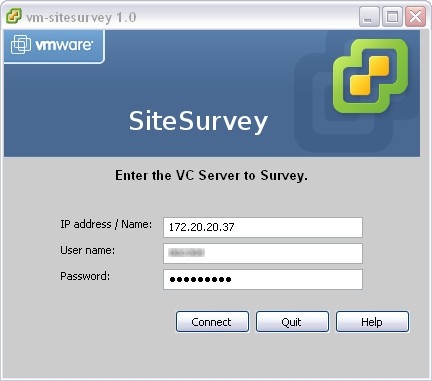 Once it connects to the vCenter Server you can choose from your available clusters to generate a SiteSurvery report that shows whether or not your hosts support FT and if the hosts and VMs meet the individual prerequisites to use the feature. You can also click on links in the report that will give you detailed information about all the prerequisites along with compatible CPU charts. These links go to VMware's website and display the help document for the SiteSurvey utility, which is full of great information including some of the following prerequisites for FT.
The vLockstep technology used by FT requires the physical processor extensions added to the latest processors from Intel and AMD. In order to run FT, a host must have an FT-capable processor, and both hosts running an FT VM pair must be in the same processor family.
When ESX hosts are used together in an FT cluster, their processor speeds must be matched fairly closely to ensure that the hosts can stay in sync. VMware SiteSurvey will flag any CPU speeds that are different by more than 400 MHz.
ESX hosts running the FT VM pair must be running at least ESX 4.0, and must be running the same build number of ESX.
FT requires each member of the FT cluster to have a minimum of two NICs with speeds of at least 1 Gb per second. Each NIC must also be on the same network.
FT requires each member of the FT cluster to have two virtual NICs, one for logging and one for VMotion. VMware SiteSurvey will flag ESX hosts which do not contain as least two virtual NICs.
ESX hosts used together as an FT cluster must share storage for the protected Virtual Machines. For this reason VMware SiteSurvey lists the shared storage it detects for each ESX host and flags hosts which do not have any shared storage in common. In addition, a FT-protected VM must itself be stored on shared storage and any disks connected to it must be shared storage.
At this time, FT only supports single-processor virtual machines. VMware SiteSurvey flags virtual machines that are configured with more than one processor. To use FT with those VMs, you must reconfigure them as single-CPU VMs.
FT will not work with virtual disks backed with thin-provisioned storage or disks that do not have clustering features enabled. When you turn on FT, the conversion to the appropriate disk format is performed by default.
Snapshots must be removed before FT can be enabled on a virtual machine. In addition, it is not possible to take snapshots of virtual machines on which FT is enabled.
FT is not supported with virtual machines that have CD-ROM or floppy virtual devices backed by a physical or remote device. To use FT with a virtual machine with this issue, remove the CD-ROM or floppy virtual device or reconfigure the backing with an ISO installed on shared storage.
Physical Raw Disk Mapping (RDM) is not supported with FT. You may only use virtual RDMs.
Paravirtualized guests are not supported with FT. To use FT with a virtual machine with this issue, reconfigure the virtual machine without a VMI ROM.
N_Port ID Virtualization (NPIV) is not supported with FT. To use FT with a virtual machine with this issue, disable the NPIV configuration of the virtual machine.
Here's part of the online help guide:
Here's some of the information from a sample report: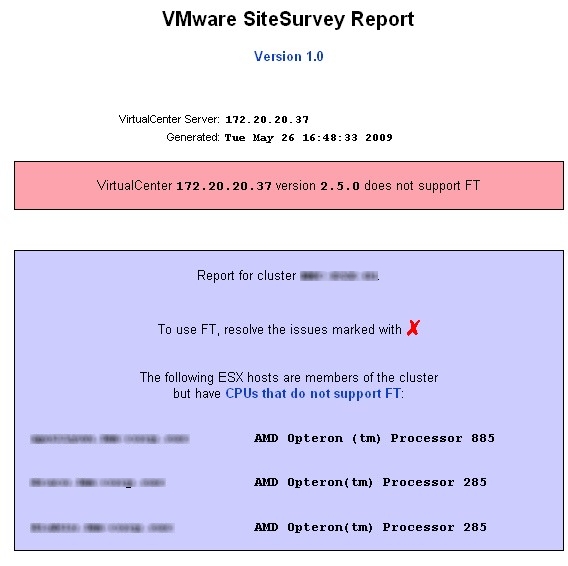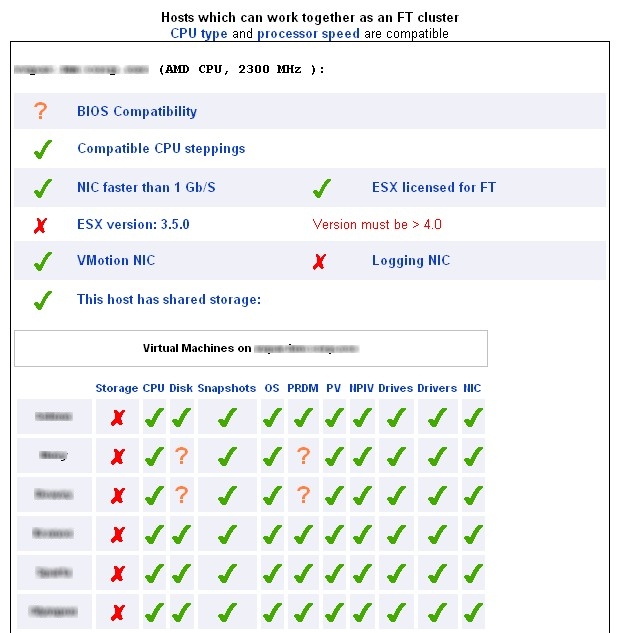 So if you plan on using FT be sure and check out this utility to check out your hosts and also to learn about the many pre-requisites for using this great new feature.