Apr 23 2009 5:14PM GMT

Profile: Eric Siebert
Yesterday's much-anticipated vSphere launch  went off without any technical difficulties, and was exactly what VMware needed to do to build hype and excitement for vSphere. Many. however, were disappointed to find out that vSphere was not actually released, but it's not far off. It is officially GA now and will be available to customers sometime in the next two months.
While there were few surprises to the beta vSphere users as to functionality, new information was released about editions, licensing and pricing.
To summarize the licensing changes:
VMware vSphere will be available in 7 editions: ESXi single server, Essentials, Essentials Plus, Standard, Advanced, Enterprise and Enterprise Plus, each with different features as shown in the below image. The new Essentials editions are geared towards smaller environments and are all-inclusive packages which include ESX Server and vCenter Server. ESXi single server remains free and includes support for thin provisioned disks. A new tier above Enterprise is introduced called Enterprise Plus which includes support for Host Profiles and Distributed vSwitches.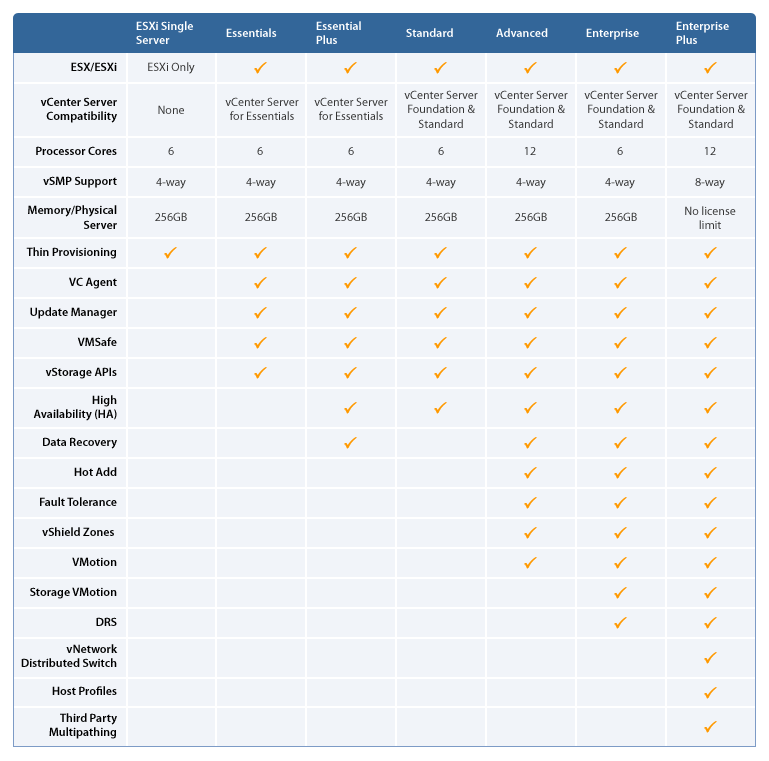 All editions (except for Advanced and Enterprise Plus which support up to 12 CPU cores per physical processor) support up to 6 CPU cores per physical processor.
Your existing VI3 Foundation and Standard licenses will become vSphere Standard licenses and your existing VI3 Enterprise licenses become vSphere Enterprise licenses as shown in the below image. You must have an active Support and Subscription (SnS) contract, however, to get the new licenses.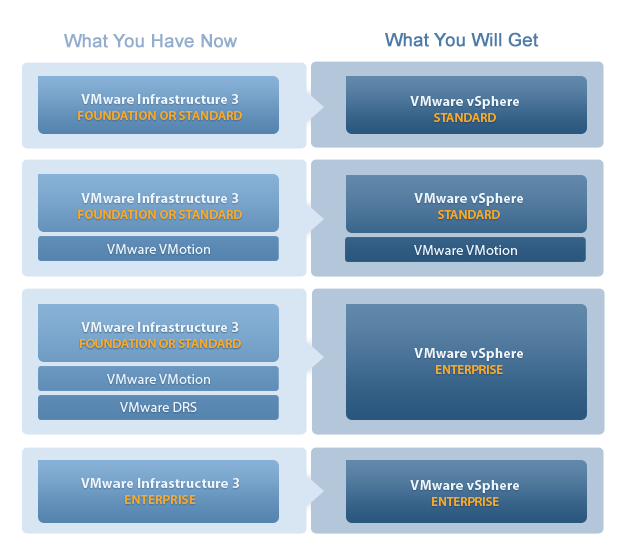 You can upgrade from one addition to another if you want more features, the prices for this are in the below image.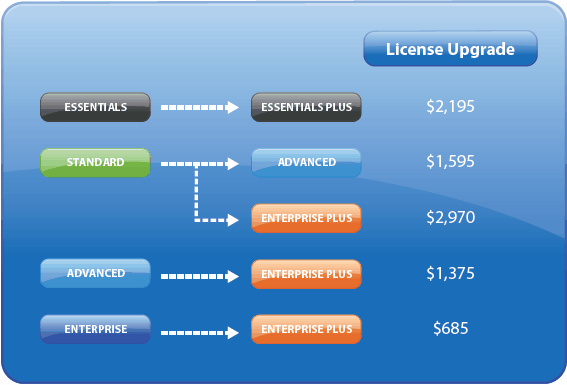 A special promotion exists until the end of the year that allows existing customers with active SnS to upgrade to a more featured edition at less than 50% of the standard upgrade price. The reduced cost to go from the Standard edition to Advanced is $745 per processor and to go from the Enterprise edition to Enterprise Plus is $295 per processor. See the bottom of this upgrade page for more information on this promotion.
The per processor cost for new licenses is $795 for Standard, $2,245 for Advanced, $2,875 for Enterprise and $3,495 for Enterprise Plus as shown in the below image.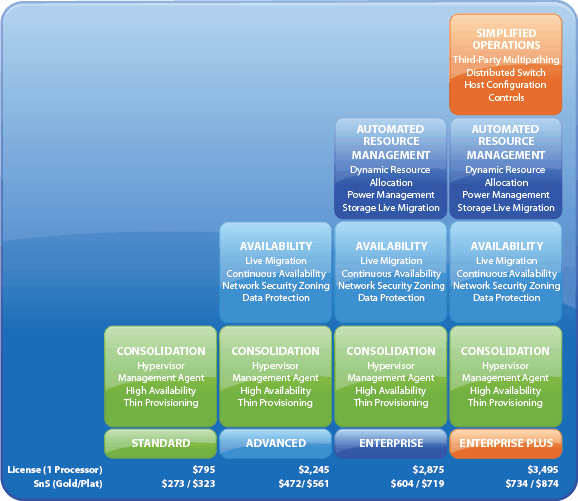 The Essentials and Essential Plus editions includes licenses for up to 3 physical servers (up to two 6-core processors) and a vCenter Server. Both editions are self-contained solutions and may not be decoupled or combined with other vSphere editions. The cost for vSphere Essential is $995 which includes a 1 year Subscription; however Support is optional and available on a per-incident basis. The cost for Essentials Plus is $2,995, however SnS is sold separately and a minimum of one year of SnS is required.
VMware has definitely made licensing more complicated and many customers may struggle to figure everything out. Luckily VMware has provided a lot of documentation on its website to help with this. The below links should help you better understand all the new changes.
Many existing Enterprise edition users were disappointed to find out that they would not be entitled to the new Host Profiles and Distributed vSwitch features without paying to upgrade their licenses to Enterprise Plus ($295 per processor). Previously Enterprise was the top edition with all the features but VMware chose to add a higher edition instead with the two features that will be very useful to manage larger environments. It's understandable that VMware is trying to re-coup some of their huge investment costs in this new release by charging existing Enterprise customers for these new features. Beginning May 21st is when you can begin upgrading and purchasing the new vSphere licenses. Existing customers will be notified that they can log into the new Licensing Portal and download the new licenses that they are entitled to use with this new release.