Nov 11 2009 10:36PM GMT

Profile: Eric Siebert
One benefit of virtualization that is often stated is that by virtualizing you will reduce the number of administrators needed to manage your server environment. I heard this first hand years ago when we were looking to do a server virtualization project and I was skeptical as to how that would be possible. VMware itself touts this as a benefit of virtualization on their cost savings webpage stating the following:
VMware shifts the paradigm from managing "the raw ingredients of IT", i.e. component-level infrastructure management, to cloud-based delivery of IT services. This dramatically reduces the cost and complexity of managing IT. VMware vSphere and the VMware vCenter Product Family simplify tedious day-to-day tasks such as provisioning, hardware maintenance, patching and capacity, incident, and performance management through policy-based automation. As a result IT resources and budgets can be shifted from tactical maintenance to strategic projects and innovation that dynamically respond to and ultimately drive the business.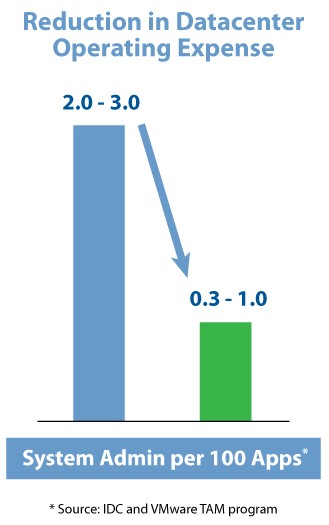 In my experience virtualization has not reduced administrator headcount at all. Why is that? Because the number of servers that we started with before virtualizing was about the same after we virtualized. The only difference being instead of 80 or so physical servers we now only have about six physical servers that were still running those 80 original servers as virtual machines. As a result we may have less physical servers to manage but we now have more operating systems to manage. In addition to the 80 original ones we had six new ones as a result of the ESX hypervisors. So there may be less hardware maintenance which is very minimal to begin with but there are more operating systems to patch and maintain.
One side-effect of virtualizing is VM sprawl. since VMs are so easy to create you tend to quickly end up with a lot more of them after you virtualize. Deploying a new physical server requires money, resources and data center space; deploying a new virtual machine only requires a few mouse clicks. Because of this you usually end up with even more servers to manage after you virtualize then you would have had if you had not virtualized.
When implementing virtualization, existing Windows or Linux system administrators tend to gain the additional duties and title of VMware administrator. When this happens their workloads will usually increase with the additional responsibilities of maintaining the virtual host servers.
So does virtualization really reduce the workload of administrators and allow companies to reduce headcounts? Maybe in some cases when consolidation is incorporated with virtualization projects, or highly-automated tools are put in place to manage the environment. But I'm guessing that there are not many companies that have let people go after virtualizing or have provided existing administrators with lots of extra free time.
Readers, what's has been your experience, has virtualization reduced your headcount or reduced your server administration? Let us know in the comments.