Jul 8 2008 4:05PM GMT
Both Fortune Magazine and virtualization.info are reporting that Diane Greene, co-founder of VMware, has left her position as CEO and been replaced by former Microsoft executive Paul Maritz by way of the EMC board of directors.
Although initially it was unclear whether or not Ms. Greene left on her own volition, at this time multiple sources are confirming that she was fired. Speculation says that her forced departure could be the result of her attempt to VMotion VMware from EMC to Intel, and the fact of the matter is that Ms. Greene's tenuous relationship with EMC CEO Joe Tucci was well known.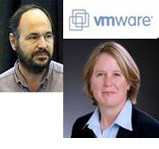 I had the pleasure of meeting Ms. Greene on two separate occasions, and both times I was impressed with her attitude and knowledge. She was well-liked and will be a hard act to follow — no single executive has done more to bring virtualization to the desktop and to the data center.