Jul 30 2008 7:43PM GMT

Profile: Eric Siebert
Distributed Power Management (DPM), part of VMware DRS, is another "experimental" feature introduced in ESX 3.5. It is a "green" feature that provides you with the ability to power down hosts during periods of low activity and then to power them up again as activity increases. DPM works by using DRS to migrate all VMs off the host prior to powering it down. Once the VMs are migrated to other hosts the host to be shutdown enters a Standby mode which is a powered off state. Being that this is an experimental feature still it is not meant to be used in production environments. It should be fully supported and no longer experimental in a future release of ESX.
To configure DPM simply follow the below steps:
1. Ensure that you have Wake-on-Lan (WOL) enabled in your server's BIOS.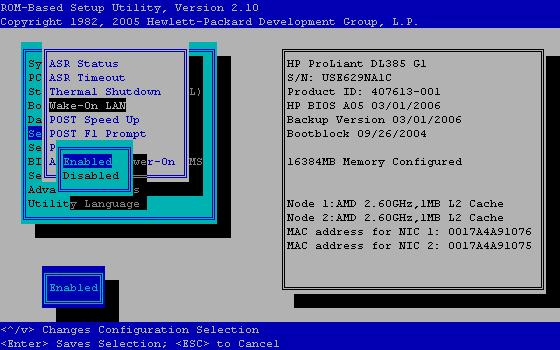 2. Check that your host servers NICs support WOL, you can do this by clicking on Configuration, Network Adapters in the Vmware Infrastructure Client. In the network adapter list look at the last column to see if WOL is supported. The NIC that DPM uses is the one assigned to the VMKernel vSwitch, so you may need to re-arrange your NICs so you have one that supports WOL in the VMKernel vSwitch.

3. To test the WOL feature, select your host and select Enter Standby Mode which powers down the ESX host. Wait a few minutes and your host should be completely powered down. You can wake it back up by selecting Power On in the VI client.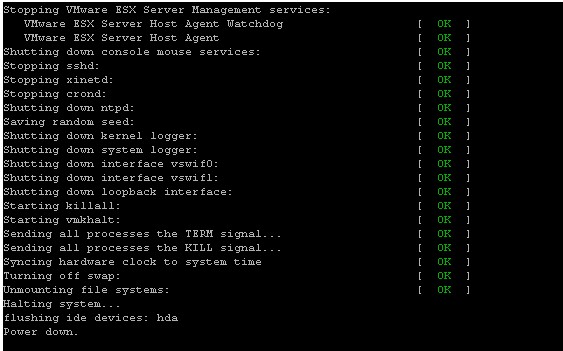 4. Now that you know the WOL feature works you need to enable DPM. To do this edit the settings for your cluster, then under the DRS category select Power Management. You can then select either Off, Manual or Automatic. The Manual option will only make recommendations for powering off hosts, the Automatic option will enable VirtualCenter to automatically execute power management related recommendations. You can change settings on individual hosts to have them either use the cluster default, always use manual, always use automatic or to disable the feature for them.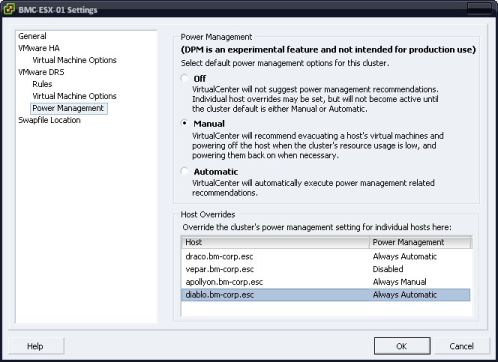 One thing to consider if you do decide to use DPM: If you are using a monitoring system to monitor when your ESX servers are up or down you will trigger an alert whenever a host is shut down. Having servers going up and down automatically can generate a lot of confusion and false alarms. In addition, many data centers measure uptime statistics on all the servers. Having hosts going down during periods of inactivity can significantly skew those numbers. While DPM is a nice feature that is designed to help save money, you will probably have to adjust your operational procedures to exclude the ESX hosts from monitoring and instead monitor only the VMs.