---
April 29, 2016 11:39 AM
Employee collaboration habits have prompted new ways of working, and IT's role has changed in the process. Employees are embracing collaboration, remote working and bringing...
March 17, 2016 10:28 AM
Implementing SIP trunking can be a daunting task for many organizations. But enterprises can take certain steps to ensure their SIP deployment is relatively smooth. Industry leaders at
---
March 21, 2014 2:27 PM
ORLANDO - Imagine using your headset not just for calls, but to adjust the temperature of your conference room or pull up documents you need for your meeting. With the advancement of next-generation wearable technology, those capabilities may not be so far off. Discussing the future of wearable...
---
March 18, 2014 10:23 AM
ORLANDO - With the use of mobile devices and BYOD growing in the enterprise, will desk phones go the way of the rotary phone, or can they be reinvented for the future? At Enterprise Connect 2014, signs appear to point toward reinvigorating the
---
March 17, 2014 10:07 AM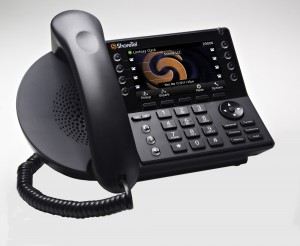 ---
December 16, 2013 10:27 AM
Huddle, a cloud-based collaboration and content management vendor, updated its software to address two major UC market themes -- enabling mobile UC and combining social capabilities with collaboration functionality. Huddle Note, an iOS application, will allow employees to create content in the...
---
March 25, 2013 10:19 AM
Vendors made significant announcements last week at Enterprise Connect around new features and delivery options for their unified communications and collaboration offerings. As enterprises continue to realize the value in having the ability to remain in touch with their employees anytime,...
---
December 11, 2012 11:58 AM

Profile: Tessa Parmenter
SayWhat -- a 5-employee start-up -- released a product today that actually makes our smartphones smarter. How you ask? By giving phone call recipients the ability to know what a call is about before the phone is answered. It also gives callers the ability to see presence on a phone and...
---
November 28, 2012 9:54 AM
Upgrading to unified communications is similar to making the switch from a standard cell phone that just makes calls and sends texts  (the horror), to a smartphone with all the bells and whistles -- like an app-filled iPhone or Android. Once you have access to important capabilities all in one...
---
November 16, 2012 3:02 PM
Users want and expect interoperability and reliability from their UC and collaboration tools. As enterprises learn to pick and choose the right vendor to match their unique business goals, vendors typically rely on their channel partner's expertise within certain market verticals...
---