---
August 30, 2010 12:08 PM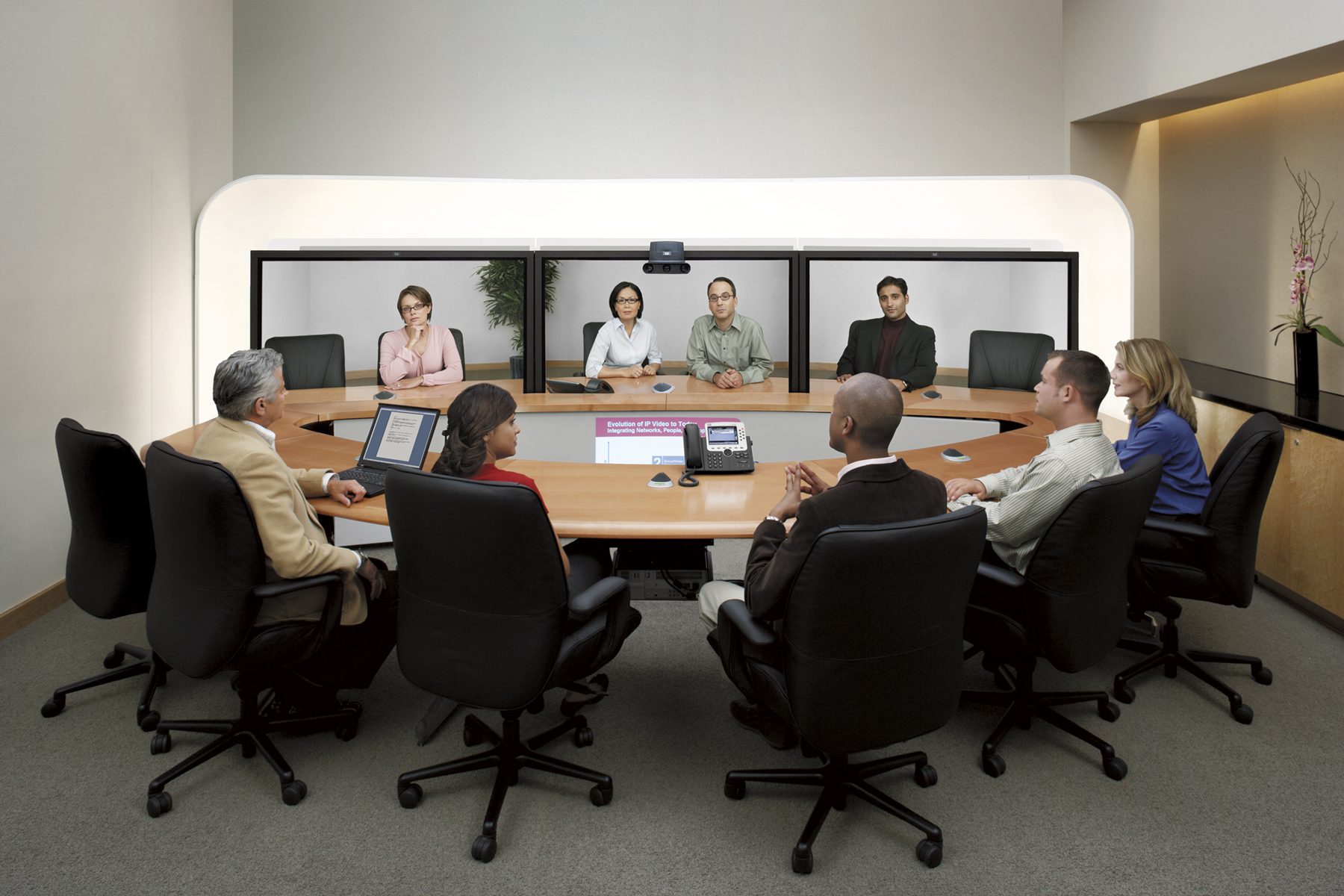 (Image courtesy of Cisco Systems)
There are a lot of things people won't write in an email because they know that someone — corporate IT, regulators, the boss — may be watching. But people are often more candid and less cautious behind the closed doors of a meeting room, which may be exactly what hackers are hoping to exploit as high-definition video conferencing and telepresence gains traction.
Our recent story on video conferencing security threats offers a broad overview about what vulnerabilities enterprises have to watch out for, which led Jean-Pierre Kellermann, a product line manager at Alcatel-Lucent, to chime in with some technical tips for video conferencing and telepresence pros.
Check out some of his video conferencing security suggestions (reproduced with permission and edited for clarity) after the jump…
August 11, 2010 10:51 AM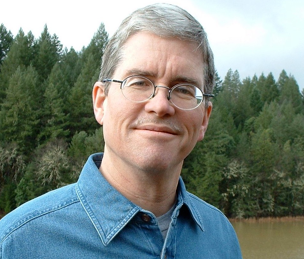 In response to last week's story about some industry changes and deciding between a single-vendor vs. multi-vendor UC strategy, Polycom CTO and co-founder Jeff Rodman (pictured left) dropped me a line with some reflections on the subject and where it fits into the push for more interoperability among UC vendors.
In addition to his perch at Polycom, Jeff is also secretary and co-founder of the Unified Communications Interoperability Forum (UCIF), an industry group for UC vendors dedicated to promoting better interoperability among their products. The UCIF went public in May with 17 members but has steadily grown to about 25, most recently announcing today the addition of Glowpoint, a telepresence and video conferencing managed services provider.
Jeff was gracious enough to allow me to post his comments on the blog. He's also blogged some more about it here and also recently shared some great insight into the industry (and his musical talents) in this Q&A with independent UC consultant Dave Michels.
Polycom has been been a strong proponent of open standards and multi-vendor compatibility for a very long time (dating back to our founders' roots in PictureTel, 1984, when we were instrumental in creating the first open standards for modern videoconferencing). Earlier this year, we recognized a growing issue with the expansion of UC, and with other industry leaders we initiated a collaboration to create UCIF, the Unified Communications Interoperability Forum (www.ucif.org), to ensure that UC will work smoothly across vendors, platforms, networks, and tooltypes.

At this point, UCIF has passed a quarter-hundred members including Microsoft, Logitech/Lifesize, HP, Vidyo, Siemens and Juniper, and is focused on ensuring that UC tools work together. It's a different strategy than creating new standards, there are plenty of those. What's needed is consensus on how to use those standards, and a certification program so that buyers can be confident these things will work together without ripping out their existing investments, while vendors are confident that they don't need to re-test every new release against every UC tool, release, and sibling.

One of the root issues with single-vendor approaches is that at the end of the day (or at the beginning of it?), there's no single vendor that has all the answers. Every user has different needs; they need different combinations of tools, and they use these tools in different ways. There's not a UC vendor out there who has every possible UC tool and lets it be used in every possible way – it sounds kind of silly to even propose this, yet that's exactly what a single-vendor strategy is trying to achieve. I think Microsoft's participation in UCIF really underscores this – with their extraordinary breadth and penetration, if even Microsoft thinks that UC interoperability with other vendors is crucial, then the chances that more market-specialized companies can successfully run a single-vendor play are negligible. Interop is really crucial for everyone, the big and the less big.

That continues to be Polycom's view. We don't try to have full UC suites, we just have the best tools for live human interaction at a distance. It's by facilitating the incorporation of Polycom's transparent communication into all kinds of UC solutions that we bring the best value to users, and the most positive impact on the industry. We pride ourselves in interoperability within the industry, including with our competitors, and are proud to continue our work in UC interoperability through our leadership in UCIF (in which, in full disclosure, I sit on the Board).
---
July 15, 2010 10:49 AM
A little skepticism is healthy, if not necessary to cut through all the marketing mush in the UC and collaboration markets.
The lukewarm reception I got from some users for this week's story on the tablet computer's role in a mobile UC strategy suggests that enterprises don't want just another gadget. Mobility management issues aside, it's got to do something existing devices don't (or do it better). Apple and Cisco are marketing their tablets, the iPad and the Cius, as a perfect intermediary between smartphone and notebook.
Ironically, it seems like this is the main point of contention for some IT pros — the screen is too small, the device is too big, it tries to do too much, it doesn't do enough. Whatever happened to the happy medium?
But not everyone is disenchanted. Telecommunications equipment vendor Tellabs has gone public with its iPad crush, and after talking to them for a little bit, it's easy to see why. They've incorporated it into business processes (time to dust our old friend "communications-enabled business processes" off the shelf).
Tellabs is testing about 20 iPads before what CIO Jean Holley expects will be a widespread deployment across an array of business units — supply chain management, IT, corporate communications, and where ever else it proves useful. Their focus now is using it with the supply chain unit to process orders faster for Tellabs' customers.
"[The use case] has got to really matter. It can't just be a nice-to-have app. It's got to have significance — where it's going to matter to our customer base or something productivity-wise," Holley told me. "We're not looking to just deploy a cool tool [because it's] neat. We're really looking for it have a real business benefit, so that's one of the criteria pieces that we're looking for [in mobile apps]. If it can touch our customers, that's No. 1. If it can touch across [Tellabs] and make us more productive, that's No. 2."
Check out this video they did putting an SAP transaction on an iPad app up against using the application on a laptop (the video is only about two minutes — and pretty entertaining). The user on the iPad completes the transaction almost three times faster (30 seconds vs. one minute and 22 seconds) than the user on the laptop.  You can hear the laptop user grumble about SAP being slow, though the referee is quick to point out that the iPad user was using the same system.
For the sake of objectivity, I asked Holley whether this is going to be a realistic expectation for users who don't have prior experience using an iPad. Obviously this guy, who turns out to be an app developer in Tellabs' IT organization, had plenty. The laptop user is more of a typical end user; he works in supply chain management, she said.
"We could flip [the users in] that video around and that iPad will absolutely still be faster," she said. "We love this iPad because it's easy to use that form-factor, it's got a big screen, easy keyboard, it displays and navigates very easily…. It's just a very easy-to-use device."
This is all just ducky for operations, but does Tellabs see the iPad as part of its UC strategy? Absolutely, Holley said. Eventually, they plan to start using it for mobile video conferencing. Now, aside from the SAP app, they are only testing e-mail and Web browsing.
"Part of our unified communications strategy is mobility, so this makes our unified communications mobile," she said. "We intend to put many more apps that can run on that device."
---
June 30, 2010 10:17 AM
This blog comes in from SearchUC's editorial director, Sue Fogarty, who has been immersed in all things Cisco at this Cisco Live conference this week in Las Vegas. Be sure to check out her video with Cisco CTO Padmasree Warrior (after the jump) about the new Cisco Cius and her views on why video is so integral to the future of communications …
John Chambers surprised the crowd at Cisco Live today by introducing the Cius ("see-us"), a tablet device poised to take on the iPad and give gadget-enamored business users a reason to be giddy. Looking at first blush like a large IP desk phone, the Cius' screen detaches to provide users with personal HD TelePresence, unified communications and virtual desktop functionality on the go.
Touted as a "mobile platform for collaboration," the device hinges on growth of video usage in the enterprise, which Cisco has been espousing for the past few years. "Video is the voice of the future," declared Chambers as he announced the Cius, predicting that video will transform business supply chains. The new device was built not only to support real-time video collaboration and streaming; it also has an integrated video camera and still camera for content creation and sharing. (See video below the jump…)
---
May 26, 2010 6:57 PM
Last week's story about unified communications integration focused a lot on IBM's Lotus software as an example of a vendor enabling the practice — specifically that Lotus' open APIs allow enterprises or third-party developers to fold other UC apps into the Lotus interface (or vice versa).
But with just as many (or more) enterprises being loyal Exchange users, it begged the question: Where does Microsoft stand here?
Deadlines being deadlines, unfortunately the software giant's PR team wasn't able to get us an interview with a Microsoft executive within our time frame, and the unsigned corporate statement came too close to press time to squeeze in.
Rather than leave everyone in the lurch, I thought I'd share the statement here:
"From an enterprise perspective, interoperability is critical in unified communications, as most customers have a heterogeneous environment and need to make systems work from various vendors of different platforms. Microsoft is committed to supporting interoperability by adopting widely accepted industry standards, such as SIP/SIMPLE, and using concepts like federation consistently across our entire platform. We publish our interfaces and platform APIs to the public enabling third parties to extend the capabilities of our solution.
Microsoft's advantage is an integrated client experience that supports presence, instant messaging, voice and video, as well as application sharing, collaboration and conferencing. This integrated experience is delivered via products like Office 2010, SharePoint 2010, Exchange 2010, etc., but can also through our APIs be integrated in third-party software through the extensible platform APIs of Communications Server. Using automation APIs of Communicator, click-to-communicate is easy to integrate in many applications. This extensible platform has been built with the goal to achieve business productivity at its best for our customers.
From a user perspective, we definitely see a trend of business users attempting to bring together separate pieces of data and applications into a "single pane of glass" for productivity reasons. We see these typically as non-technical business users wanting to concentrate their productivity experience within Office and within SharePoint because that is where they spend the majority of their time, bringing together data from other systems. In other scenarios, the "single pane of glass" concept is often an attempt to redefine the user experience, which may be incongruent and disconnected as a byproduct of multiple vendor clients within the environment.
For individuals who want their communication and collaboration experience to be seamless but do not have the developer skills required, SharePoint provides a set of capabilities related to "do-it-yourself mashups" that we collectively refer to as "SharePoint Composites." And, if a business user has some technical inclination or is a developer, then they can definitely use power tools or development tools as well to create solutions that incorporate presence, communication, messaging, as well as data from other applications. You can learn more from that here.
---
May 21, 2010 9:01 AM
I promise no one leaked the UCIF story to us.
It was convenient timing that we were planning a story on unified communications integration for Thursday just as the Unified Communications Interoperability Forum went public the day before. The two stories highlight a subtle but important difference about interoperability versus integration — one that was admittedly a bit lost on me when all the UCIF news first started to flood my inbox.
Reporters often look for (and latch onto at first sight, for better or worse) what we call a news hook. It tells readers more about why they should care about an issue. It tells them why they should care today, based on some recent event or revelation. It brings timeliness and relevancy. So when UCIF announced its formation on Wednesday, I thought it must be my lucky day. News hook falls into my lap! I even booked an interview with Polycom founder and CTO Jeff Rodman — not the usual director of product marketing spokesperson vendors offer us (no offense, directors of product marketing).
Jeff led me through an interesting 20-minute discussion on why and how UCIF was formed, and it sounds like it will serve an interesting role in unified communications (especially if, as he said they plan, the alliance is able to start stamping interoperable products as UCIF tested and approved). I asked him about what work they were doing or might plan to do to foster unified communications integration — so that we can all stop juggling/getting lost in five different UC applications. He told me it was out of scope for the alliance, but it might be something they'd consider down the line.
Oh.
Well, there goes that idea.
Hopes dashed, I asked him something we had all been wondering about when we saw the UCIF starting lineup. Something juicier. There were lots of vendors on that member list. But besides Microsoft and HP, none of the other top names we usually hear about when we think of UC, such as Avaya, Cisco, IBM — where were they? Did the UCIF tree house have a sign outside that read, 'No other multibillion-dollar companies allowed'? 'Leave your Lotus at the door'?
Here's the response I got, after the jump…
---
May 13, 2010 1:00 PM
Since the release of OCS 2007 R2 there has been much discussion as to where telephone number manipulation to E.164 format can occur or where it must occur, (e.g., OCS normalization rules or media gateway manipulation tables). This blog presents the current functionality for telephone number manipulation provided in OCS 2007 R2 to help those deploying OCS 2007 R2 with telephony integration to understand when and where to do telephone number manipulation.
Telephone number manipulation is one of the key actions or processes that must be implemented when deploying OCS 2007 R2 along with voice integration, (i.e., placing and receiving phone calls to/from the PSTN). Microsoft recommends — although the product does not specifically require — that the E.164 telephone number format be utilized when storing and using telephone numbers within Active Directory.  This provides for the enforcing of a uniform standard for managing telephone numbers stored in AD and/or Outlook contacts. Using the E.164 format also enhances the end-user experience — or user experience (UX) as MS refers to it — by allowing such features as incoming calls to MOC to display not just the incoming phone number, but the calling person's name and other information.
---
April 30, 2010 5:35 PM
They say things happen in threes, so let's try the Hewlett-Packard edition of this association game: Colubris, 3Com… Palm?
Huh?
Those three letters probably sum up most of the IT world's reaction to HP's announcement it will buy the flailing Palm Inc. for $1 billion in cash. Although there's been plenty of pontificating about what the Palm merger means for the smartphone market, I'm not seeing much of a forest through the trees.
Where does this piece fit in the puzzle? What does it mean for everyone who's not a mobile device manager, mobile app developer or garden variety Palm customer? What about telephony, collaboration and networking professionals? I'm not going to pretend I have the answer, but here's some food for thought:
---
April 26, 2010 12:47 PM

Profile: Leigha
In the Complete guide to caller ID spoofing: Safeguarding your resources, I talked about the dangers of caller ID spoofing when wielded by malcontents. I also talked about The Truth in Caller ID Act of 2007 — a bill written to prohibit fraud and harassment via caller ID spoofing, while still permitting legitimate, responsible companies to use caller ID spoofing so long as they were acting within the confines of the law. A bill, by the way, which never became a law.
The Truth in Caller ID Act of 2010 is more pointed, but still leaves too much room for interpretation. A bill, by the way, which has not yet been written into law.
It shall be unlawful for any person within the United States, in connection with any real time voice communications service, regardless of the technology or network utilized, to cause any caller ID service to transmit misleading or inaccurate caller ID information, with the intent to defraud or deceive.
Interpreting the law is why we need lawyers. Interpreting this bill (should it be passed into law) could put responsible companies on the defense, forcing them to spend time and resources justifying the legitimate and productive use of the technology.
Caller ID spoofing was originally created to help businesses. It has been around as long as caller ID. It was first used by businesses with PRI (Primary Rate Interface) telephone lines. Essentially, a business with one PRI line could support up to 23 unique phone numbers and make each of those appear to have originated from a single phone number, typically the company's main number.
Tony Bradley pointed out in his blog Caller ID spoofing ban is bad for business:
Businesses have a vested interest in displaying the primary number for the business for all inbound and outbound calls regardless of whether those calls were placed from a desktop phone, a personal smartphone, or a software-based VoIP client or the PC.

Google Voice is similar. The very concept of Google Voice is to provide a single contact point — one phone number that can be shared with everyone, and that won't change even if you move, switch jobs, or change wireless service providers.
Could Skype and its SkypeOut's feature (that enables Skype users to assign a caller-ID number) soon be on the defense?
The dangers of caller ID spoofing are real and there should be laws in place to punish those who clearly abuse the technology (like the examples noted in my caller ID spoofing article), but could this bill impede technological innovation? Are we fringing on the Net Neutrality/Internet Freedom Preservation Act argument?
---
April 20, 2010 5:44 PM
It's like clockwork — anytime there's some weird weather pattern or some other disruptive event, the disaster planning PR kicks into overdrive. Sure enough, my inbox started getting flooded last week about how enterprises can't wait for the next Eyjafjallajökull (or swine flu or blizzard or flooding) to start beefing up remote access and collaboration spending.
We sort of roll our eyes when we get these, and it looks like you're doing the same. At a disaster planning session yesterday at Gartner's Wireless, Networking & Communications Summit 2010 overlooking the marina in gorgeous San Diego — where it's hard to imagine a disaster — research vice president John Girard pointed out that 76% of enterprises are ready for a power outage, but only 64% ready for a natural disaster.
So, I'll have to ask you to excuse me while I eat my words in this next observation — three of Gartner's European analysts were stranded this week in Europe by the Iceland volcano ash cloud, including research VP Steve Prentice, who was scheduled to give today's keynote entitled, "Are we nearly there? The art of being there when you are not."
He delivered his argument for enterprises to embrace "immersive virtual environments" via a (ever so slightly jittery) live videoconference — broadcast on a big screen to attendees — supported by a colleague in the room who IM'd him with any questions that popped up live or via Twitter… including mine.
"Technology has broken down the constraints of geography and technology has allowed us to project our presence," Prentice told the audience. "We tend to take the view that being there is more important [than virtual attendance] …. but any of you who are familiar with teenage children [know] face-to-face communication isn't always where it needs to be."
He set up a familiar scenario — presence matters when we have meetings. But what happens to people sitting in meetings? They reach for their smartphone or laptop and start checking email or doing something else other than participating or collaborating.
There's no one answer for enterprises, Prentice said. In some cases, something like Cisco's Telepresence might be the solution. For others, it might be appropriate to use an avatar-based virtual reality environment such as Second Life (though I confess I'm still skeptical on this one, but who would've thought Facebook would have a business use five years ago?).
The key is not the technology itself, Prentice said. High-def or 3D doesn't guarantee productivity. It's understanding user behavior and needs, which is where a unified communications specialist can shine — making sure the next unpronounceable volcano doesn't shut down your business.
"Don't necessarily go for the highest technology solution," Prentice said. "Sometimes simple solutions work best. Technology succeeds when it meets the needs people care about."
---