---
November 28, 2012 9:54 AM
Upgrading to unified communications is similar to making the switch from a standard cell phone that just makes calls and sends texts  (the horror), to a smartphone with all the bells and whistles — like an app-filled iPhone or Android. Once you have access to important capabilities all in one place, there really isn't any turning back.
Having the ability to make a quick phone or video call, check someone's presence status or send an instant message from an integrated system can change an employee's job experience quickly. And once a business decides to go all out and implement UC or collaboration tools into the workflow, they are in it for the long haul.
But new tools, especially those that are infamous for hogging bandwidth — like video — can wreak havoc on an enterprise network. The good news is that many network monitoring vendors have noticed this new blind spot that real-time UC traffic causes for IT.
Tone Software Corp, a provider of network monitoring and management for converged telecommunications and IT infrastructures, recently announced a free, downloadable monitoring tool for Microsoft Lync UC environments. Once downloaded, the ReliaTel Lync tool offers IT a full view of Lync quality issues, call quality statistics, and QoS dashboards to help pinpoint the root cause of developing and historical Lync quality problems, according to the company.
Tone Software's ReliaTel product suite supports many different UC environments, including Avaya, Nortel and Cisco. The latest version of the provider's ReliaTel VoIP and Unified Communications (UC) Service Assurance solution, 4.1, was the first version to offer proactive monitoring and management for Microsoft Lync UC environments — something that many enterprises are asking for.
As Lync adoption continues, organizations are realizing they need greater  visibility into the voice quality of their Lync UC services, which can overload their IP network and put additional strain on each Lync users' desktop resources, Tone Software noted in a recent press release.
"The free ReliaTel Lync Monitoring Tool builds on that premise to provide Lync users with a quick and easy methodology to monitor and manage critical QoS across their Lync UC environment," said Amit Kapoor, director of strategic technology for Tone Software.
Just like with any new network application, monitoring is key. And since enterprises can't stop UC and collaboration once they start, being able to quickly identify performance degradation culprits and smooth out potential bottlenecks along the way will be essential to helping users take advantage of all the unique (and pretty exciting) features that UC tools have to offer.
November 26, 2012 11:13 AM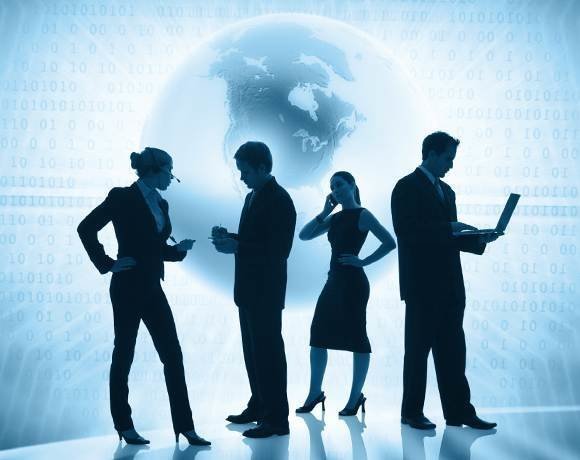 This year's UC Magic Quadrant from Gartner brought to light several unified communication trends:
UC Magic Quadrant author Bern Elliot, VP Distinguished Analyst, explains the reason for such a tight-knit integration:
It's a natural fit to start integrating collaboration capabilities with communications capabilities… It really was enabled by the convergence of communications into software environments on Internet networks around Internet standards…. As unified communications comes together, the environment can do more because it's software [which can break down] … unified communication silos.
These trends will continue to evolve the definition of UCC. In the coming year, we can hope for fewer silos between different types of communication, like messaging and telephony. We can expect more cloud services for UCC; UCC products with mobile clients will become the norm; and video will become more integrated, higher quality and less pricey.
---
November 16, 2012 3:02 PM
Users want and expect interoperability and reliability from their UC and collaboration tools. As enterprises learn to pick and choose the right vendor to match their unique business goals, vendors typically rely on their channel partner's expertise within certain market verticals for deeper insight into what features these businesses actually need.
Industries — such as healthcare, education and finance — all require a specialized tools for communication and collaboration.  UC vendor Avaya and Genband, an IP infrastructure provider, have expanded their partnership with the hopes of targeting "carrier-class" enterprise customers, or large higher education, health care, government and finance organizations.
The two companies will actually recombine elements of Nortel Networks, both Nortel's carrier VoIP and applications software unit now owned by Genband and Nortel's enterprise segment, scooped up by Avaya in 2009. The extended collaboration is about continuing to support the existing customer base of Avaya Communications Server 2100 (CS 2100) and Avaya SL-100 products — a definite plus for former Nortel users who will still be able to use of their legacy assets.
And Avaya and Genband will continue to target niche enterprise customers. "UC needs to be carrier class and beyond reliable. For government and health care in particular, downtime is intolerable — we're talking about lives on the line," said Richard Travis, senior product manager for Avaya.
"It's really about enabling these industries with  applications for video conferencing and emergency notification services," Travis said, noting that the Avaya Aura and Genband Genius platform will enable customers to take advantage of any new features along the way.
It's been a bumpy ride for Nortel customers since the company went bankrupt three years ago, but the new roadmap should help to put more minds at ease, Travis said.
"Customers are kind of in a wait and see mode," he added.
---
August 24, 2012 4:20 PM
"Collaboration" is when mutiple components work with one another. In turn, a unified collaboration solution can involve many moving parts. This can make choosing a solution overwhleming for an IT organization. But Nemertes Research analyst Irwin Lazar tells us the trick to finding a unified collaboration solution is to first understand your organization's collaborative needs and to match those needs with those in the unified communication (UC) vendor landscape. Not every vendor will have all the features you require, but he says choosing a vendor with the most solutions for your company will simplify your life and give you leverage to negotiate more features in the future.
With this savvy advice, the editors of SearchUnifiedCommunications.com asked Lazar to create an IT Decision Center guide to walk IT professionals through the steps of a typical RFP buying process to help our members find a business collaboration solution. In the guide, you will learn the answers to these questions:
If you're left with any questions along the way, feel free to reach out to our UC expert panelists by emailing editor@serachunifiedcommunications.com.
---
May 10, 2012 4:22 PM
LAS VEGAS — Everyone wants to use their personal devices for work, hence BYOD was born. But while using a personal mobile phone instead of a desk phone can be helpful — especially for working remotely — there are downsides associated with just anyone knowing your mobile number.
At Interop 2012, ShoreTel demonstrated enhancements to its cloud-based phone system following its acquisition of M5. The new portal –an M5 offering — can give users the ability to manage their personal preferences including call routing and voicemail management.
The portal can be downloaded onto iPhones and tablets, as well as Android and Blackberry mobile devices, and it allows the user's mobile device to serve as an extension of the PBX in every way, said Kevin Gavin, chief marketing officer for ShoreTel.
If a user is working from home, calls can go over the Wi-Fi, saving the user money, Gavin noted. If the user wanted to leave the Wi-Fi area and still be on the call, the portal then can switch the call to the user's service provider for their cellular service without interruption to the call, he said.
Via the portal, the users can make calls through any mobile device and still appear as if they are calling from their work, home or personal mobile phone number. This allows users to have a "dual persona," said Bernard Gutnick, senior director of product marketing for ShoreTel. "The user has the ability to make choices about what ID makes the most sense when placing a call," he said.
And the portal can also make decisions for the caller. If the user is placing a call to a contact already in their phone, the mobile identification of the user will be selected to display to the contact on the other line. The opposite is true if the user calls an office number.
"People want to bring their own device to work, but leave their personal ID at home," added Gavin.
And really, who doesn't want to have their cake and eat it too?
---
May 8, 2012 7:44 PM
As BYOD gains acceptance within the enterprise, the desk phone is becoming a dusty box sitting in a corner on a cubicle desk. Phone numbers could follow. This is the vision that many enterprises and vendors are starting to see for the future of mobility.
But are enterprises realizing the value in leaving the desk phone behind and moving to mobile devices as the primary form of communication? During the "Mobile Vision: Breaking the habit of the desk phone" session at Interop 2012, analysts from Huawei, Extreme Networks, Cisco Systems and Avaya explored possible paths toward total mobility and mobile UC.
John Roese, SVP and GM for Huawei Technologies went so far as to pose the question as to whether phone numbers should be a part of the new UC experience. He said no, dubbing phone numbers archaic. The elimination of phone numbers may be a scary concept for many enterprises, but so was social media just a few years ago until its business value was recognized.
"Click to call is not really progress for the new UC vision, where is click to collaborate?" Roese asked. UC vendors are coming out with impressive UC solutions for mobile devices like tablets and smartphones, but they aren't simplified enough from the user perspective, he noted.
But there is a silver lining. Roese is looking at the future for UC in a very positive light. Vendors have the capabilities needed to create a "futuristic experience" for their users, noting that someday, a smartphone may have the ability to dictate a message to the user if the device realizes the user is otherwise preoccupied — like driving a car.
Roese referred to his own desk phone as an "alarm clock" or a device that tips him off that someone has tried to reach him, but it is rarely answered — unlike his mobile phone. "We need to start thinking about what helps users make the decision to answer the phone," he said, noting that if not only the caller, but the reason for the call could be integrated into one device, a more satisfying UC experience would result.
But vendors should be driving this idea, as the enterprise may not know what is best for its own mobile UC strategy, Roese said. "I don't anyone in the enterprise who asked for Skype right away," he noted.
On a philosophical note that can be applied to both life and the enterprise UC strategy, Roese said,"One of the most difficult things moving forward is deciding what we should leave behind."
---
April 30, 2012 9:55 AM
The video conferencing market is changing, and in any market, change typically requires the need to evolve.
While working on an article this week about video conferencing interoperability, a couple of analysts mentioned that Polycom, typically thought of as a leader in this space, was struggling. It appears that this hardware-centric vendor is noticing that the enterprise is gravitating toward software-based video-conferencing offerings.
Video-conferencing rooms are being replaced with lightweight alternatives like desktop video. And why buy video hardware when other vendors are giving it away for free? Microsoft probably had this trend in mind when it acquired Skype, which users can download onto any device they wish and use it anytime, anywhere.
Smaller players are also paying attention and taking this opportunity to break in to the video conferencing market by way of partnerships with other vendors. These partnerships aimed at delivering hosted video conferencing offerings, a solution that many enterprises have begun to favor.
Vendors should keep in mind that enterprises are looking for ease of use, something that many desktop or mobile video offerings (like Skype) provide. Hosted solutions are also growing, given the low up-front investment required by a subscription service.
The good news is, the market for video only seems to be going up and Polycom has a great reputation. With a little evolution, perhaps Polycom will see its stock rise again.
---
April 9, 2012 8:38 AM
As many sessions held during Enterprise Connect 2012 pointed out, user adoption of enterprise-grade UC tools has been a point of pain for UC vendors. But sometimes when a company goes all-in with enterprise UC or collaboration technology, it can realize serious benefits.
BJ Haberkorn, Group Product Manager for Microsoft Lync told us at the conference that Sprint has experienced a big benefit with Lync–a savings of $30 million annually.
Notably, Sprint has saved $2.5 million in avoidance of PBX upgrade costs, $6.7 million in recurring circuit costs and $4 million in cost avoidance for conferencing since the installation of Lync. The company has even been able to earn some green savings–$700,000 annually because it doesn't have to power and cool old PBXs anymore.
Sprint has over 500 locations and was looking to do more with less, Haberkorn explained, and the collaboration tool has changed the office environment. The mobile carrier's 39,000 users are now able to work remotely more easily with voice, IM, desktop file sharing and conferencing capabilities on one platform. As a result, Sprint has changed the layout of many of its offices and even reduced the number of its campuses. "They don't have cubicles anymore," Haberkorn said, noting that Sprint has set up unassigned work stations in which employees can grab a spot to get work done when they come in.
"But Sprint told us their employees are in the office no more than 40% of the time, because the employees are now enabled with the tools they need wherever they are," Haberkorn said.
And the users love being able to go to a meeting by clicking a button without dialing any numbers or searching for conference passcodes.
In addition to cost saving benefits for the enterprise, employees enjoy the ease of use that comes along with click-to-communicate capabilities. While not every company will experience Sprint's success, Enterprises should fully embrace UC and collaboration tools in order to get their users to follow suit, and to get the most bang for their buck.
---
March 28, 2012 12:39 PM

Profile: Kate Gerwig
It's important to remember it's not always about the large enterprise when it comes to moving to unified communications. Sometimes the small business needs UC most.
For example, Habitat for Humanity's Kim Trainor, community relations director of the greater Lowell, Mass., area, isn't a bleeding-edge technology adopter. She's been more of a last-gen user using a black push-button phone with no features for the past three years. In a job where she spends time looking for corporate sponsors, writing grants and working with families that need housing, a hold button, basic voicemail and the ability to transfer calls without telling someone to call back could have changed her life.
When the opportunity to beta test Avaya's new AvayaLive Connect public Internet UC solution presented itself, complete with new handsets, Trainor and her four office mates graduated to a plug-and-play service that include audio and video conferencing, presence, mobility, messaging, and of course voicemail that can be delivered to email. At that moment, Lowell's Habitat for Humanity group joined the 95% of companies doing something with UC, according to Nemertes Research vice president Irwin Lazar.
Trainor's group didn't have to know what presence or soft clients are. They just got to use the features.
"We knew we needed a new phone system, but in the non-profit world, you just try to make do and hope that people donate stuff," Trainor said. "We have no technology budget. But we've been testing it for two months, and it has made our lives much easier."
AvayaLive Connect, which is designed for small businesses, will roll out commercially in early summer.  Its aggressive pricing, we're told (unofficially), will be $20 per user, per month, with Avaya throwing in a free month's subscription.
Announcing the service at Enterprise Connect 2012 in Orlando this week, Avaya is betting on attracting the huge and often underserved small business market. It plans to have its channel partners heavily involved — at least those who have shown they're good at selling services, not just boxes. The service is also available via the Avaya website.
While the service runs over the public Internet, Avaya announced a strategic relationship with Level 3 Communications to support AvayaLive Connect. It is unclear what the provider's strategic mission is.
Cloud and/or hosted collaboration service announcements are plentiful this week, and providers (which include carriers, UC vendors and startups) are labeling them as "cloud," "hosted" or "managed" services to avoid customer "cloud fear." Microsoft also markets Lync Online, its Office 365 public cloud services suite, for small business customers.
Many more announcements targeted larger enterprises. For example, Sprint announced the availability of Sprint Complete Collaboration, a managed UC service bundle that integrates Cisco's Hosted Collaboration solution (HCS) platform that provides connectivity through SIP trunking via its MPLS network. Capitalizing on its carrier background, Sprint offers class of service at no charge and integrates client- and network-based mobile integration intended to extend PBX features to mobile devices. 
UC services like Sprint's are too big for Trainor's needs, however, with its sweet spot of enterprises with 500 to 5,000 users. Avaya Live Connect can scale down to two users to fill a blank in the market, according to Philippe Allard, product manager for AvayaLive Connect, adding that the handsets arrive completely assembled with cords plugged in if the customer even wants to buy phones, which is not required.
---
March 27, 2012 8:55 AM
Unified Communications
ORLANDO — Whether it's the BYOD trend, or the idea of UC federation, one theme keeps jumping out at me as I sit in sessions at Enterprise Connect in Orlando this week — the increasing focus on the user experience (what a concept).
While it may not be the most important feature vendors focus on when creating or upgrading a unified communications platform or application, "user experience" is growing in vendor mindshare. Users are making it clear that they have devices (smartphones and tablets, namely) that they love and would like to leverage to get their work done, not just to play Angry Birds.
Along with BYOD, users are asking for ease-of-use when it comes to UC offerings. A.T. Kearney's Kevin Rice mentioned that his own enterprise uses an internal UC platform with an interface that "looks like Facebook," so it is easier and more familiar to users. It results in employees actually using the UC platform — which is the major critical success factor for UC.
Users are also asking for communication and collaboration capabilities to be better integrated into their workflows. Most employees already use email, instant messaging and intranet platforms every day, and that's not even counting other social media tools like LinkedIn, Twitter or Facebook. Who really wants to have to remember another password and sign into another application at work?
Analysts are stressing this "no more passwords" requirement from users, and vendors have listened, as well. But challenges lay ahead. UC is already a mixed vendor environment, and most companies have different vendors for voice, video and collaboration. Everybody admits that integration is a major unsolved issue.
An interoperable inter-vendor federation for UC is a realistic goal that a panel of speakers from Avaya, Cisco, Microsoft, and Nextplane — led by Russell Bennett, principal analyst of UC insights — believe in.
While UC federation sounds like a great idea for enterprises, establishing trust between UC platforms is not something that is going to happen overnight, according to Albert Kooiman, senior product manager for Microsoft.
But Kooiman predicts that in the future, the idea of UC federation will be a thing of the past, as different companies will have the ability to work together seamlessly without dissimilar UC vendors standing in their way.
After all, isn't it called unified communications for a reason?
---