---
March 18, 2014 10:23 AM

Profile: Katherine Finnell
ORLANDO – With the use of mobile devices and BYOD growing in the enterprise, will desk phones go the way of the rotary phone, or can they be reinvented for the future?
At Enterprise Connect 2014, signs appear to point toward reinvigorating the traditional desk phone. For desk phones to compete with soft phones and mobile devices, they must do more than just provide a voice service.
Of course, vendors weigh in with different points of view, which also depend on the devices their companies support.
"The hard phone right now wins, but it's fading," said Bill Woodall, Unify's director of UC technology.
Microsoft Lync Product Manager Jamie Stark agreed, saying that while desk phone sales continue to increase, it isn't a sign of the their sustainability. Instead, as enterprises trend toward mobility and BYOD, the market will start to see hard phone sales dropping, he said.
ShoreTel's Senior Director of Product Marketing Bernard Gutnick agreed. "People do more work outside of the workplace — work is a function rather than a place," he said. As a result, users are moving away from hard phones that require them to be tied to their desks.
But newer editions of desk phones are becoming what Craig Walker, senior director of communications business at Alcatel-Lucent Enterprise, called "multimedia devices" that offer features like instant message translation to voice or video through the hard phone.
"The concept is it isn't just a phone number anymore, it is a single identification from a system," Walker said.
As for hard phones going beyond voice services, Gutnick noted that ShoreTel announced a new line of desk phones, the 400 Series, that allow for integration with cloud applications.
March 17, 2014 10:07 AM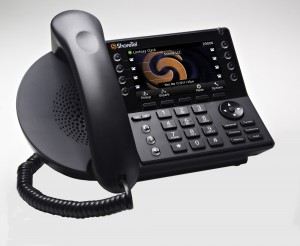 ORLANDO — ShoreTel announced today at Enterprise Connect 2014 that it is now shipping its 400 series IP phones for ShoreTel Sky, a series of three new deskphone options for cloud customers.
The new deskphones designed for ShoreTel's cloud-based PBX service will come in three versions: the IP480, IP480G and IP485G. The phones will range from basic dialing, grayscale display and speakerphone functionality in the IP480, to backlit color display options in the IP485G. All three of the new ShoreTel Sky series will allow for integration with cloud applications, the company said.
The new deskphone series will complement the vendor's ShoreTel 400 series IP phones for premises-based deployments, which have been available since last fall. The new phone series for ShoreTel Sky is now shipping through the vendor's channel partners, and will offer ShoreTel Sky users a more integrated experience to complement their cloud service, said Bernard Gutnick, senior director of product marketing for Sunnyvale, Calif.-based ShoreTel. "The 400 phones play an important part in reinforcing and controlling the end-to-end ShoreTel experience we want to give our resellers to offer to their cloud customers," Gutnick said. The ShoreTel Sky service was previously sold with Cisco deskphones.
The company is also displaying the fruits of its recent integration with SalesForce.com at the conference — ShoreTel for SalesForce and ShoreTel Sky for Salesforce — two new applications that integrate Salesforce with the ShoreTel on-premises IP-PBX system, and the ShoreTel Sky cloud-based phone service. The integration will allow users to work within one application while collaborating in real-time, the company said.
---
February 3, 2014 4:14 PM
Short message service (SMS) text messages have been unofficially part of the collaboration strategy for many enterprises for years. Now, new messaging services are popping up, aimed at taking advantage of this market need and filling in the security gaps left by text messaging from personal devices.
HeyWire Business, a Cambridge, Mass.-based mobile tech startup that broke out of stealth mode last year, introduced a cloud-based business messaging platform which allows users to send and receive SMS messages via their office phone number.
Once the HeyWire Business Messenger app is downloaded by the user, the cloud-based service allows users to plug their landline office phone numbers into the HeyWire Business Cloud. Text messages sent to landline numbers are routed to HeyWire's network. Users  can then read the messages on any Android or iOS mobile device in the U.S. Messages can be sent back and forth right from HeyWire's app, which has been designed with enterprise IT requirements in mind. The HeyWire app allows users to attach an auto-reply policy, or access their company directory. The app encrypts all messages, and an enterprise can set a policy to log the communications. .
According to a recent survey of 500 business professionals conducted by HeyWire, 67% are using text messaging for business-related communications. Of this number, 64% would like to use their business phone number, rather than their personal cell phone number for business-related texting. While the main players in this market have been the smaller players so far, Avaya recently threw its hat in the ring with its Avaya Messaging Service.
But certain industries might find smaller startups more capable of catering to their needs. TigerText, a Santa Monica-based startup similar to HeyWire, has carved out a spot for itself in this space with its ability to guarantee a secure, HIPAA-compliant SMS and picture messaging service for business users. Like the HeyWire service, messages can be sent without revealing personal cell phone numbers, and the messages are encrypted and self-destruct after a designated period of time.
As more IT teams implement mobility policies, and try to regulate SMS messages sent for business purposes, they will use messaging services to help enforce security where need be. After all, business professionals may want to text, but separation is still needed between personal and professional communication.
---
December 16, 2013 10:27 AM
Huddle, a cloud-based collaboration and content management vendor, updated its software to address two major UC market themes — enabling mobile UC and combining social capabilities with collaboration functionality.
Huddle Note, an iOS application, will allow employees to create content in the cloud via any device. The mobile application will serve as a "mobile Microsoft Office alternative," providing document creation and editing capabilities, in addition to feedback and approval functionality for group projects, said Alastair Mitchell, Huddle's CEO.
Huddle Note allows mobile users to share files, collaborate on content, and manage people, tasks and workflow with enterprise-level security in the cloud, Mitchell said. "Employees are used to going to Microsoft Word, creating and saving content locally, and then sending along [via] email. This is changing dramatically," he said. "[Users] are creating all sorts of new content, and that traditional Microsoft Office Stack paradigm is completely breaking down."
One of the biggest trends in the UC market for 2013 was the realization that successful use of social software required integration with the UC and collaboration tools that people were already using. The last thing users want is another platform to sign into that requires them to toggle back and forth throughout the day. Huddle recently announced its decision to partner with Tibbr, an enterprise social vendor, to bring social networking to collaboration environments.
The partnership will allow Huddle customers to share and manage their content in the cloud while socializing with colleagues. At the same time, it will also allow Tibbr users to have full use of Huddle's content collaboration service, with the ability to attach Huddle files to their status updates.
---
November 26, 2013 1:28 PM
Have you ever wondered whether you chose the right communication product for your company? Do you want to know what others have to say about their unified communications (UC) products and services?
By answering the questions in this 10-minute Wainhouse Research survey, you will learn what IT professionals like yourself have to say about their UC solutions in a survey highlights report. Not only will you know what others think, but your opinion will serve to shape the UC industry as we know it. Wainhouse Research uses your data to help vendors and service providers bring you the unified communications solutions you want and need.
By answering the questions in the short survey, you will also be entered for a chance to win a $50 Amazon gift card or a $50 donation to the organization of your choice. Five respondents will be randomly drawn to win.
Thanks in advance for your participation!
---
October 21, 2013 3:30 PM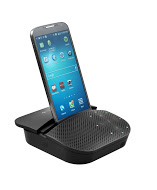 Today, Logitech for Business introduced Logitech Mobile Speakerphone P710e to support high-quality audio and video conferencing on mobile devices.
Much like Unify's (formerly Siemens Enterprise) "new way to work" mantra, Logitech is adopting "the new office" tagline. This new office supports mobile workers who are working from home, on the road or even in the office with their own devices. 
Mobile UC market on the rise?
While traditional hardware vendors like Cisco are becoming increasingly software-centric this year, unified communications vendors like Logitech are hanging onto their hardware roots and capitalizing on the computer peripheral market, particularly mobile device peripherals.
A few years ago, HP and a few others struggled with making tablets work. However, today's Gartner statistics see a spike in tablet shipments. In addition, ComputerWeekly reports 31% of companies  are adopting choose-your-own-device policies (CYOD), compared with 17% of companies with complete bring-your-own-device (BYOD) policies. Logitech hopes to translate this renewed mobile UC market focus into bring-your-own-peripheral (BYOP) market sales.
"Our keyboard case for iPads is our largest seller," said Alan Smith, senior global product manager for audio products at Logitech for Business.
Logitech improves mobile user experience
Since mobile devices have notoriously poor audio quality, especially on speaker, a mobile speakerphone may be desirable for employees looking to conference on the go. The speakerphone has a noise cancelling microphone and dual EQ. It also acts as a docking station for all USB- or Bluetooth-enabled devices. It can maintain two active devices and pair up to eight devices at a time using Near Field Communication (NFC) pairing.
"It provides a steady place to put your device for better user experience for the person on the other end of the call," Smith said.
While audio quality is the main focus of the portable speakerphone, the added benefit of a docking station might be a huge sell for anyone who has ever tried to hold a mobile phone through the duration of a video conference. Not only would your arm thank you for an alternative resting place, but your coworkers would be grateful for not making them dizzy.
To make the speakerphone mobile friendly, the device comes with a carrying case and 15 hours of battery life — suitable for a two-day trip or  a manager's longest conference-call-filled work day.
The Logitech Mobile Speakerphone P710e ships next month for a suggested price of $169.99.
---
October 11, 2013 2:24 PM
Canadian collaboration software and technology provider Smart Technologies has finally unveiled its SMART Room System — a hardware and software-integrated offering  qualified and interoperable with Microsoft's Lync Server 2013 — that was announced earlier this year at Enterprise Connect in Orlando, Florida. The new offering will help bring Lync real-time communication tools into any enterprise conference room or meeting space.
The SMART Room will combine the vendor's well-known interactive touch display technology for visual collaboration — with Lync's unified communication features. The system will give Microsoft users access to enhanced collaboration capabilities during meetings — such as audio, video and data presentation — regardless of whether they are having a face-to-face meeting or virtual collaboration sessions, said Smart.
In addition, users won't have to waste precious meeting time firing up a room system. Launching a meeting can be done in one touch of the slick, glass display screen, the company said.
The SMART Room Systems, which will range in size to support 2-16 room-based participants, will include a wide-angle, high definition camera offering 109-degree field of view, echo-cancelling speakers and microphones that can be daisy chained to reach all users, and a desktop room control console. The interactive display screens range in size from 1 x 70 inches, 1 x 84inches, or 2 x 70 inches.  Smart Room Systems are now available and shipping worldwide.
---
July 8, 2013 9:24 AM
Polycom has introduced a series of new additions to its Microsoft Lync-optimized video and audio collaboration offerings at the Microsoft 2013 Worldwide Partner Conference in Houston.
Microsoft requires its partner's offerings to "qualify" for Lync, and Polycom has announced its VVX Business Media Phones are now Lync 2013 qualified. The interoperable Polycom phones will allow users to see another person's presence, call that person directly from their computer, and the call  will ring on the other user's VVX phone. Similarly, a user can call an Outlook contact for a video call from a conference room all through Lync on their laptop, said Laura Marx, senior director, Alliance Marketing, Polycom.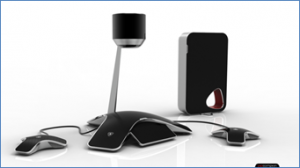 Over 40 of Polycom's audio and video conferencing offerings –including desktop phones, video conferencing systems and content-sharing tools— have been natively integrated with Lync, giving users a seamless experience across their devices.
Polycom's RealPresence Content Sharing Suite, another software application built to work with Lync, has also been updated. This software allows users to share content back and forth over any standards-based video collaboration devices. "Content sharing is critical to video interactions," Marx said. Using Lync, a user can push their content from their desktop into a Polycom or any standards-based video conferencing session.
"Lync is a platform, but it doesn't include endpoint devices. That's where Polycom comes in," she said.
Microsoft has taken flak in the past for not having a stronger telephony strategy tied to Lync, but the line of Polycom purpose-built phones for Lync bolster the popular collaboration platform.  "Lync 2013 has really elevated the telephony offerings it can support. Polycom enables the Lync telephony platform to act more and more like a PBX," Marx said. "Our SIP-based media phones are not Microsoft software, but they are fully qualified by Microsoft, which really opens up a new realm of possibilities for users that want to integrate their phones with a Lync environment."
Polycom also announced a 360-degree, panoramic 1080p HD video collaboration camera for the conference room. The CX5100 — the new member of the CX5000 HD Unified Conference Station line — is a cylindrical camera with lenses around the entire device. When placed in the middle of conference table its allows Lync users located remotely to see every person around the table during a video conference.
The hardware camera is inspired by Microsoft's RoundTable video conferencing device that was discontinued and sold to Polycom by Microsoft in 2009. The CX5100 is coupled with Polycom's audio technology, and allows the speaker to be placed larger on the screen for the remote users to see more clearly. "This center-of- the-table camera allows users to be much more a part of the meeting than they have before," Marx said.
---
June 24, 2013 2:00 PM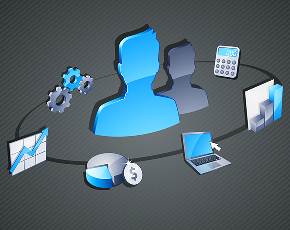 Welcome to the budding world of comms — where "communications" is no longer prefaced with "tele" (for "telecommunications").  We see the trend burgeoning this year more than ever.
Last week, Cisco renamed its voice certification, CCIE Collaboration. A week or so before, Google Voice integrated into Google Hangouts — it's video chat program. Not long before that, I attended a user conference hosted by an organization that was initially dubbed the "Maine Telecommunications Users Group (MTUG)." Today that "T" now stands for "technology" to better reflect the job descriptions of members.
Organizations and vendors are realizing that the PSTN is fading away. Not only that, but voice is becoming less siloed from other communications technologies. For Cisco, voice is turning into collaboration; for Google, voice is merging into video; while MTUG is going as far as morphing "telecom" into "technology." And why not?
Moving voice traffic off the PSTN to the Internet delivers many benefits. The convergence of voice over IP networks (VoIP) allows all other communications to be integrated more seamlessly. At this year's Colab Conference, one of the top reasons attendees moved away from legacy PBX environments was to unify communications. They wanted a world where  messaging could escalate into voice calls; convert voicemails to email; and simply communicate seamlessly with employees.
In the near future, it won't matter whether that voice call will traverse the PSTN or the Web. The end game for users is to be able to communicate. It's up to the IT pro to make that happen.
---
April 4, 2013 3:03 PM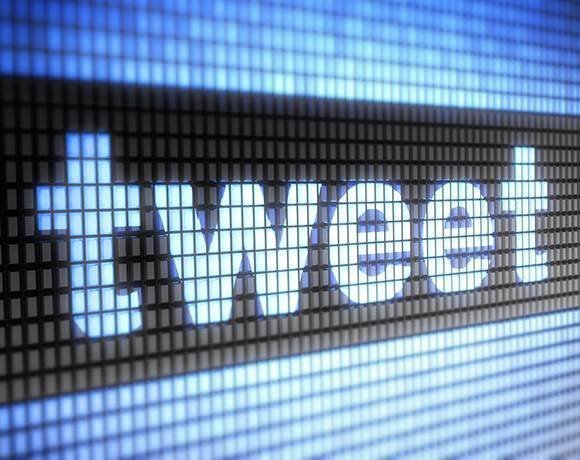 Calling all realists!  Calling all realists!  Cornerstone Technologies, an IT engineering services firm, wants to hear from you about the value of social media in your professional life. Rather than believe the numbers from other media sources and the social media industry, this firm  is looking for honest and realistic perspectives from all of those impacted by social media. Below is a brief survey on the usefulness of social media. Everyone who participates (and chooses to provide their email address) will receive the report showing a more accurate impact of social media in our respective professions. You will also be entered into a drawing for a giftcard just for filling out the survey: http://www.surveymonkey.com/s/JKHH7HJ
Survey closes Monday, April 15, 2013. Thanks in advance for your feedbck!
---