Jan 22 2014 2:58PM GMT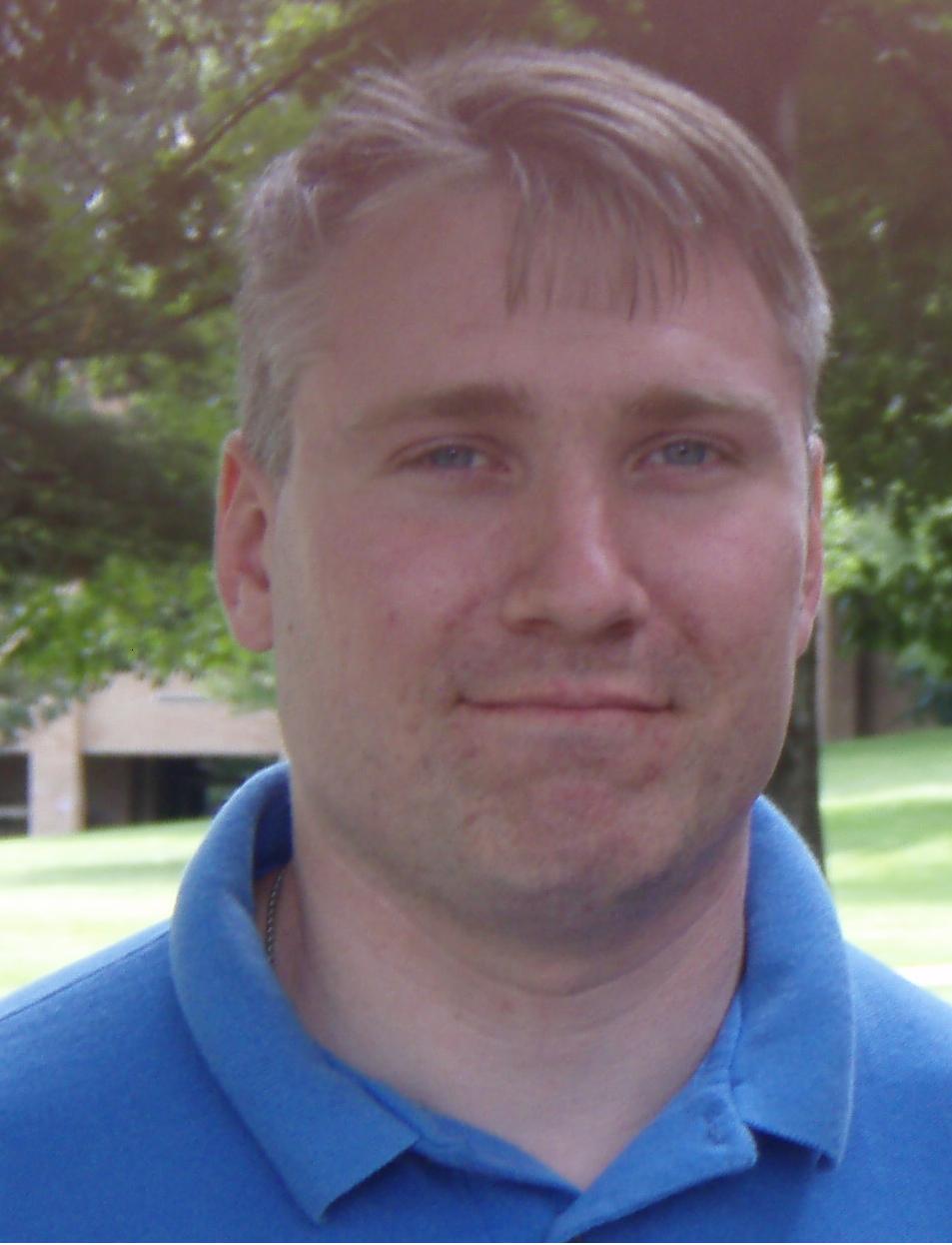 Profile: Matt Heusser
Steve Wozniak is the other founder of Apple Computer Corporation, the one who actually built the Apple I and Apple II. Many of us know that 'Woz' left Apple quietly in 1987, for several reasons, one being the realization that in their early partnership to create the Atari Game Breakout. (The two were to split the fee. Jobs collected $5000, and gave Woz $350; Woz would not find out for over a decade.)
Despite the breakup, Wozniak has been quiet about his feelings about Jobs. It might have been out of loyalty to Jobs, or to Apple Computer, or, perhaps, Steve Wozniak just isn't the kind of person to make a mess in public with no clear benefit to anyone.
All that changed with the new movie, Jobs, starring Ashton Kutcher. Suddenly there was a new narrative about the founding of Apple, one without Steve Jobs around to make corrections.
It was time for Steve Wozniak to set the record straight, and to do it, of all placed, on a public comment to a Google+ post.Steve's main objection was how he was portrayed in the movie; his opening sentence begins "Actually, the movie was largely a lie about me." From there, things go downhill: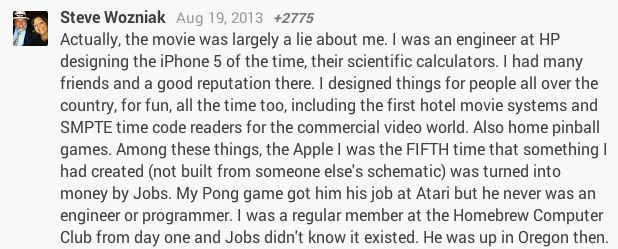 Among Wozniak's larger objections (which continue down the page):
– In the movie, Wozniak is portrayed as a shy, perhaps even anti-social computer nerd that doesn't "get" the potential for computers in every household. Acknowledging his shyness, he claims he was a popular, friendly person, a leader in the homebrew computer club before most people knew it existed.
– While most of the product Jobs produced were initial failures (the early Macintosh, the NeXt), Woz's little product, the Apple II, was the lifeblood of the company for years, funding the initial Macintosh development. Wozniak questions Job's vision as a businessman too, claiming that Jobs tried to kill the Apple II in order to eliminate competition for the Mac. Remember, the early Mac had "chicken and egg" problems, as few people would buy it without applications, and game and application developers were reluctant to create products for a system that had a small install base.
– The movie got the details wrong on who was a fan of the Beatles (Jobs) and who preferred Bob Dylan (Wozniak.)
– Woz portrays Jobs as not an inventor, and not a visionary, but more of a product-izer – taking someone else's idea, packaging it, building the assembly line, and making it ship.
– The movie shows Jobs cutting out stock options to many of the original Apple employees, back when it ran out of a garage, but doesn't show Wozniak spending ten million dollars of his personal fortune to correct that action.
You can, of course, read Steve Wozniak's full comment, which, at least for the time being, is online and public.
What this (might) mean for you
Separating the doing of the work from the selling may not quite be as old as the wheel, but it certainly and old tradition. Most of the time the person doing the selling owns the relationship with the customer, and most of the time, takes the majority of the profit. In North America, that's the default cultural assumption: That we'll go become employees, and trade a regular salary for hours of work.
There's nothing wrong with that; it is a tradeoff of potential reward for a certain kind of security. When we do that, we lose the right to complain about our employers making money — we accepted a deal for what it was.
What Wozniak did, however, was a little bit different. He entered into a partnership with Steve Jobs, a man who was, to borrow a phrase, "Often right, occasionally wrong, but never boring."
My personal lesson here isn't to make sure the contract is solid — what Eduardo Saverin failed to do at Facebook. Instead, it is to look to the character of my partners.
As a living part of computer history, I don't think Steve Wozniak is complaining where he ended up. He's quick to respect Jobs for his more laudable attributes. Still, as for me, when it comes to partnership, I'm going to be a little more slow to sign contracts, and spend a little more time getting to know the people I might be working with.
It may have taken a movie that was wrong to get Wozniak to speak on this in public, but in a way, I am very glad it did.