Jul 13 2013 6:30PM GMT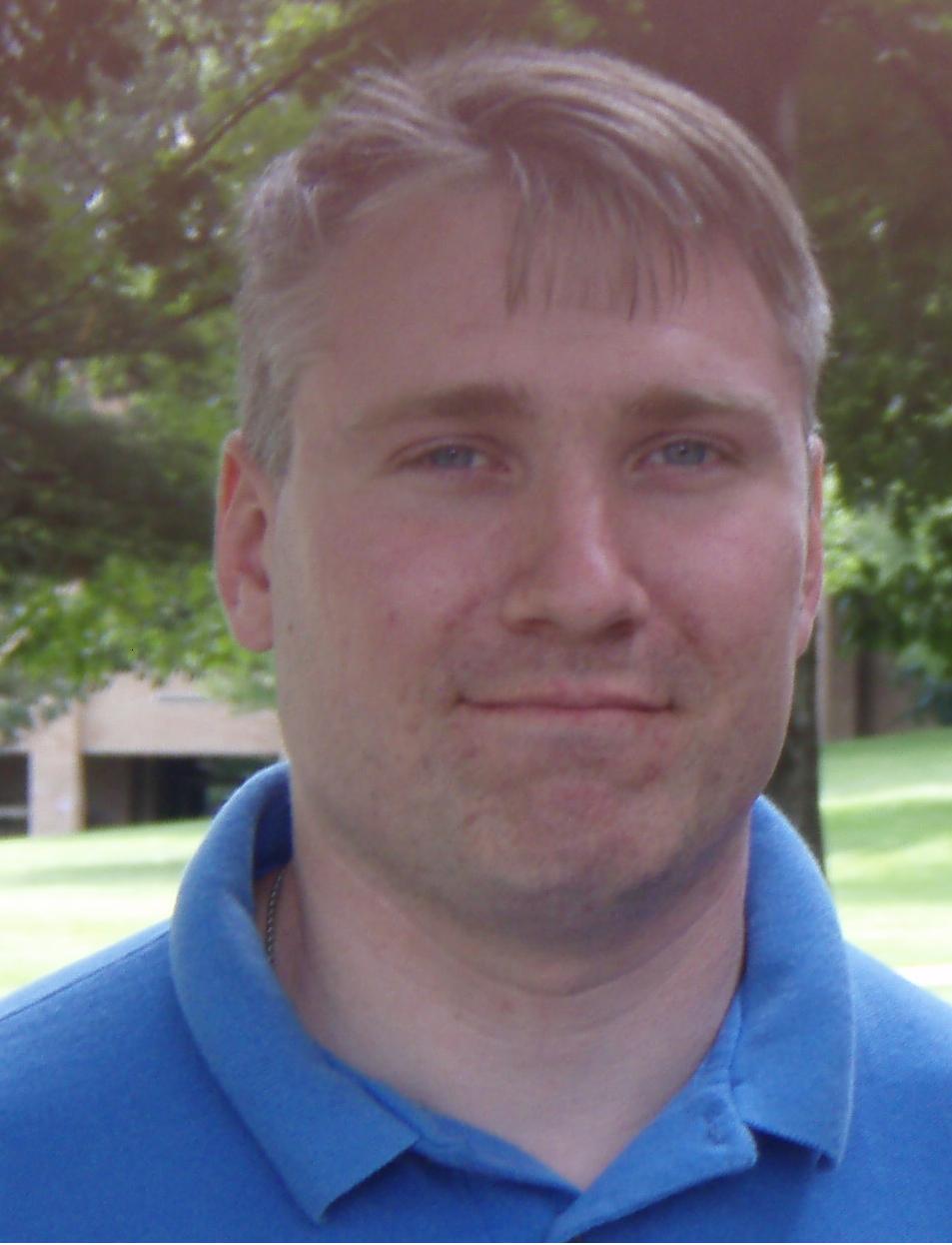 Profile: Matt Heusser
Yesterday I was struck this tweet from Fog Creek Software CEO Joel Spolsky: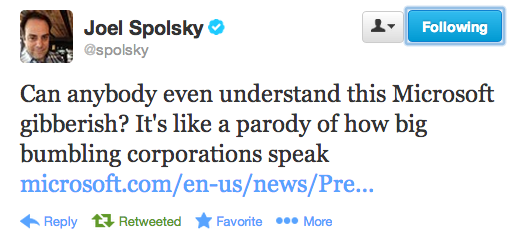 Then I read the memo.
Now I'm with Joel.
The document is not something someone leaked, a half-baked message sent off in a moment when a quick decision was needed. Nor is it an insiders document, full of shorthand terms and abbreviations that make complete sense, but only to insiders. No, this was actually designed for everyone to read, for all employees to read. It is on the web now, hosted on a Microsoft Website; you can read the full memo yourself.
I've got a lot to say here, but I'm going to start by answering Joel's question ('what the heck does all this mean?') with a little bit of commentary, leaving conclusions for next time. The original text will be in italics; what it means, in bold.
Here goes …
Today, we are announcing a far-reaching realignment of the company that will enable us to innovate with greater speed, efficiency and capability in a fast changing world.
We are going to re-org.
Today's announcement will enable us to execute even better on our strategy to deliver a family of devices and services that best empower people for the activities they value most and the enterprise extensions and services that are most valuable to business.
The re-org will help us plan and execute better. 
This company has always had a big vision — to help people realize their full potential. In the earliest days, it was by putting a PC on every desk and in every home. We've come farther than we could have imagined. The impact we have collectively made on the world is undeniable, and I am inspired when talented new hires say they chose Microsoft because they want to change the world — that's what we do today, and that's what we'll do tomorrow.
We've changed the world before, and we're going to keep doing it!
Sharpening Our Strategy
About a year ago, we embarked on a new strategy to realize our vision, opening the devices and services chapter for Microsoft. We made important strides — launching Windows 8 and Surface, moving to continuous product cycles, bringing a consistent user interface to PCs, tablets, phones and Xbox — but we have much more to do.
 A year ago we decided to (something about devices and services. I think that means mobile and tablet.) So Windows 8 and Surface are good, right?. We've moved from big annual releases to small releases more often, and now have one OS for most devices, but there's more to do.
Going forward, our strategy will focus on creating a family of devices and services for individuals and businesses that empower people around the globe at home, at work and on the go, for the activities they value most.
We want to let everyone access everything everywhere.
We will do this by leveraging our strengths. We have powered devices for many years through Windows PCs and Xbox. We have delivered high-value experiences through Office and other apps. And, we have enabled enterprise value through products like Windows Server and Exchange. The form of delivery shifts to a broader set of devices and services versus packaged software. The frontier of high-value scenarios we enable will march outward, but we have strengths and proven capabilities on which we will draw.
 We've been doing this kind of thing for a long time, we just need to take the next step.
This memo shows you how far we have developed our thinking on our strategy for high- value activities based on devices and services delivery.
Here's some more detail on the strategy.

Driving Our Success
It is also clear to me and our leadership that we must do an extraordinary job to succeed in this modern world. We have delivered many great products and had much success in market, but we all want more. That means better execution from product conceptualization and innovation right through to marketing and sales. It also means operational excellence in cloud services, datacenter operations, and manufacturing and supply chain that are essential in a devices and services world. To advance our strategy and execute more quickly, more efficiently, and with greater excellence we need to transform how we organize, how we plan and how we work. 
 We are good at lot of things, but to get to access to everything for everyone everywhere, we need to make some changes.
Improving our performance has three big dimensions: focusing the whole company on a single strategy, improving our capability in all disciplines and engineering/technology areas, and working together with more collaboration and agility around our common goals.
 We're going to have to do actually do that "everything for everyone" thing, execute better, and, you know, have to talk to each other and stuff.
This is a big undertaking. It touches nearly every piece of what we do and how we work. It changes our org structure, the way we collaborate, how we allocate resources, how we best empower our engineers and how we market. 
We're not just going to have to re-org; we need to re-think how we fund projects and what projects to fund.
One Strategy, One Microsoft 
We are rallying behind a single strategy as one company — not a collection of divisional strategies. Although we will deliver multiple devices and services to execute and monetize the strategy, the single core strategy will drive us to set shared goals for everything we do. We will see our product line holistically, not as a set of islands. We will allocate resources and build devices and services that provide compelling, integrated experiences across the many screens in our lives, with maximum return to shareholders. All parts of the company will share and contribute to the success of core offerings, like Windows, Windows Phone, Xbox, Surface, Office 365 and our EA offer, Bing, Skype, Dynamics, Azure and our servers. All parts of the company will contribute to activating high-value experiences for our customers.
 We have a ton of divisions that do a bunch of different things; these need to act like one company, not a bunch of different product companies.
---
To translater the whole memo would be a very long web page. So let's take a break and step back.
At this point, Mr. Ballmer has used 672 words; my translation comes in at 204. Here's the heart of the matter:
The new Microsoft Vision is to enable everyone to access everything they need with technology, everywhere, all the time. To get there, we need to work together, so we are re-organizing, not according to product, but instead by function.
There. That version is only forty words.
The rest of the memo is details on what the new organization will be, combined with a list of virtues – nimble, communicative, decisive, and motivated, that Mr. Ballmer says the company will need to be in order to succeed.
But gosh, Joel is right, there is something funny about the writing.
The writing in the memo is vague, it is passive, it uses a lot of adjectives and adverbs ("extraordinary job to succeed in this modern world") instead of providing concrete examples.
If I were a Microsoft employee, the intended reader, I would leave with a few questions:
* What are we going to have to actually do differently in order to succeed?
* What does 'collaboration' look like? How it is hard from 'working harder'?
* What kinds of things are we going to have to build in order to enable this strategy? What's first?
* Why is the writing so funny?
Being no expert, I'd probably head over to my favorite MS-Insider blog, Mini-Microsoft to find out, but he hasn't posted since 2012.
Hmm.
You know, I do have a few thoughts …
I may need to do another blog post. In the mean time, does the memo leave you wondering? And do you have any answers?