Dec 23 2013 4:21PM GMT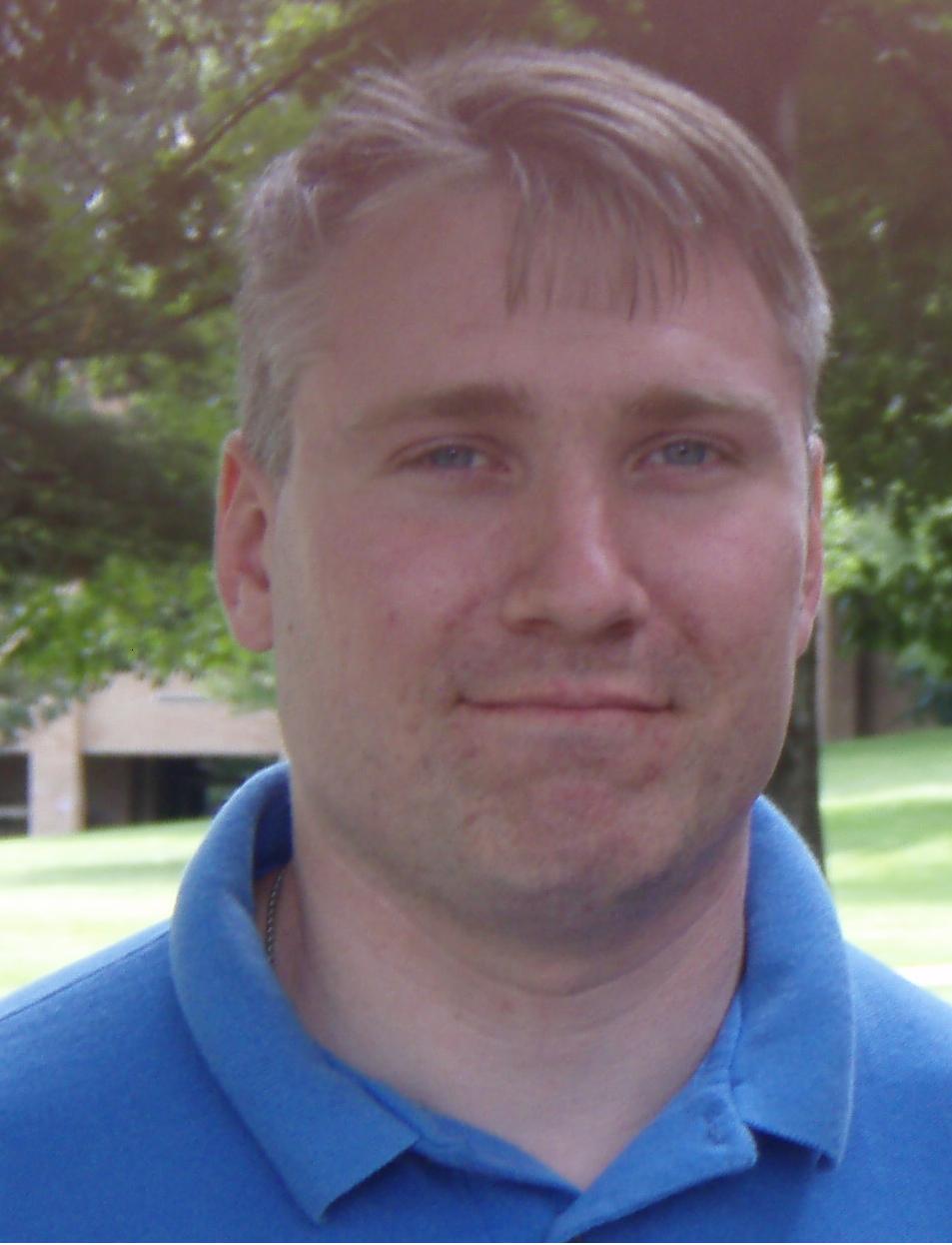 Profile: Matt Heusser
Tags:

Getting to a conference in Europe can be intimidating, so last month I published  The Hitchhiker's Guide to Agile Testing Days. It's a good post about getting to Germany and things to do outside the conference center.
There is another part of the conference though, something folks rarely talk about: What do you do outside regular conference hours?
At some software conferences the answer is "go to Disney" or "Explore San Francisco." At Agile Test Days, the conference has events scheduled from 5PM to … well … late. Here's a few things to expect, and plan for, after hours at Agile Testing Days.
Lean Coffee and Lean Cocktails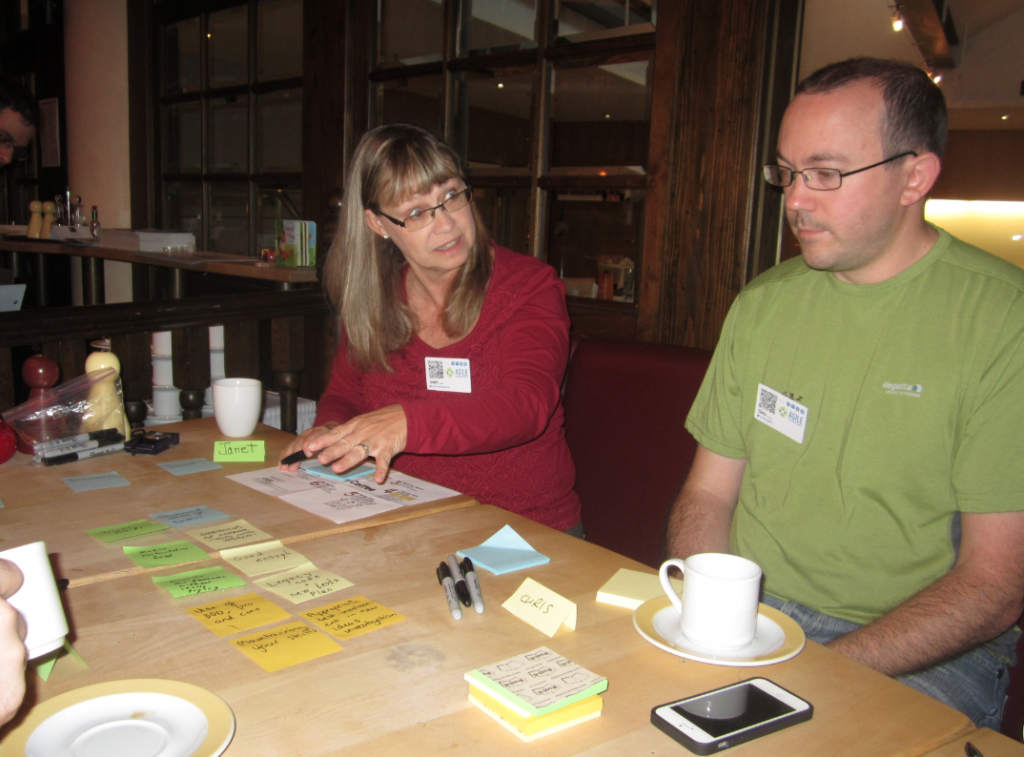 Every morning, before the conference sessions — and a couple of evenings too — the conference offered Lean Coffee.
At lean coffee, the agenda is set by the attendees, when they arrive, by suggesting ideas, voting, and talking for eight minutes about each idea.
At left, Janet Gregory talks to Chris George during a morning lean coffee session — it was out of one of these sessions that I helped develop one weird tip to improve retrospectives.
The conference also had a similar event at night, called "lean cocktails" or "lean beer", combined with a 2-for-1 offer for a specific drink. Those events tended to draw a slightly different crowd — by day three of the conference, it is hard to get up early for coffee, and the people who make it our are either early risers or serious participants.
On the last day of the conference, after the closing keynote, we had one more cocktail session, focused on what people were taking away — what they were going to do back at the office. It was a 'capstone' event for me.
Games Night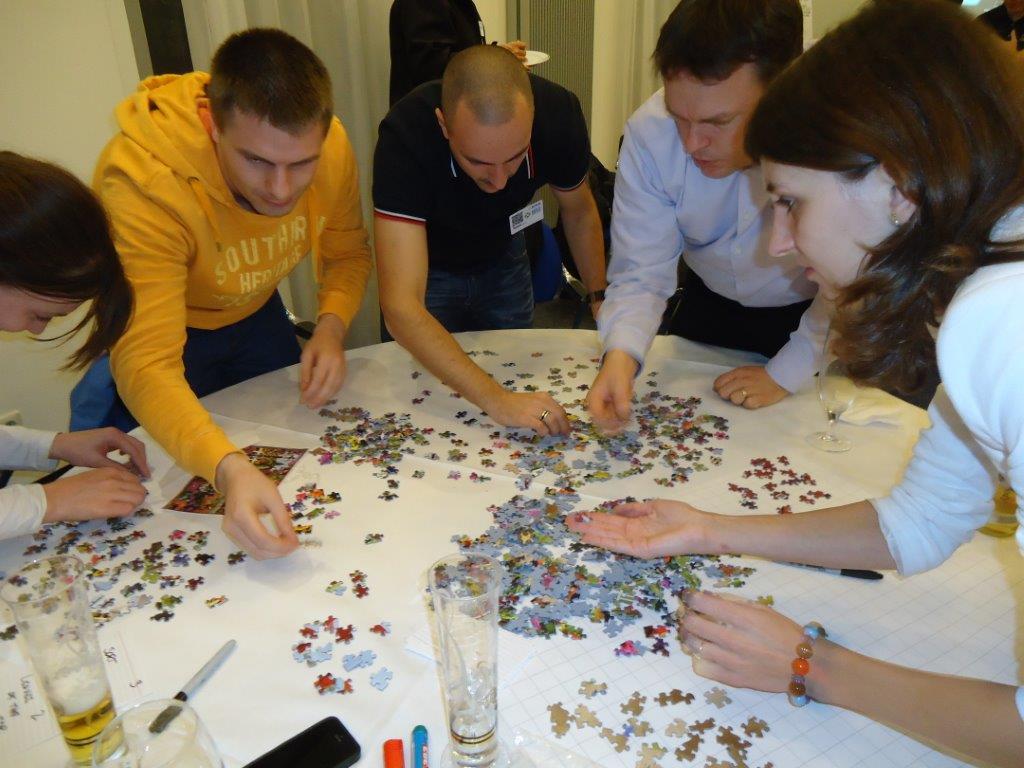 For some people, learning by listening to a lecture works just fine. Others are visual; they need to see images and pictures. Some are tactile; they need to feel the new idea.
For those folks, sadly, lectures and presentations just won't do, they need to experience.
So we had a games night, where each game was designed to demonstrate something about software development. Mary Gorman got volunteers to prioritize work based on different personas in a game she called "The Backlog is in the eye of the beholder" while Janet Gregory had two teams assembling puzzles — one team wrote stories and did estimates "scrum"-style, while the other took a #NoEstimates approach. This allowed the two teams to see the results from each kind of work. In the back a team assembled a list of videos that teach concepts (Let me know if you'd like a blog post on that), while Pete Walen asked how many drops of water can fit on a penny, and I ran a Project Management Simulation.
Awards and Party
The "must see" event at Agile Testing Days was, of course, the conference party, which was on halloween this year. With perhaps two-thirds of the audience in some kind of costume, I gave in and joined Huib Schoots, Connie Walen, and Pete Walen in dressing up as a 'bit.' After a fantastic dinner the group presented Markus Gaertner with the "Most Influential Agile Test Professional" award.
After that, they opened up the dance floor and had the band play live music. I managed to get a short of Mary Gorman and Markus dancing, but, honestly, I wasn't thinking about my camera much: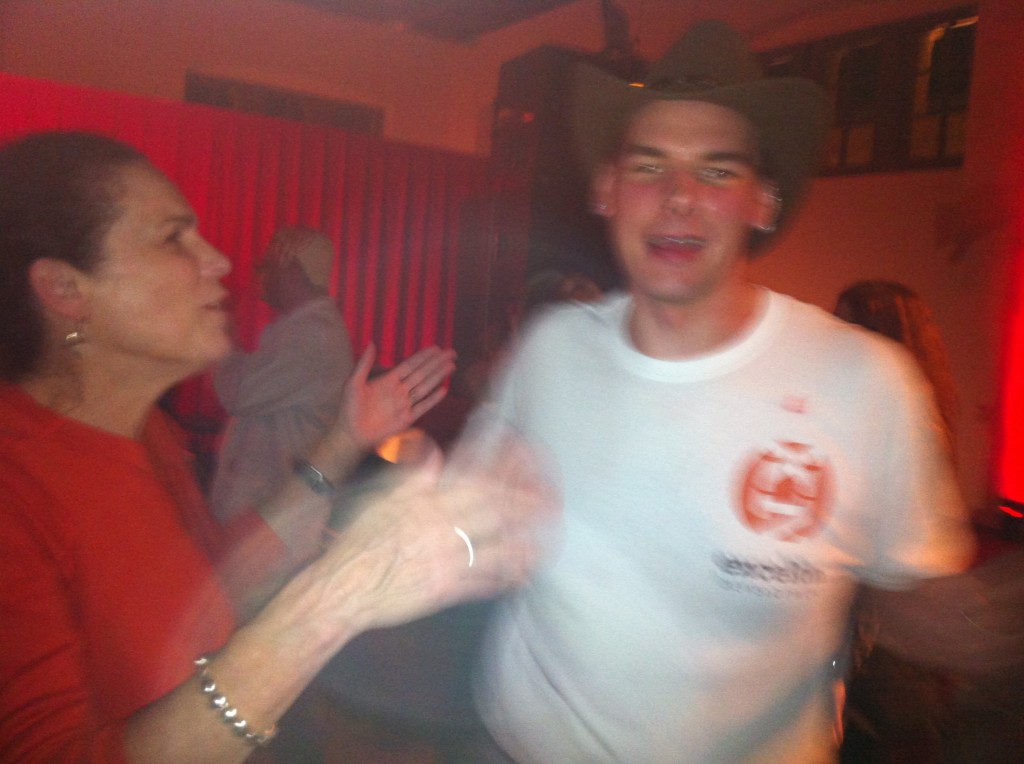 Even Later
Each night had an event that ends by 10:00 or 11:00PM. The get to your room, I had to walk past the bar to the elevators.
Sometimes it was very hard to get past the bar.
That's not a bad thing; it was the sheer number of people who offered to buy me a beer or talk! Bar time is a chance to get to know people in a more full, more real way. The biggest problem I had was getting out when I needed to present the next day!
The Bottom Line
American Conferences tend to run 9AM-5PM, with a one-night appetizer event, perhaps a continental breakfast.  Beyond that, you are "on your own." Agile Testing Days has non-stop events, plus non-stop food and drink. You can use that time to unwind, to get to talk to people one-on-one, or just to enjoy yourself.
My end-goal for software conferences is changed behaviors — new ideas that change outcomes back at the workplace. With so much going on, you might get a bit overwhelmed.
You might even plan some private time in advance. Plan to grab a quick bite, then go back to your room —  to take stock of what you've learned and what to do differently back at the office.
Just beware gravitational power of the bar; it can pull you in.