---
November 28, 2017 11:54 AM
Programming
,
Software testing
https://www.youtube.com/watch?v=q6dFxYIpUPM The argument of generalist or specialist, or "jack of all trades and master of one" (or some) has been going on in software testing long before I arrived, and may still be here after I am gone. Today I'll try to find some deep answers about trade offs...
November 17, 2017 8:54 AM
Development
,
Software testing
DHH (aka David Heinemeier Hansson, the creator of Ruby on Rails) wrote a blog post in the last week about the value of human exploratory testing. Usage of tools to make software development more sustainable...
---
November 7, 2017 4:49 PM
Lean
,
Testing
,
Unit testing
,
waste
Software development fads come and go every few years, and each time a new trend comes in something is demonized as waste. This time around, it is unit tests. I was recently pointed toward a summary article explaining why most unit testing is waste. This text mentioned the common reasons for not...
---
November 6, 2017 2:21 PM
Project planning
,
requirements
,
Software
,
templates
,
Writing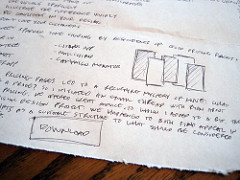 When people...
---
October 26, 2017 11:05 AM
IT
,
Management
,
Measurement
,
process
,
productivity
,
reviews
,
Software
---
October 18, 2017 4:37 PM
Agile
,
coaching
,
Scrum
---
October 18, 2017 3:03 PM
Agile
,
Kaizen
Process improvement in software teams seems harder to come by, and sometimes stops altogether, after the first few tries. We see the exact same phenomenon in exercise. Take a person that has never done anything athletic in their life and introduce them to a barbell and a squat rack. For the...
---
September 29, 2017 11:42 AM
Agile
,
Software development
We seem to have gone from software is eating the world to being terrified of being eaten. As if software were a tiger in a pen at the zoo just waiting for someone to fall in and be devoured. The author of this article on The Atlantic thinks engineers need to start thinking about
---
September 20, 2017 3:32 PM
Agile
,
Management
,
return on investment
,
ROI
A colleague posted a question in a Skype thread about convincing people they work with about the value of a project. They have some co-workers that are very into 6 Sigma type process, where each aspect of a company is measured and accounted for (or so they think). My colleague was asking for some...
---
---