Feb 8 2016 10:50AM GMT

Profile: Justin Rohrman
Tags:
It seems like I'm starting a software testing meetup in Nashville.
There is a Slack group for software developers in the area that has channels, one of which is dedicated to testers. A few of the regulars decided we should get together to have a cup or two of coffee together, and hang out and talk shop. That was probably a year ago. We had a second meet in January of this year, and then another one just happened. And, now people are thinking about March.
There was no grand plan for getting a new event going, it just 'sort of happened'. I think I understand the how and why, if you are interested in meetups or want to build one yourself, this is for you.
There is already one meet up for software testers here in town and it has quite a following. There are almost 600 people on the mailing list, and probably 30 to 40 people that regularly attend the quarterly meetings. This group has sponsors for food and drinks, a board, and speakers lined up. It's the whole ball of wax, and I'm not really into it.
Going to a meetup during lunch for a conference format talk where maybe a quarter of the people there are recruiters is a hard sell unless the speaker or talk are just incredible. I don't mean to be brash, they do a good job, I just need something different. So we are trying this out.
Right now we seem to be focusing on small groups and hands on activities. There is no lecture, everyone participates and everyone brings value and makes the meet good.
The first time we met, we only did lean coffee. It turns out that doing that for over an hour is tough. People get low on energy to pursue the next topic in the stack. I think we may have found a sweet spot with this last meet up in February.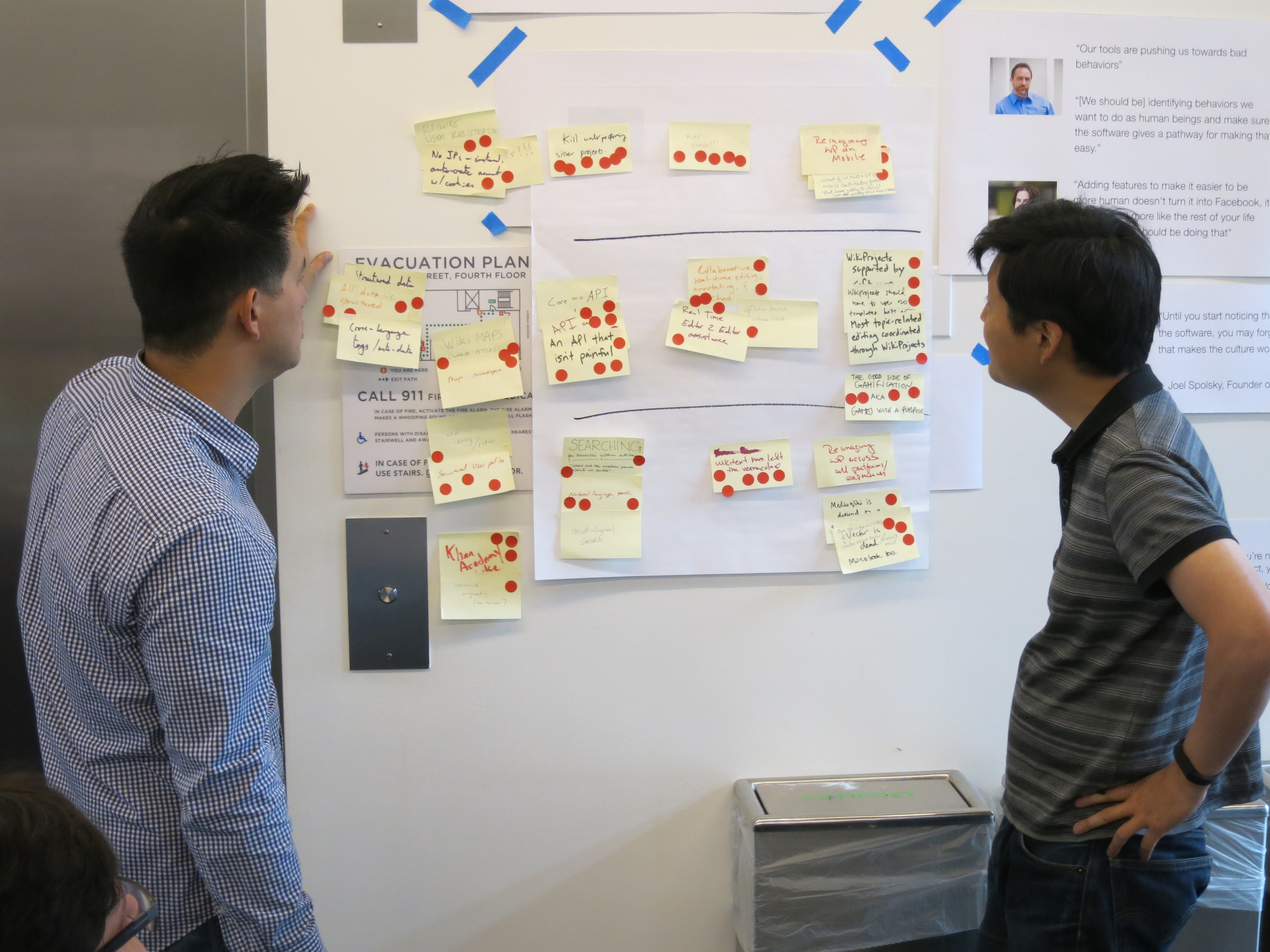 We met after work at 6. That is challenging because people want to get home to their families after work, but it also solves the problem of figuring out the logistics of a 2 hour lunch break. There were 7 of us this time, maybe 8. The meetup started by going over some exercises on a test technique called domain testing. We picked out three problems out of a book, and worked them out as a group on a white board. That part took about an hour, and by the time the hour was up the excitement to work on another problem had died down.
After that we flipped over to lean coffee for the next 45 minutes or so. This gave the group a chance to talk about real problems they were having, and also control the flow of what was happening by either bringing a topic to the table or offering their experience. I'm not sure what we'll do next time. I'll just feel it out and see what works.
A few companies in town are very generous to local user groups and provide meeting space for free. This saved a big headache and without it, we'd end up with a different format. Talking about work over dinner and drinks with software people has a tendency to turn into just drinks. Instead we got office space, a whiteboard, coffee, and a room where we can focus. It's a really good deal.
If you're serious about meetups, you're probably thinking that this format won't scale, it won't work well for 20 or 30 or more people. And, you're probably right. Our group size is self-selecting. Running exercises with large groups takes preparation and coordination, and debriefing them can take a long time. What we have right now probably wouldn't work for larger groups, and that's OK. We are splinter-cell of a testing group. We are lite, fast, and don't have the overhead of a more organized group.
It might be a little presumptuous at this point to say we have a real thing going, but I like where we are at. Ask me how things are going in a year.