May 1 2014 4:19PM GMT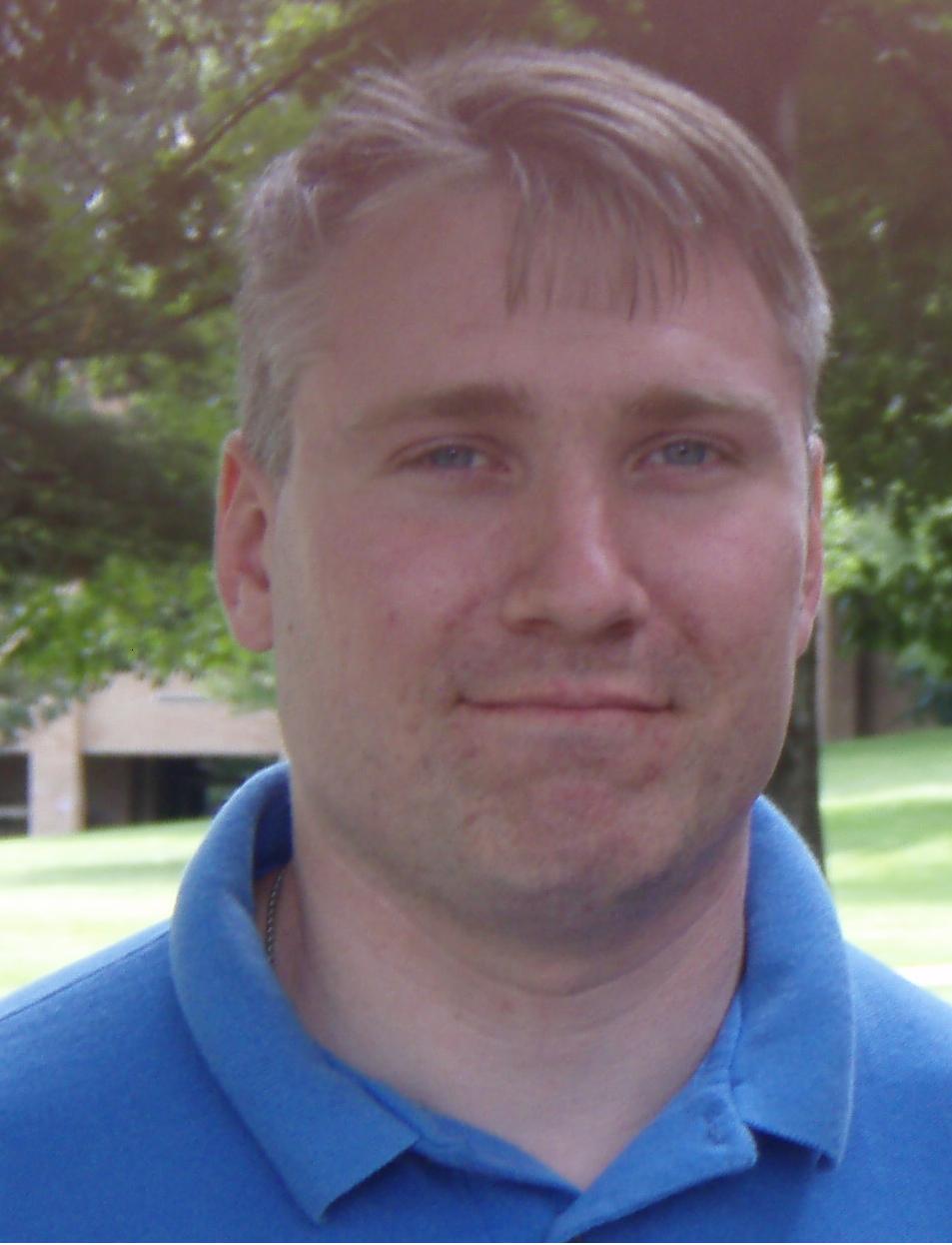 Profile: Matt Heusser
I use Skype for my business – to make outbound calls – and I pay a little for the privilege. It's not much; an annual subscription of ten dollars so. Still, when I got this in my inbox, I was a little distressed: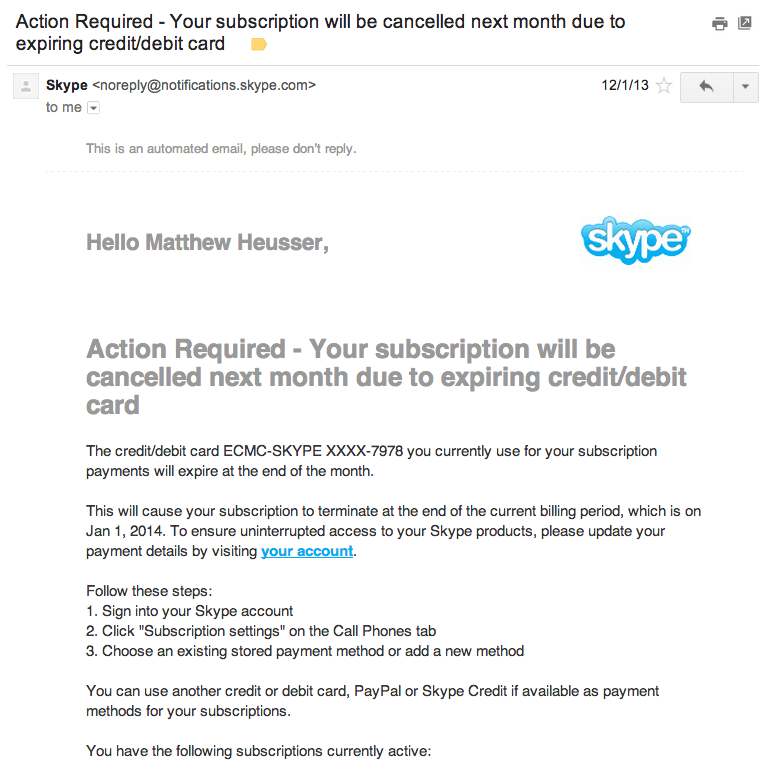 After reading the email twice, I realized that payment was auto-renewed annual, and the expiration date on my old physical card was about to expire, even though the merchant had sent me a new card weeks ago.
So I logged into skype and tried to fix things, which is when things began to fall apart.
But Can't I Just …
No, from what I can tell, the company does not have any form of phone support. There was no way I could call a number and talk to a person. Instead, my choice was to follow the link. Doing so, I found no way to edit card information and "just" change the dates. After about an hour, I gave up.
On the 25th, with six days to go, Skype sent me another email reminder. This time, I did a dance to effectively edit the date – adding a new primary card, deleting the old primary card, re-adding the card with the correct information, setting it to primary, and deleting the old primary.
Whew.
But that's nothing compared to what happened last week with Windows 8.
My Windows 8 Snafu
By now, I'm sure you know about Windows 8, the operating system that was supposed to unify the tablet, mobile, desktop and notebook into one operating system while making the start button obsolete.
Except, it turned out, that people actually liked the start button, and couldn't figure out how to get anywhere.
How do I know that people liked the start button? Because I bought a Windows 8 touch screen laptop, an Acer, in November 2013.
A month after purchasing the device, it became clear to me that the Big Visual Studio Contract (R) (TM) (C) was not going to come.  I started using the device to play Sid Meier's Pirates; the game crashes about every two hours of gameplay. (This never happened under Windows XP.)
My oldest daughter, who is eleven, wanted a device, and it was sitting around unused, so we let her use it. She wanted to customize the screen, so we tried to create an account for her.
Focus on the tried.
It turns out that to create an account, you need to have a windows live account. And to have a windows live account, you need to be a certain age. The process was incredibly painful.
After perhaps two hours, we created an account for her, and off she went.
I didn't think of the machine much for the next year, until I ran out of space in DropBox, and got the idea to use it as a networked file server. The big news was that Windows 8.1 includes a start menu. I was excited!
So I tried Windows Update – no dice. It turns out you need to update Windows 8.1 in the Windows Store, where it is a free download. All 2.6 Giga-bytes of juicy goodness.
Two hours in, I was stuck in compatibility check mode. Four hours in, I was still in compatibility check mode. Leaving the upgrade for a moment, I went to Google and typed in "Windows 8.1 Upgrade St" – only to have Stuck in Compatibility Mode pop up.

Apparently, this is a common problem. Searching the web, the best answers seem to come from within Microsoft, where one employee recommends four different methods to 'check' for common problems.
So if you have things running in memory, they might block the upgrade. If your security settings are wrong, they might block the upgrade. If the windows update service is not running, that might block the upgrade. If …
That is a lot of things that might go wrong, each of which might cause the Windows upgrade to not just fail, but to be stuck, forever, in an infinite loop.
What is going on here?
All this seems very familiar. It reminds me of another product that also came from Microsoft, called Windows Vista. Here's a quote from James Whittaker, an Architect at Microsoft, in 2008, speaking at google:
"I've never been part of a single product that got more testing than Vista. And we know what happened; we are all grown-ups here, we can talk about this. It got a less than stellar review when it was released. Why? How is it that we can go through hundreds of millions of automated test cases, we can dog food it internally within the windows org of x number of thousands of people. We can give to the rest of Microsoft, x tens of thousands of people and they use it for months and it works. We give it to a beta community, the use it for months and months and it works … and it gets out to broad general availability and people look at it an say 'ehh. Yuck.' How can that happen? What happened in all that?
What happened in all that, just between us, is the operational profile changed." 
I am reluctant to be overly critical of Microsoft, of which Skype is a subdivision. The software they are building today is incredibly complex, more complex than anything done before, and only comparable to the previous version of Windows.
In the case of Windows, the "one operating system to bind them all" strategy didn't work, because a tablet and a laptop are not quite the same thing.
For skype, I am not sure what happened.
In my mind, it is unlikely that no one noticed. No, it is more likely that someone noticed, but was told that the defect was not his teams responsibility, not in the specification, or, perhaps, would not occur in real world.
Today
It is 2014. An update to the operating system takes a million times more space than the entire operating system in my early youth. For that matter, my cell phones hard disk has millions of times the storage capacity of that old commodore vic-20.
Unless something changes, expect more problems like this. My advice for now: Don't be the first to upgrade; let someone else work the bugs out.
As a software professional, you have no idea how much that hurt to write, but there it is.
Next up: In August, 2014, I will be delivering a keynote address at the Conference for the Association for Software Testing on the state of the industry … and how to make things change.
See you there?