Oct 12 2015 11:44AM GMT

Profile: Justin Rohrman
Tags:
Scrum is one of the most popular tools among companies claiming some sort of agileness. Every company I have worked for, or with, in the past decade has had an official daily scrum or at least some sort of daily status meeting that had very clear ties to the scrum format.
Despite the near complete saturation within software companies, most people have problems with the format. The meetings become a benign, no value add, aspect of daily life. Or, they create information overload when the team gets blasted by its own problems on a daily basis.
Is Scrum just a narrow tool that isn't useful for most teams, or are most teams just plain bad at making use of it?
My colleagues, Matt Heusser and Markus Gärtner have been busy working together to publish a new book called Save Our Scrum.
Let's see what they have to say.
Scrum Likes Support
One thing I found interesting in this book that I haven't seen in other scrum books, it the frequent mention of other productivity tools. There are references to ideas that come from Lean, as well as agile values. Not capital 'A', brand name agile, but the set of values there were revolutionary at one point in time.
The made me realize something important, scrum needs a support group. The daily exposure to problems can be difficult to cope with for teams that normally would want to be dismissive and deal with things later. Always later. Those problems are work in disguise, and without coping mechanisms, it can be difficult to deal with the flood.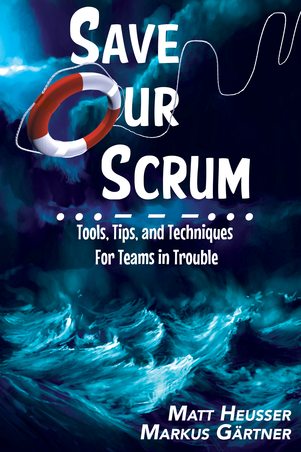 Lean can help make this manageable. The philosophy and operational strategy prime us to constantly strive to tweak work and process to that we are better today than we were yesterday, but to deal with the information blast that comes along with Scrum, we need actual practices.
Planning is a challenging task. Most planning meetings I have participated in have amounted to product managers briefly describing a feature, and then immediately asking when it could be done. They wanted one big chunk of work all together. Lean, and experience, shows us that spending some time figuring out what the little pieces are means we can plan better and be surprised less. It is easier to talk about what I'll do in one day, or in half of a day, then what I'll do in a week.
Developing skill in planning, reducing the amount of things we are working on at a time, and getting more predictable, all make Scrum more meaningful and information dense. Other tools like Kanban are nice additions, too.
Personal Stories
The first part of this book is a detailed account of scrum and how it works, the rest of the book is dedicated to personal stories about taking challenged teams and projects and making them productive again. The mechanical explanation is crucial of course, but the secret sauce is in peoples experience. This part of the book is designed to grow over time. Matt and Markus have both added their stories based on experiences with their clients. You, the reader, are also invited to email in your own story of how Scrum implementation went for your team.
Instead of sterile examples of how things might work in a vacuum, this gives the reader access to a good variety of the real deal.
Unlike some books that claim you can take most any team, chop them in half, sprinkle a little Scrum on top, and then nearly immediately be producing twice the amount of software in half the time, this book is different. Save Our Scrum gives real stories from people working in software teams of how they have moved from a daily struggle, to sustainable productivity.
If you want to save your scrum, you might find some tools and stories that will help in this book.
(Disclosure: I was not asked to do this review, and I will receive no compensation from the authors.)