Jun 17 2014 10:43PM GMT

Profile: Justin Rohrman
I like home automation and smart home gadgets a lot. But mostly, I like gadgets that are dead easy to install, will save me a little bit of money over time, and make life a little bit easier. That doesn't seem like to much to ask.
A new smart thermostat is about to appear on the block: the Honeywell Lyric. I have had a Nest in my home for about a year now and have really enjoyed it.  The Lyric seems to have some similarities but also some key differences that will set it apart. Amazon is currently listing the Nest at $249 and the Lyric for $279, quite expensive for a thermostat, so I wanted to see how these two thermostats compare feature by feature.
Similarities
The core feature set of these devices are pretty similar: both devices are disc shaped and function by turning them like a knob rather than the more traditional panel of buttons, both devices have energy saving features such as away modes and notification of when your air filters need to be changed, both provide monthly reports of energy usage, and both are wifi enabled for software updates and getting local weather information.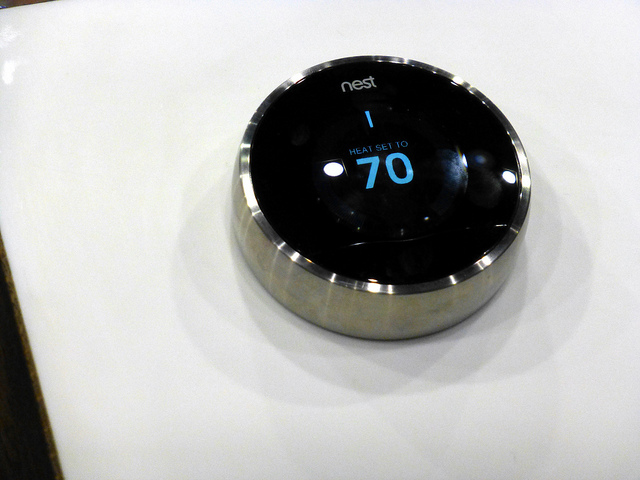 Differences
There are a couple differences between these two products that may be the deciding line for potential buyers. Both of these devices have an away setting designed to raise (or lower) the temperature a little bit if you are not around to save energy and money on your electricity bill. The thing that triggers this setting is a bit different though. Nest works based on a monition sensor, if the device doesn't 'see' you moving around it will switch to away mode. This can be a bother for people with 2 story houses and have the Nest installed on the second floor, or if you have your Nest in a part of the house you don't walk by every hour or so.
Lyric on the other hand knows you are home or away by detecting how far away your phone (with Lyric app installed) is from the thermostat. This eliminates the problem of having to walk by the thermostat every once in a while, but introduces the question of what happens when kids with no mobile phone or house sitters or visitors should do.
Speaking of integration with smart phones, the Lyric has been approved as a supported device for iOS8 development with HomeKit. This means you'll potentially be able to choose the app you want from the app store for controlling your Lyric. Nest (owned by Google) is not on the HomeKit supported device list.
Visually the devices are pretty similar, the Lyric is just a little bit more busy. The Nest is very simple, it shows only temperature and the recent range. The Lyric has that plus local weather conditions.
Time to market for the Lyric is decidedly bad. Nest has now been out long enough to have a V2 product, the devices are well positioned and sold in Apple stores across the US, and as of today on Amazon the product has 1,423 5 star reviews. Nest also has a smart smoke alarm and carbon dioxide detector to add to their smart home line. For people interested in building around a brand ecosystem, this could be important. There is no doubt that will be hard to compete with the a now loyal set of customers and a growing integrated product set.
Which will you choose?