Jul 29 2016 4:52PM GMT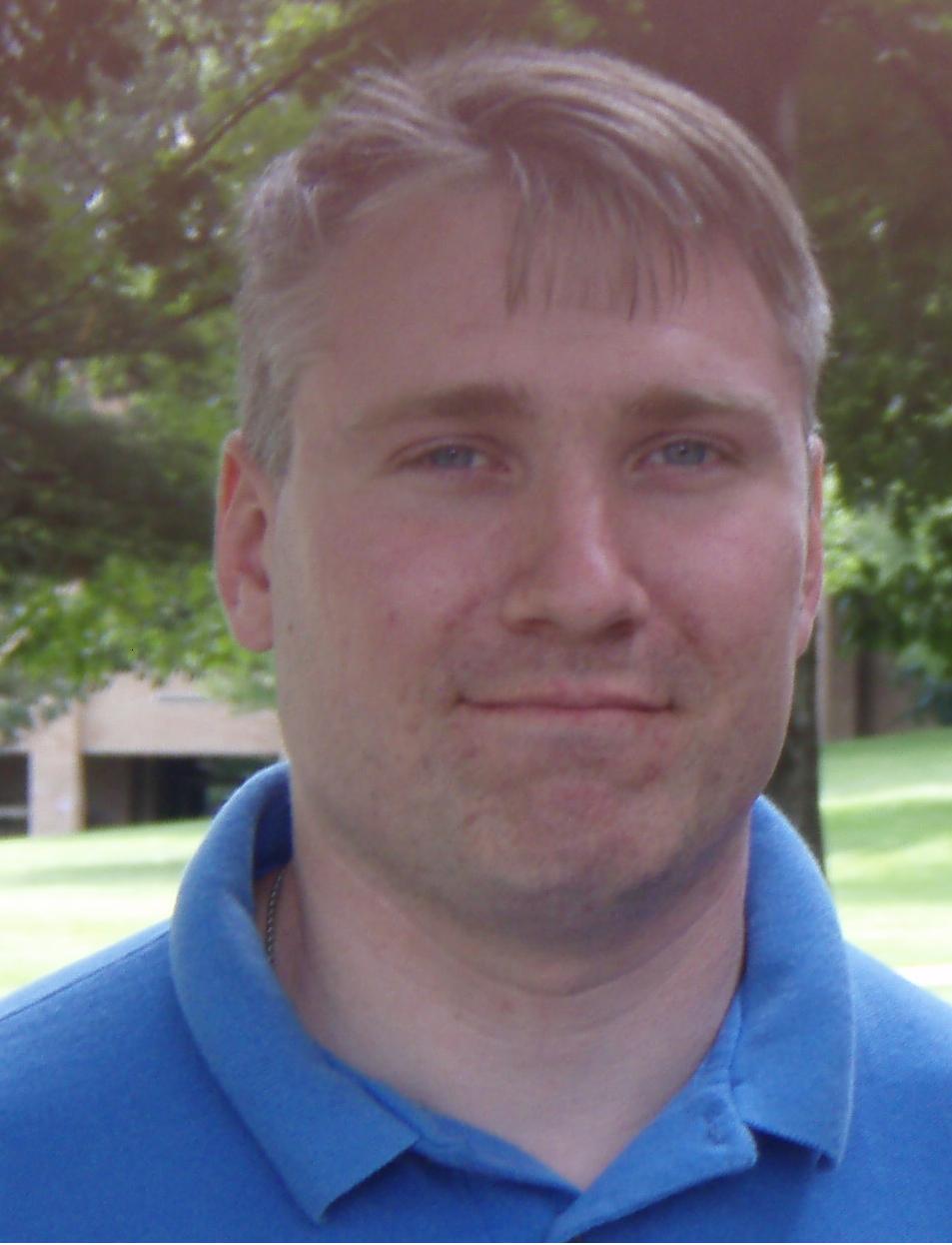 Profile: Matt Heusser
Tags:
I've spent the last week in Atlanta, Georgia, at Agile2016, the world's largest Agile Software Conference. The conference started Monday, but there was a preconference event all day Sunday, called the "bag packing workshop", where I learned a quality assurance lesson.
The bag-packing workshop runs 8AM to 4PM, including two three-hour shifts of thirty people each, with a lunch break and debrief.
My hope was to show up and help out.
I didn't expect it to turn into my biggest insight from the conference.
Getting Started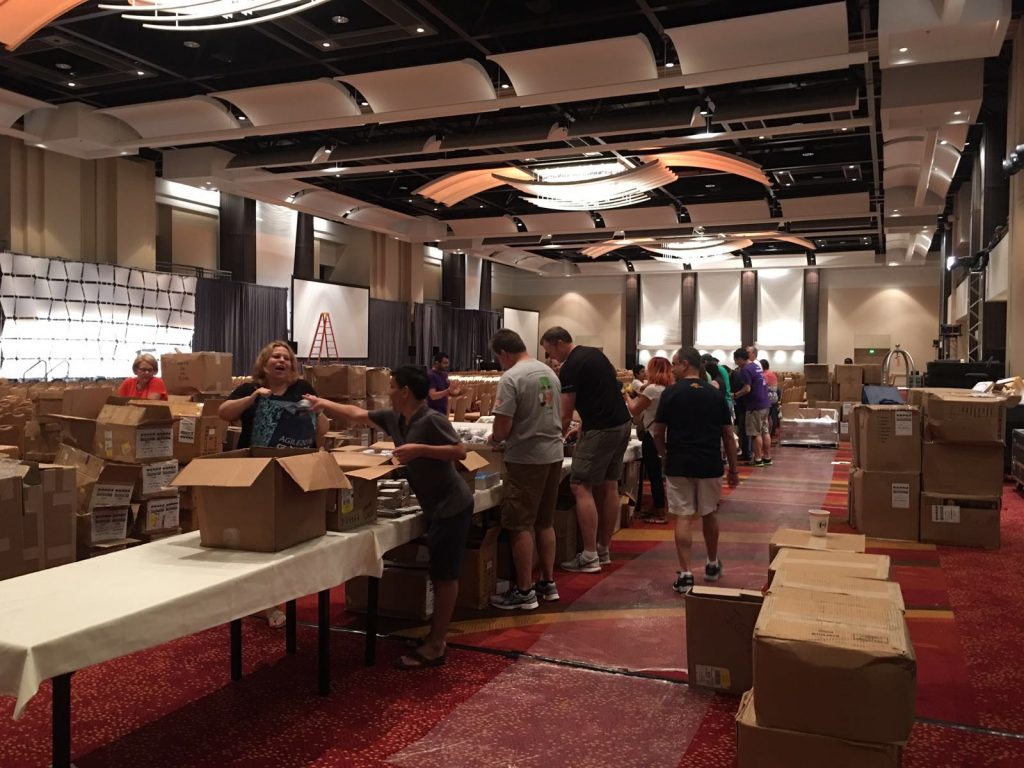 Start with a conference for twenty-five hundred people – which means twenty-five hundred bags. Add the marketing material for forty different vendors, plus assorted yoyo's, stress balls, stickers, and a book of poetry. These all arrive in boxes, which need to be opened and sorted.
Once the materials are on the table, half the volunteers staff a location with somewhere between two and four items each. The rest of the volunteers pick up a bag and walk from station to station, filling up the bags, until they drop the filled bags in a pile. A few more volunteers fill up a container with bags, then move the container to an area near the registration desk.
Imagine doing that for three hours. If y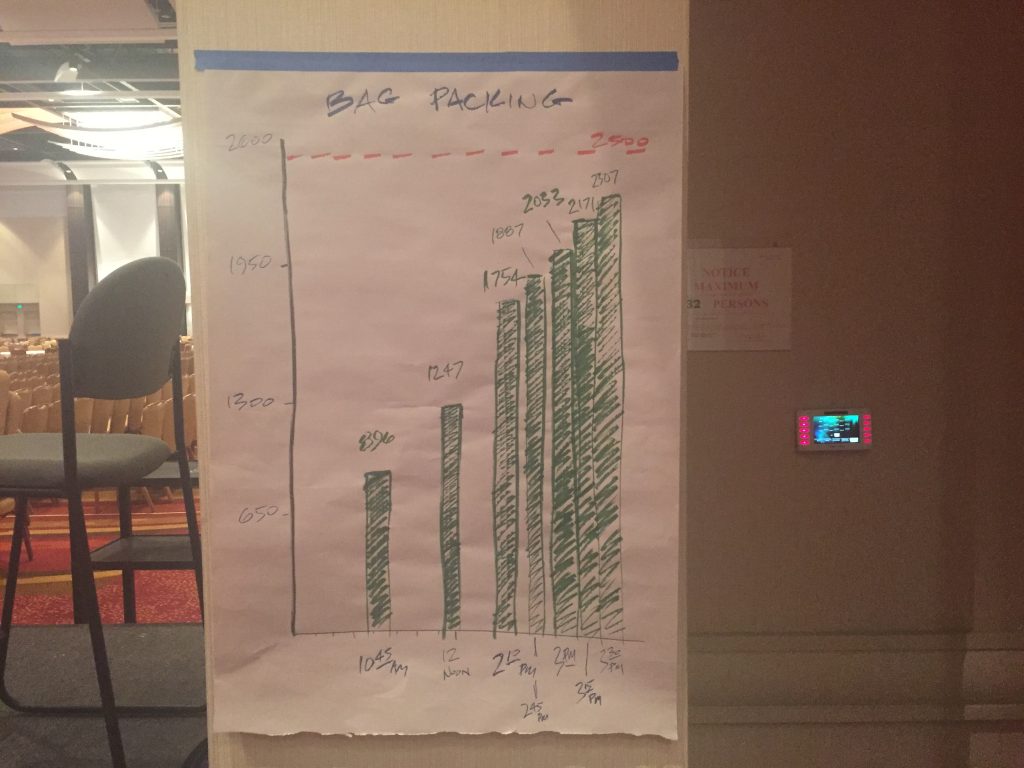 ou are lucky, you get to rotate roles a little bit, and get a snack break about halfway through. One volunteer supervising the process tracks the bag count; after a half-dozen counts of 15 minutes, it's easy enough to project speed and predict when the bag packing will be done using Yesterday's Weather. And since you asked, yes, Virginia, there was a burn-up chart.
The format we started with was the end result of an all-day lean workshop the previous year, which started with a "bucket brigade", ran a series of experiments, and ended up with where we started. Because of this, there wasn't too much experimentation. The biggest new idea was trying to carry two bags at one time, which didn't quite double speed, but certainly helped … it also hurt your hands a little.
At one point I took my hat off and put a bag around my neck, which felt faster, but it created a bottleneck – the people handing off items couldn't do three at a time, which actually slowed down the line. I went back to two bags and we ended the day about a half-hour early.
Lesson Learned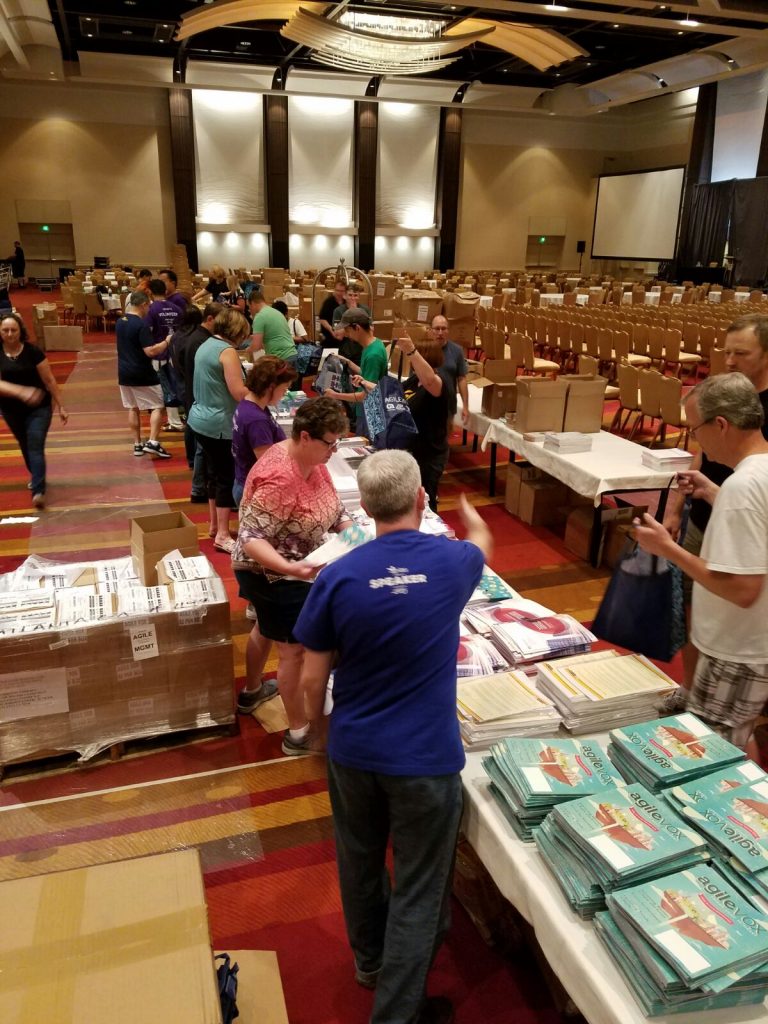 Imagine what would happen if we packed bags the way many companies develop software. We'd get all the bag inserts (ish) in a big pile, throwing them in (mostly) and piling all 2,500 bags in a corner. Then we'd get out a checklist of what should be in each bag and inspect them separately and fix. That process wouldn't take eight hours; instead it would be twelve to twenty.
The only way to be successful with bag packing was to design a process that had very few defects – so few that we didn't even need a quality control point. Instead, we performed quality assurance throughout.
Of course that's not fair. A manufacturing process that is not just repeatable, but literally repeating is much easier than knowledge work. Software has an infinite number of possibilities, and the Platform Problem means that code that works just fine in Chrome for my Macintosh might not render properly in Safari for my iPhone. It's a problem.
Still, too often, the unspoken paradigm for software is that we'll do a bunch of … stuff … catch the problems in testing and then do it all over again. Most of our customers, most of the time, can see significant improvements in first-time-quality without much effort, which eliminates rework.
Purple Shirt Pride
The real secret of the week, though, is the "purple shirt" role. The purple shirts are the conference volunteers that are everywhere at the event, and, for the most part, invisible. It's when you need to find the registration desk, the bathroom, your session, or a speaker needs printouts, markers or stickies that suddenly the conference volunteers matter. (They also check badges at the doors, eliminating the need for expensive security.)
In trade for twenty hours of work during the week, purple shift volunteers get a conference pass. That's not a typo – it's twenty hours of under-appreciated, standing-up work, often dealing with frustrated attendees who got to a session five minutes after it filled up. They lose half the conference to volunteer time, and, generally, with no company help, cover all additional travel expenses.
Purple shirts are are dedicated, hard-working group.
The good news is it's a lot of fun, and you get to build strong relationships with people who are at the conference for the right reasons.
If you'd like to volunteer for #agile2017, August 7-11 in Orlando, Florida, check out the call for volunteers. The roles start as easy as the from-home track reviewer, to purple shirt and track chair. If you consider it and don't want to invest the time, I understand.
So yes, count the cost. Then again, you never know. Your most important lessons might just be in the Purple Shirt Team Room.

I know mine were.