---
November 22, 2011 7:45 PM
freedom
,
Freelance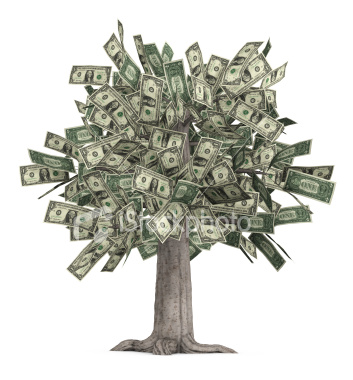 In my previous two posts (part one and two) I introduced the F(orget) U fund, and said it wasn't enough — you need an income stream.
The income stream will help in two ways: If you lose the job, it will help meet your needs, but while you keep the job, it will help you build the fund.
Today, two things:  How to build the fund, and how to generate an income stream.
November 21, 2011 1:52 PM
When I introduced the Eff U Fund, I suggested that the very idea was challenged.  Once you've saved up the three-to-six months of savings, should you tell the boss to, well, Forget himself and walk out, that money will run out very quickly.  I suggested the reader needs a revenue stream, not a pile of cash.
I'm not the first person to have this idea; why, George Costanza realizes it in an early episode of Seinfeld.
---
November 9, 2011 10:47 PM
Have you ever seen or heard a conversation something like this:
Person: My job stinks.  My boss is a jerk.  My goals don't make sense, and just as I'm about to have a handle on them, they change.  I report to six different people.
Comment #1: Man, that stinks.
Person: I'm worried about my job.  I might lose it.  I wish I could just quit, but I need to pay the mortgage.
Comment #2: What you need is an F U fund!
Ahh, yes.  The F U fund, which may stand for "Forget You."  Three to six months of savings, so if things get really tough, you can bail out.  I understand.
The problem is, it isn't enough.  Oh Yes!  The internet commenters say, you /really/ need six to nine months.
That isn't enough either.
In fact, it's unlikely that your F U fund will ever be large enough to solve this kind of problem – but there are other ways – which are demonstrated on, of all things, an episode of The Office.
Yes, that's right, Michael Scott, the bumbling manager of The Office, figured this when he tried to sell the Michael Scott Paper Company …
---
November 1, 2011 6:00 AM
This week my friend Shawn concludes his rant on North American Business (see part I and also part II) and, well, I'll pick up from there.
But first …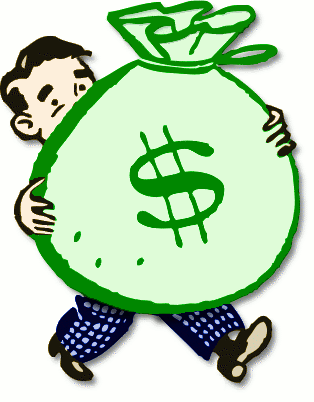 "Today's small companies want to offer their customers (internal or external) expanded coverage options, really attractive (to executives) SLAs, and "more bang for the IT buck" because many C-level manangement folks can't understand why IT costs so darn much.
Hey, there, Mr. CFO, I can expand our supported hours beyond 8-5 without increasing headcount and costs.. Let me show you."  A little wave of the pen and here's your substantial change in working arrangements.  A doubling of the time the company wants to have you available at their beck and call, without any kind of change to the compensation structure.
---
October 25, 2011 10:01 AM
Professional Conferences give you new ideas to try, to grow your network, and can provide a chance to reflect and charge.  I can't recommend them enough.
Yet when I mention how wonderful conferences are, one of the common responses I get is "that's great Matt but …"
Folks don't get to attend them because it isn't in the budget, isn't in the travel budget, or just plain isn't on the radar.
If you are in that boat, well, this blog post is for you.
I'm going to tell you how to get to a professional conference in the next eighteen months.
You do the work, I can get you to a conference.
I'll stake my reputation on it.
---
October 19, 2011 10:58 PM
Last time, my friend Shawn introduced his premise — that IT Workers are the coal miners of the 21st Century.
This time, Shawn's back, to explain how the shift from hourly work to exempt has changed the nature of the work itself … and not for the better.
Obviously, Shawn's comments are an analogy. Certainly, working conditions and employment opportunities looked much more dim for the West Virginia coal miner of 1897.  Where the coal miner risked a collapsed mine, lack of oxygen, and poisoned lungs, an IT worker might face a paper cut, or, perhaps, repetitive stress injury from too much typing.
Still, there are things going on in how IT workers are treated; his ideas may cause you to pause and refect.
Back to you, Shawn …
---
October 18, 2011 11:14 PM
A few weeks back, I introduced you to my friend Shawn.  He's a strong systems thinker, a former soldier, someone I respect and admired from my youth.
Shawn cut his teeth in the dotCom era, becoming a programmer, then general technologist, then IT manager, now … I'm not sure.  Last time I checked, he was an account rep for an IT managed services firm, the kind that has been eating a hole in traditional IT departments.
Shawn cares about his field, and his perspective is shared by life in the trenches.  So when he kept writing about what he sees happening to our field, and asked me to publish it, I couldn't say no.
Here's the question that keeps Shawn up at night:  Are IT Workers the Coal Miners of the 21st Century?
From here on out the words belong to Shawn, not me.
---
October 12, 2011 10:36 PM
Men and women of greater writing talent and skill than I have written eulogies for Steve Jobs.  Some have been touching and inspirational; others knew him, or his companies, far better than I.  It would be more than a little pretentious for me to try to write an article that, at best, might be a bit of a copy of what has come before.
And that's good, because that ain't this article.
Instead of talking about what Mr. Jobs did, I'd like to talk about what made him different, and how, in our own way, we can be different too.
The Heart of the Matter is that Steve Jobs was a thief and a failure.
He was good at it.
You should be too.
---
October 3, 2011 10:46 PM
Oh Boy.
So two weeks ago, HP made it's announcement that it was considering leaving the PC business, and I made my speculation that Dell might fill in the gap.
Then I went home for the weekend and found this headline on the cover of EWeek: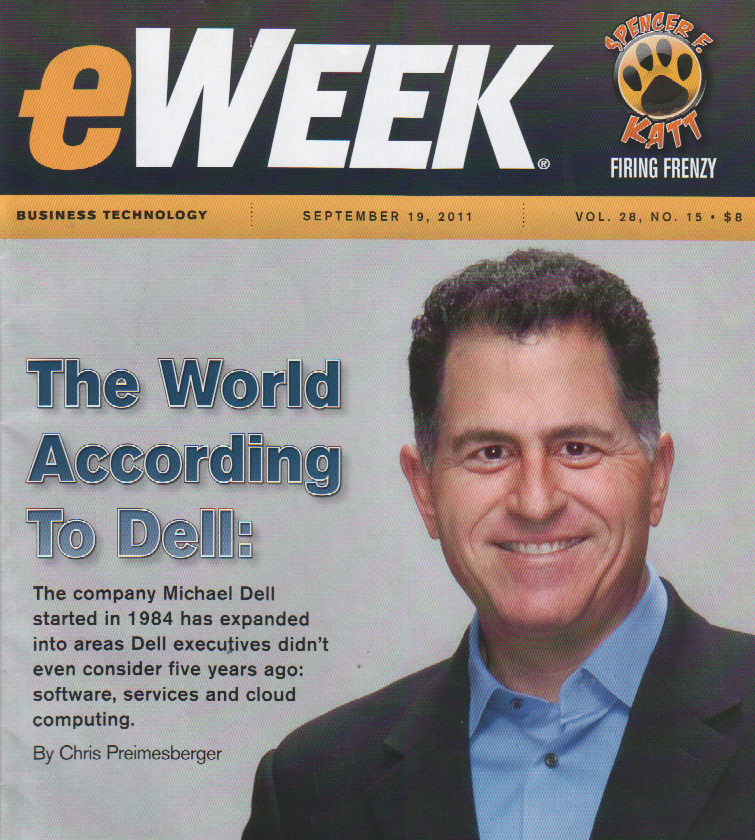 "The World According to Dell: The Company Michael Dell started in 1984 has expanded into areas Dell Executives didn't even consider give years ago: Software, Services, and Cloud Computing."
It's almost as if the folks at Dell strategically timed a marketing push, just at a time when the traditional competition was at it's weakest.
nah.  That would actually make … sense.
The article is fascinating, and a good read; here are a few of my favorite gems:
---
September 28, 2011 9:23 PM
Did you know that "We're Sorry You've Been Laid Off?" condolences are now a major Hallmark greeting card category?
Perhaps the greatest irony is in IT, where technology really has enabled self-service and productivity, perhaps so much so that we need less IT support per hundred employees, meaning … oh wait.  Ouch.
In the old days, a project management system cost six figures, required a purchase order, a fair amount of hardware, and half a full-time sys admin to support.  Today, Joe the intern uses the corporate card and suddenly the entire department is on basecamp or pivotal.
And no, that is not a hypothetical — one of my largest clients recently signed the whole team up for pivotal, used it for two months (for free), then went to management to get the corporate card to allow them to continue with the tool past the initial offering period.
Meanwhile, IT jobs become harder and harder to come by.
There are lots of reasons for this; one of them is the increase in managed services companies; the kind that took Gartner's advice and started to offer infrastructure as a service, which allows them to split up on support rep over a large number of companies.
My friend (who I will call Shawn) has spent most of his career in corporate IT; today he works for one of those managed services firms that stole someone else's job.  I wanted to hear his take on the IT employment situation; here's what he had to say.
---