Dec 21 2017 4:08PM GMT

Profile: Justin Rohrman
Tags:
Earlier in 2017, I wrote about some of the dynamics of working from a home office. I have worked from my house for about 50% of my career in technology now and have settled into a routine. Working from home isn't a novelty for me, it is how I prefer to work and helps me to design a life that I want to live. Offices are wonderful for some people, they provide a format and structure for every day, as well as some forced social interaction.
Getting to the point where working from home requires time so you can acclimate, and also building something that resembles a usable office space. I want to quickly describe what my office looks like and how it got that way.
Working Space
Most offices are built around a sort of trinity — desk, chair, and monitor. Most people will recommend the Herman Miller line of chairs, and they are pretty great. They are also very expensive and cost prohibitive for some. I have a Haworth office chair that is something like 50% the price of your average Herman Miller and has been working fine for the past several years. One thing I will say though, is that despite having a hard chair mat, my carpet is basically destroyed. Eventually, I will have to replace the carpet in my office, probably with hardwoods to match the rest of the house.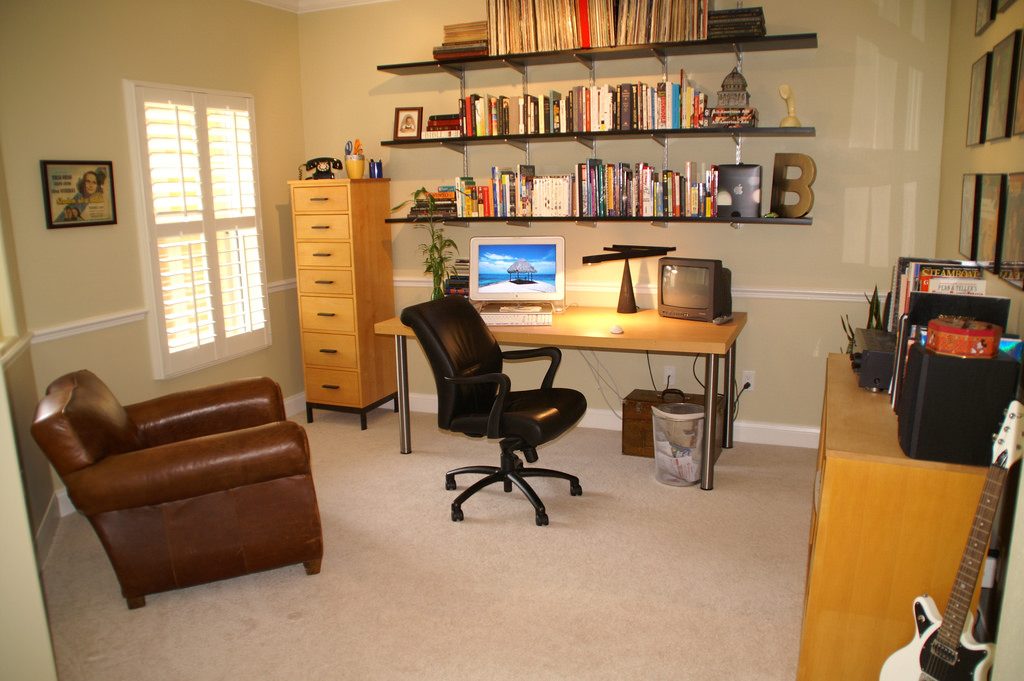 The desk I have is a no-name desk that I have had for years. There are no organization features — no keyboard table, no drawers, no cabinets. And that is exactly how I want it. Just a flat surface with a lot of space. This gives me room for a laptop, a second larger monitor, a couple books, some plants, and a cat. The monitor sounds like just something extra, something nice to have if you need it. But, for a home office, I'd say it's a requirement. Especially if you are in technology work.  I nearly constantly need to reference multiple things rapid fire, for example software logs and a piece of code I am working on. Having that extra monitor allows my me to have 2 things in view at a given time without having to flip between windows and lose context. Right now I have what I believe is a 21″ Dell monitor as my second. It is old and nothing special, but it does the trick. I might upgrade this sometime in the future, but it isn't really pressing.
I also have a printer with a flatbed scanner that is surprisingly useful, and a couple of bookshelves.
Signs of Life
This part is important and one of the things that really differentiates a home office from a central office that I have to go to every day. My desk faces the wall, but immediately to my right is a large window that is open when the weather is nice, but lets me look out and see the world daily regardless. I can also close the blinds and shut the world out for a few minutes if I am concentrating on a hard problem. I didn't have to wait for someone to retire or leave the company to get a window view, it's just mine. I own it. I have a couple of plants next to my monitor — a jade tree, and a plumeria that is in for the winter. There is also a cat bed next to my desk for when the family pet wants to hangout during the day.
If I need a break, I open the door and step out. Sometimes my wife and kid are in the house and I'll visit with them for 5 minutes. Sometimes I'll step outside and say to a neighbor. For me, keeping the office alive with natural light, plants, the family pet, and actual family, is almost as important as getting the hardware and ergonomics right. It makes the space pleasant to be in everyday, and it isn't in a temporary way. I don't have to pack up my stuff and stick it somewhere else if my work changes.
Some parts of my home office are intentionally put together, others fell into place over the years after things were added and taken away. At this point, I have basically everything i need. Maybe it could be a little cleaner or more organized, but hey, I'm pretty busy working.