Aug 24 2017 12:13PM GMT

Profile: Justin Rohrman
Tags:
I spent most of last week helping  a team of people run a software testing conference. The 10 months leading up to last week were spent hunting down venues and doing negotiation on rate, looking at hotels, reviewing catering, coordinating with speakers, and all of the million things that go into putting on a conference. Our event was 4 days in total. We kick off with a day of tutorials, that is followed by two conference days, and then there is a post-conference event on the last day for a smaller group of people.
This was my first time being so involved in a large technology event, so of course I have a few thoughts for other people that might be doing this in the future.
One of the big things to be aware of is that technology folks are a vocal bunch, and you will get feedback. A lot of feedback. On anything and everything possible. One aspect of building a conference is getting talks and speakers and melding all of that into a schedule. The intersection of good topic, presented by a competent speaker, at the right spot in the schedule is surprisingly hard to make happen. This is like putting together a mixtape before the music has been written. We have some idea of what the songs will sound like, but haven't heard the full thing. No matter how hard we filter, some talks might end up as a vendor promotion and some talks might end up saying things that just aren't true. The talks are just one aspect of these events, there is a hidden truth that attendees want to be entertained.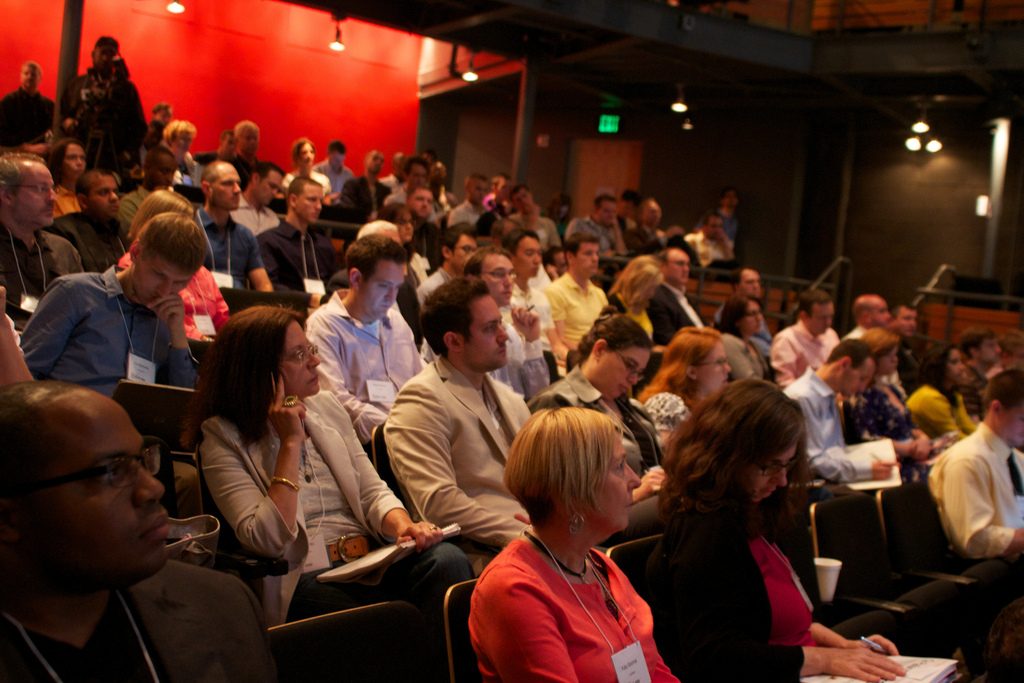 People that attend a lot of conferences on the business side of things, sponsors for example, will often call them 'shows'. Their role is to try to grab the attention of an attendee, if just for a few minutes. That feel permeates most of the tech conferences I have been to. The most highly regarded speakers are performance artists. They don't necessarily add a lot to the conversation, but the audience gets a few laughs and feel good when their time is up.  Opening sessions have bands, after hours there are parties and different ways to find places to drink. An attendee might come one time because their employer noticed a talk or tutorial. All of the stuff that runs adjacent to the conference is part of what keeps people coming back year after year. This is why you see more conferences in Las Vegas and New York than a medium/large city in the midwest or south.
When this mixture of entertainment and educational programming go just right, a conference is magic. There is a special culture created that lasts just for a couple of days and then disappears again until the next year. That magic is hard to find, and harder to create.
What I'm driving at here, is that building and running conferences is hard work and for most people there is no financial reward in the end. If you see a little thing that is bugging you, try having a little compassion. Little things will go wrong here and there, that is just the nature of putting on an event for hundreds of people.
*note: This post isn't stemming from some event that happened at the conference I worked on, just general thoughts on running conferences for people that run them and the people that attend them