Jun 1 2015 9:00AM GMT

Profile: Justin Rohrman
Tags:
Last week I has the pleasure of speaking with Jordan Sams from Zappos about his experience in helping the company transition to Holacracy. Jordan began working at Zappos as part of the customer service team. He worked for years with the goal of being a manager and shortly after being promoted into that role, an email went out to the entire company.
The email explained that not only was Jordan's role being eliminated, but every other role in the company was going away too.
Rather than taking the severance package and moving on to new opportunities, Jordan chose to stick around and move to a different part of the company where he could still provide value.
Let's take a look at the Zappos Holacracy transition, and see how folks like Jordan fit in.
Jordan made the analogy that traditional management is like high school. In most places, there is very little autonomy. Employees work in specifically structured teams on work that was delegated to them by their manager, which was probably delegated to that person from another manager higher up in the pyramid. In general, an employees life is very structured and decision making is left to those in higher pay grades.
Self-organizing companies are more like college. There is a clear goal for each person, but personal freedom, choice, and judgement are valued. Rather than having decisions made, and tasks delegated, employees in self-organizing companies make decisions based on their own experience and values.
No More Roles
Zappos removed not just the managers role, but every other role, too.
Well, internally that is.
Jordan and I had a good laugh about this. When I asked what his current title was, Jordan had to explain that, although no one internally has an official title, they do have external titles. Titles that are used to ease the conversation when people like me call. For example, Tony Hsies has the title of CEO outside of the company, and Jordan identifies as part of the Holacracy implementations team.
Internally though, they are just people with skill sets.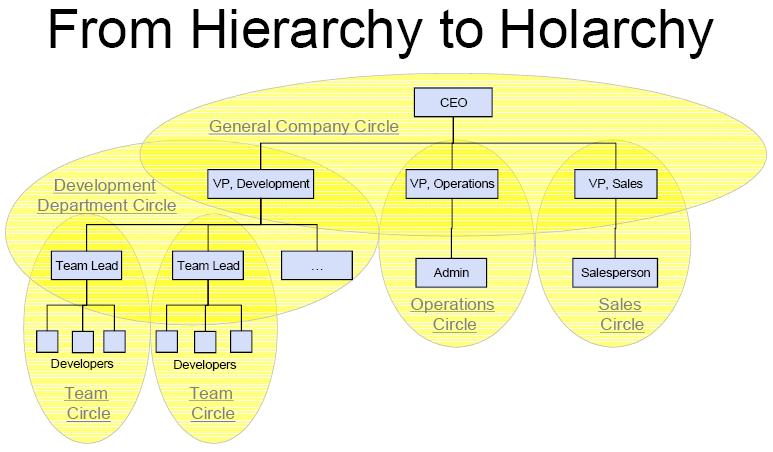 Which brings up an interesting question: if there are no internal titles, how do you find someone at Zappos when you need a person with a specific skill set? For example, how would a development team find a performance tester, if there is no one with the title of performance engineer?
Their current solution is a product called GlassFrog. Zappos documents every employee in this product along with some information about that persons skill set.
Want to find a MongoDB specialist at Zappos? You'll have to run a query in GlassFish.
The Method
Jordan is currently on the Holacracy Implementations Team. That means that he mostly spends his time teaching 3 day courses to help people learn about the new structure and also to go through simulations of what day to day life in a self-organizing company is like.
A typical class begins by spending some time on the Holacracy Constitution. The value system can be found there as well as rules of engagement like how teams for and interact, how roles are created and assigned, and how meetings should be run. This is the framework for how a Holocratic company would run.
After the academic introduction, attendees participate in exercises that simulate how meetings and conflict resolution work in a Holacracy, there is some explanation on what what it means to be a self-organizing company, and then there is a Q&A time period where attendees ask specific questions based on their experience. Since the transition has already begun, many people have already spent some time in the new structure. The Q&A time is valuable for them since they have had time to develop meaningful questions.
There are also workshops on special topics.
Although, classes and workshops are where most folks at Zappos are introduced to this new structure, Jordan said:
Honestly, the most effective way to learn is to learn by doing. Participating in a real-life meeting, with real-life topics is the most beneficial practice, as long as there's a good "Facilitator" (someone trained to make sure the meeting runs smoothly, everyone's comfortable, provide coaching, etc.)
Long Term
Jordan explained that Holacracy is like a set of training wheels that helps organizations get to a state where teams self-organize. It is an initial set of rules to help in the transition.
Jordan's role in this transition is expected to last about 11 months. We talked about that and he mentioned that at that point, he felt the skills he developed while managing the customer services team, and while teaching classes during this transition would make him a valuable asset somewhere else in the company.
I'm sure he is right.
Next week, I'll talk about the required reading for everyone that decided to stick around.