Mar 2 2015 9:28AM GMT

Profile: Justin Rohrman
I'm writing this post from a fresh installation of Windows 8.1 on a MacBook Pro. I spent about half of Saturday researching, and downloading files, installing things, and waiting. There was a lot of waiting.
Systems administration isn't my idea of a good time, so this was a little tedious for me. There were some lessons learned, and if gathering all of this in one place helps one person, then that's great.
Here we go.
I haven't had a Windows machine for personal use in over a year now. I was perfectly fine with that streak getting bigger, but there is a tool I need to use that will only run on the Windows Platform. So first things first, I needed to get a installer and license for Windows.
I was really hoping to get a cheap copy of Windows 7, that is the last version I used heavily and avoiding the learning curve was nice, but in my search I found that Microsoft just recently stopped retail downloads of 7.
Oh well, 8.1 it is.
Off I go to the Microsoft Store and download a copy of Windows 8.1 along with a license. But, after making my purchase and clicking the download button, the file I got was a .exe.
That isn't going to help me very much on a Mac.
I go back to Google once again, this time looking for official Windows 8.1 ISOs and find a tool called WindowsSetupBox.exe. Yep, exe once again…
Luckily, I had my old Windows 7 machine in a closet collecting dust. So, I spent a little time getting that all hooked up and get the ISO creator running. Make sure you create the 64 bit installer.
This is where the waiting comes in, creating the ISO took well over an hour. The 'time remaining' text would jump from 4 hours to 3 minutes then back to four hours again.
Eventually that finished and I had an ISO.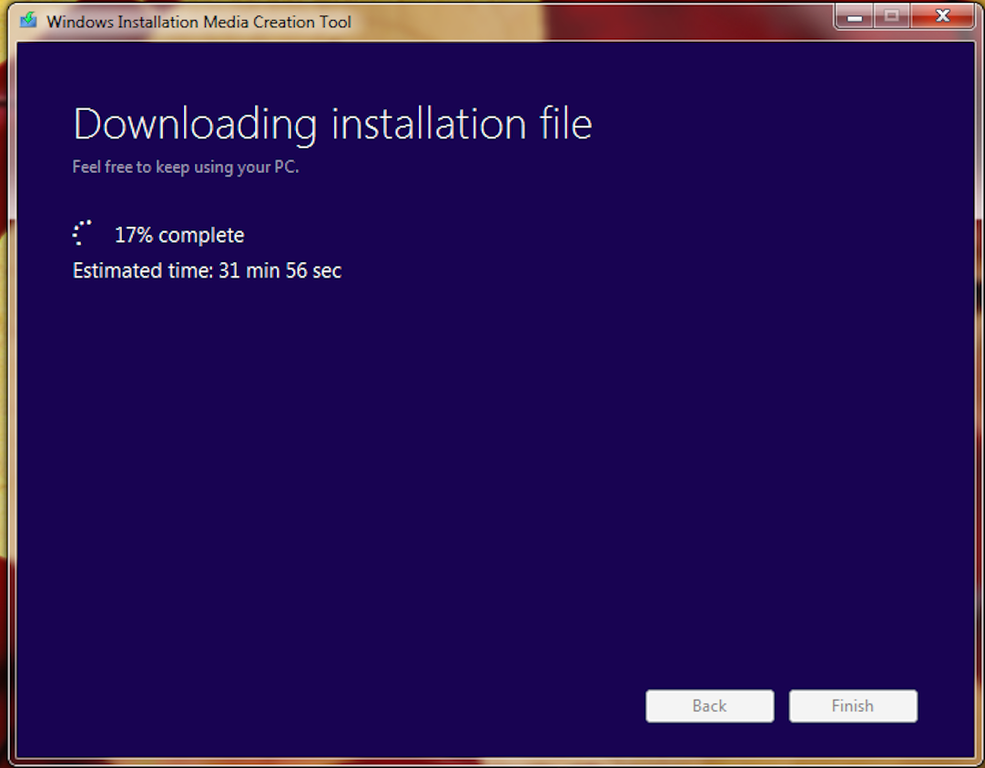 The bottom line here, is that unless you are in an IT shop with ISOs on hand, you're going to need a spare Windows machine or a good friend to make this work.
BootCamp VS Parallels
Bootcamp and Parallels will both allow you to run the Windows Operating System on your Mac. The big differences as far as I can tell is that parallels is a little more fully featured — no reboot needed to switch OS, and dynamic performance tuning based on your hardware. Parallels will also run you about $80.00
Bootcamp on the other hand, will require a system restart before switching between Operating Systems. It's free though, it is also one of the standard tools you get when you buy a Mac, no additional download needed.
I chose BootCamp.
BootCamp and More Waiting
So, here I am with my Windows 8.1 ISO, a newly formatted 8 gig USB drive and the BootCamp Assistant up and running. And, the progress bar isn't moving. I'm sitting in front of the monitor and it has been stuck on Downloading Windows Support Software for what feels like an eternity. Well, maybe not an eternity, but I was pretty sure I would have a birthday before the install finished.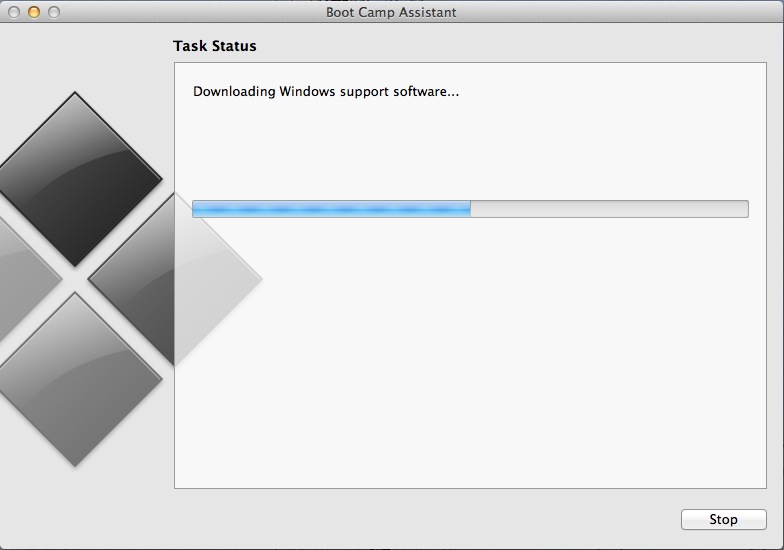 I was wondering if anyone else had this problem, and after a quick Google search, I found this. Apparently everyone was having this problem. I was scared to hit the stop button at that point to try the workaround, so I waited it out.
All in all, getting Windows running on my Mac took about 4 hours. After that I still had to do some setup of my new Windows installation.
Looking back, it went pretty smoothly, there were no corrupted files or strange error messages popping up.
Hopefully some of the info here can help you through your Windows on Mac installation.