Mar 16 2015 9:25AM GMT

Profile: Justin Rohrman
Feburary 20th of 2014, HP published a patent (originally filed in 2012) for implementing performance tests in an environment using continuous delivery. The content of the patent is pretty general, there are definitions of benchmarking, explanations of tests being run in parallel against multiple systems, as well as mentions of test repositories and an engine that will drive everything.
Software patents are controversial, especially  the patents that don't specifically describe implementation and integration.
Let's see how far reaching, and maybe overbearing this one is.
HP is a massive company that has been around for a while now. There is a cliche about tech start ups being founded by a couple of friends in  spare garage somewhere in the Silicon Valley. They did exactly that. Really, you can walk by the garage and read the plaque yourself.
In the beginning, they made electronic test equipment. Over the years, they also made high end hardware, personal computers, and software, lots of software. You can hardly talk to a test group with out hearing from someone that has worked with Quality Center or Quick Test Pro.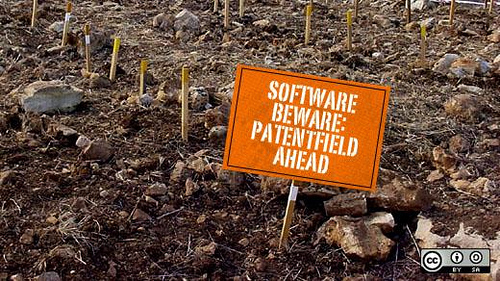 HP is not quite cutting edge anymore, but they definitely stay relevant.
It seems they are trying to creep back toward the edge now.
Why Would They Patent This
Continuous Integration has been around for a long time now, there are plenty of tools, even free tools, out there to support this type of development. Many companies are doing it well, and companies that aren't at least know what they are missing. It has officially been a thing for at least 5 years now.
Continuous delivery, or the process of pushing to production very frequently, sometimes hundreds of times a day, is more like the wild west. A couple of companies claim to deliver like this, and a few more are day dreaming of being there. The tooling for this, for the most part, is like the beginnings of unit testing. Home grown frameworks as far as the eye can see.
Patents describing very general processes created this early are a gamble. The bet is that if continuous delivery catches on, the company with the patent stands to have the market cornered by cutting out vendors and tool makers working in the same space. There is an unspoken threat that smaller companies with a bright idea will stay out because they can't afford litigation against a company like HP.
What Good Could Come
With a few exceptions, Selenium being the main one, Big Commercial Tool Vendors absolutely dominate the test tooling market. The result of this is that the smaller folks figure out that they don't have to battle in traditional. In his book David and Goliath, Malcom Gladwell gives a series of anecdotes about underdogs finding ways to overcome seemingly stronger opponents.
The book is almost all anecdotes and there are lots of questions we could ask, but there are valuable points.
Products like Watir and Selenium were borne of this. The sort of roadblocks created by early patents usually results in innovation by people trying to do good work and solve real problems.
What To Expect
It's hard to say what the reality of this will be. Maybe a big product push, maybe quiet strategy to keep other companies out of the space, or maybe nothing at all. Companies like HP file patents all the time in the hopes that eventually they strike gold. It's like a giant slot machine where a single spin cost millions.
As for how HP decides to use and enforce this patent, we will have to wait and see.