Jan 22 2015 3:49PM GMT

Profile: Michael Larsen
Agile software development principles strongly encourage team development, team resource sharing, and the creation and sharing of knowledge. This is a wonderful goal, but why, so very often, do we see the system stacked against the team, and focused on the individual? Think about who generally gets promoted in organizations. This is, of course, subjective. I can't speak for every organization, but in my own experience, the person who gets promotions, bonuses and higher pay raises tends to be the stand-out individual that "the company cannot live without". For the sake of this story, let's call them "the hero".
We all know these people. They are the ones online at all hours, answering questions, finding some unique way to solve a problem, and being praised for doing so. They ride in to save the day, have near universal admiration of their teammates, and management extols their virtues.
What could possibly be wrong with this picture?
Beware Dependence Upon Heroes
I've been thinking a bit about "the heroes" I have worked with over the years. Don't get me wrong, I think everyone aspires to be heroic at least some of the time. When there's pressure to make something happen, we look more favorably upon those who say "let's see how we can do it" than we do on those who say "oh, that's impossible, it can't be done". I am more concerned with organizations that rely on heroes. When a consistent hero is in place, the overall team suffers because the rest of the organization isn't getting near the attention or the development that the hero gets. The hero inevitably becomes the bottleneck to the progress of the team.
Dependence Breeds Hubris
Hubris is a Greek word for boastful pride of accomplishment and skill. Often, heroes become proud of their place in the hierarchy. They are the "go to", indispensable member of the team. Their knowledge and skill is essential to the organization. Hubris develops when that person is seen as more important than others on the team. Hoarding information and influence, or cherry picking the plum jobs that will make them look fantastic in others sights is often a result. They may even be the specialists in dealing with the jobs that no one else wants to do. Beware the hero who is reluctant to share the load.
We All Meet Nemesis Sooner or Later
Nemesis is another Greek word. It is the fall that happens after the pride. I have certainly felt its sting over the years. I have played the hero, gotten comfortable in the role, only to find myself at a point where I cannot play that role any longer, and my team then cannot fill the gap left behind. Even worse, some heroes are absolutely opposed to sharing their ideas. They feel that their skills and their heroism is what makes them valuable to the team. I've been in this situation as well, and it is the ultimate hubris. Organizations that do not address this find themselves in terrible situations when that person either moves on or finds a problem they are ill equipped to cope with it. Every hero has an "Achilles heel" somewhere.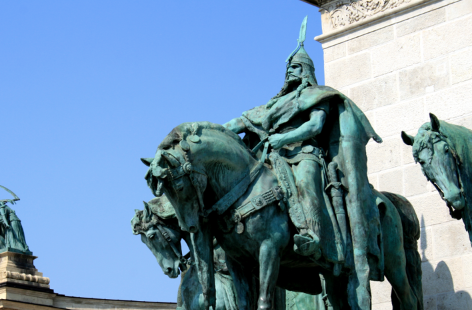 We Can All Be "Heroes"
I encourage every organization to identify their heroes and give them a new mandate. Share the heroism! This will not magically make everyone else just like them, but by sharing their knowledge and experiences, they will bring up both the skills and the drive of the team as a whole. To the heroes out there, don't see this as a demotion or a rebuke. See it as an opportunity to make a team of heroes, one that can tackle more interesting and unsolved problems. Team members who stand in awe of the hero, please, stop it! Don't worship the hero, learn from them. If that's not an option, develop skills on your own that can help fill areas that are not being addressed. In turn, this may well make you another hero. If that happen, consider it your duty to make a team of heroes your top goal.