Dec 15 2017 10:05AM GMT

Profile: Justin Rohrman
Tags:
My favorite product manager I have ever worked with treated the development group with a sort of benign neglect. He spent most of his time outside of the office talking with customers. Randomly, he came back to home base with a blast of feature ideas. Some were well thought out and describe, others were a sentence or two. These ideas got passed on to a developer to turn into software. Somehow, he was usually happy with the results whether we knew what he wanted or had to make guesses. After that, he was off for another round of customer visits and generally inaccessible during that time.
He was my favorite product manager to work with, but probably not the best. So, what makes a good product manager?
One of the better measures I can think of is WTFs per second after the sprint review (or whatever your company calls it) meeting.
Most sprints, in my experience, start with some sort of review. The product manager presents a list of stories or specifications that the development group is supposed to burn through and release at the end of the next two weeks. The product manager presents the features one by one, and the development group asks questions. At one company I worked with, this was a tedious process. We were working with a complicated business domain, and boiling features down to the user story template format usually led to a lot of information loss. Those meetings took a full day per team, minimum, and even after that a lot of questions came up about feature specifics. Starting the sprint was hard, but once we were moving and writing new software, with a few exceptions, things were smooth.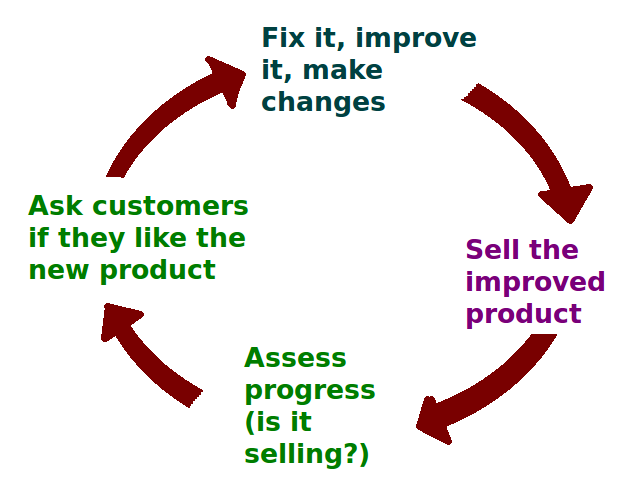 Another company I worked with used detailed specifications to the point where the product manager would make recommendations about which classes in our SDK to use. The sprint review meetings were straight forward. Our product manager walked through the specification line by line explaining what he wanted done. Everything was fairly explicit, so there weren't many questions to ask unless there is an obvious problem. But, it is hard sometimes to detect software problems in a paper specification. Especially when that specification is backed by supreme confidence. The sprints would start, developers made some new software and eventually sent that to the test group. Everything looks OK so far. I remember one time getting a new report feature where data in what I thought was a reasonable range flowed off of the chart onto other parts of the page. The developer pointed to the specification and told me the feature worked as designed. I told him the specification was obviously stupid.  We talked and disagreed about what to do and eventually got some intervention from a manager. The code was updated to scale a larger range of data so that it all fit on the chart and didn't overlap other parts of the user interface.
WTFs per second is a sign of annoyance, but what it really translates to is lost time. Questions are part of software development, and usually the more we ask the better the product ends up being when it is delivered. Part of the skill of a product manager is designing their explanations of a feature so that questions asked by developers are asked earlier and have useful answers. Availability matters, too. My favorite product manager from the intro here was rarely available outside of the sprint review meetings. This made any question the development team had dangerous. We had to make assumptions and there was little chance for course correction if our assumptions were wrong.
What is your measure of a good product manager?