Jun 27 2016 8:46AM GMT

Profile: Justin Rohrman
Tags:
A friend of mine gave a keynote at a conference a few years ago. I was there, and really enjoyed it, most people I talked with felt the same way. But, as always there were a few people that weren't into it. Give talk to a large enough crowd, and there will be a few people that aren't super excited about it. The interesting part wasn't so much that a few people didn't like the talk, but the kind of feedback he got. When asked, one person said "It just wasn't that good" and didn't offer anything else.
I was surprised that someone would give feedback in that way. Why would someone be so dismissive?
I have had my fair share of "it's just not that good" and have been thinking a lot about it. Vague feedback is poison, so let's find a little antidote.
I was hired to work as a test lead for a software company when I first moved to Nashville. The company was small, maybe 25 people in total, and was housed in a cool building that was a feed store in the late 1800s – early 1900s. I was excited to be there. My manager at the new gig was more a fan of brute force than subtlety. When a customer reported a problem, she would burst into a testers cube like kool-aid man asking why they let that problem into production and then making them sign a piece pf paper admitting they made a mistake. I took a different approach that she wasn't fond of. Eventually she let me know I wasn't doing a very good job, and that I probably shouldn't be a lead anymore.
When I started, my role was  a combination of coaching, helping to develop skill, and a little bit of people wrangling to keep projects running on time. Or at least, that is what it thought the gig was. Over the first 6 months or so I tried to do just that. I was never very successful, reporting that development was running late and testing needed more time usually resulted in blank stares from managers and people that made release decisions. She thought my role was going to be gathering data so that she could make reports to send to people with C in their title, and generally cracking the whip against the testing group so they would work nights and weekends to get code tested regardless of how late it was delivered.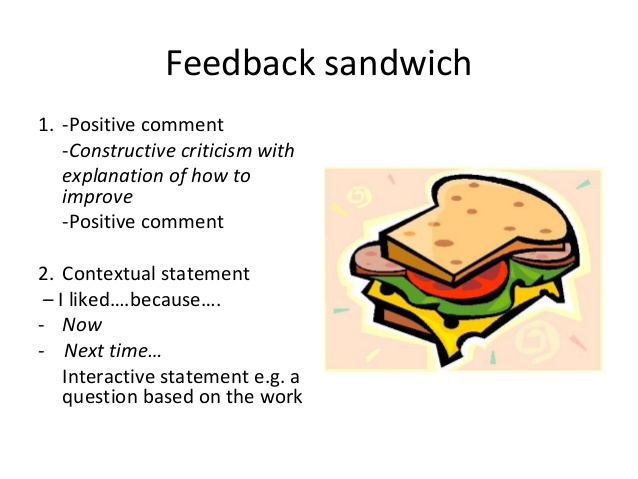 Expectations are a funny thing. No matter how much I thought I understood the role this company wanted me to play, and how much they were convinced I was the right person for the job, we found confusion and misunderstanding. If you really want to learn what a person wants from you, do something wrong. Do something that conflicts with what they were expecting. You won't even have to try. This sort of conflict will happen because no one really understands the rules of engagement till they are violated.
That manager and I clashed on and off for another 6 months before I moved on and found a team that worked out much better.
So, back to that initial feedback  — 'It's just not very good".
Days of resentment are created every time someone offers that without following it with "but, you can improve by doing this, this, and that". I called this feedback poison, because it taints relationships and requires healing to move on from. The only kind of feedback I appreciate now is the kind I can act on. Tell me to organize my work in a different way? Sure, I can do that. Ask me to focus on a specific part of the product because there were several changes there recently? Not a problem. But don't expect much positive response from telling a person that they aren't doing a good job, full stop, nothing else.
It is hard to get started with ambiguity. The manager is unhappy with the employee, the employee is unhappy with the manager and unsure on what to do to make things better. If you are in a position of power, do your people a favor and offer specific advice they can use to improve. If you find yourself getting this type to feedback, take a day or two to cool off, and then start exploring what that person really wants. Chances are there both of you can learn a little more about what needs to be done, and both of you will be happier in the end.