Jul 23 2012 9:15PM GMT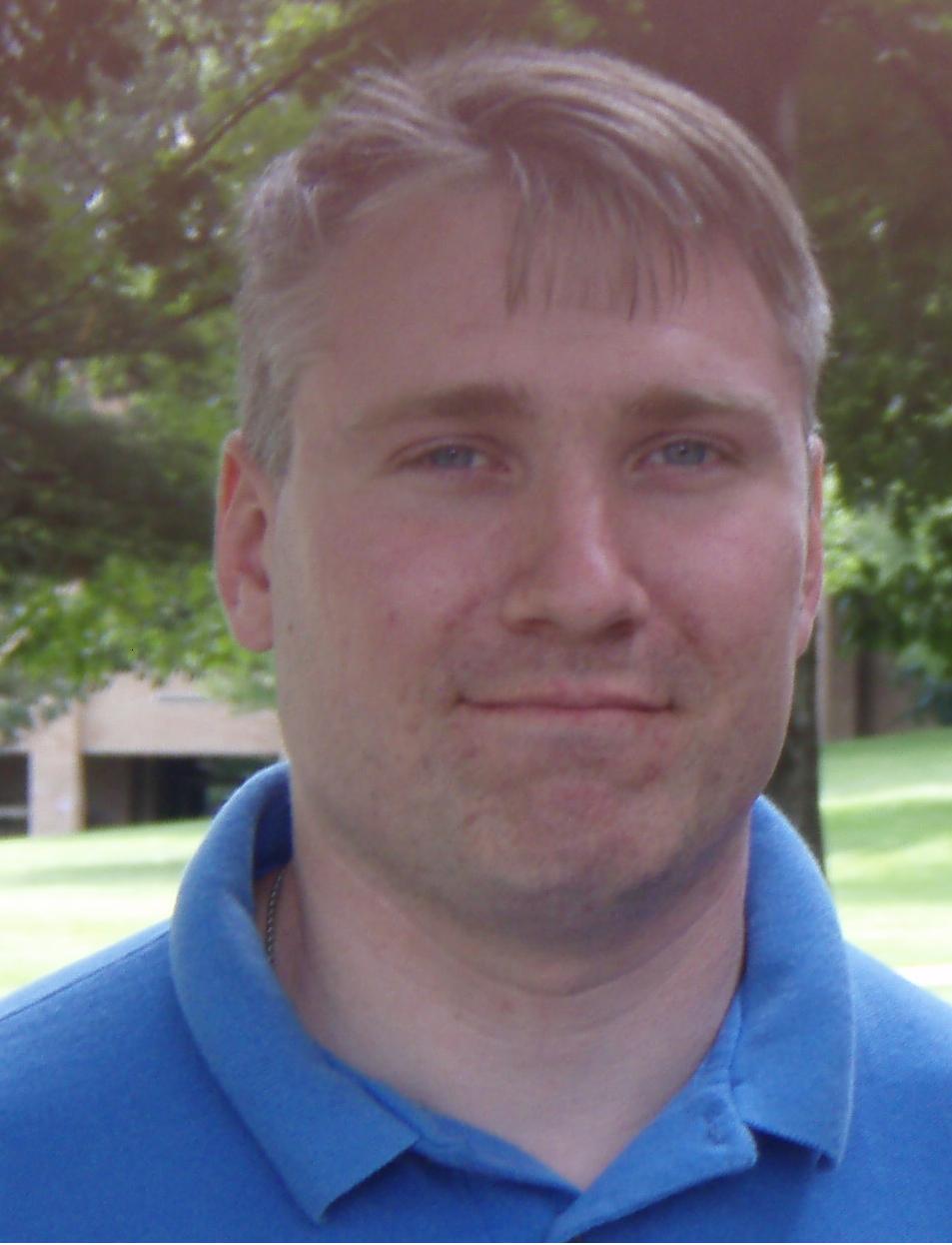 Profile: Matt Heusser
Ten years ago I was working in an office (much like the one at left) for a Fortune 200 Corporation.  The company had was organized as a collection of independent business units, each under a group, each under a division.
In most respects, we really did act like independent units … except for HR.  401(k), Payroll, annual reviews, and most other benefits were run through one central office.
At the time, I was working on my master's degree at night.  As you might expect, I had to take a course of study appropriate to my job, and each individual course had to align with my job.  There was a cap for the amount I could be reimbursed per year.
Every May and December, around the 15th, I would slink over to the office manager's desk, photocopies in hand, along with the filled out Excel Spreadsheet and the inter-office memo.  And, every time (literally, every single time) she would make a passing comment like "don't expect this very quickly; I think the lady that handles these things at Corporate is going on vacation for two weeks.
Wait a minute … the person that handles all tutition reimbursement, for every division of a 20,000 employee company, always take vacation exactly when the traditional semester ends?
Quite frankly, the whole thing felt like one of those $1 rebate coupons that you get with your batteries, the kind that sounds like on the package, but nobody actually, like, you know, sends in.
Amazon is doing it better.
Here's how.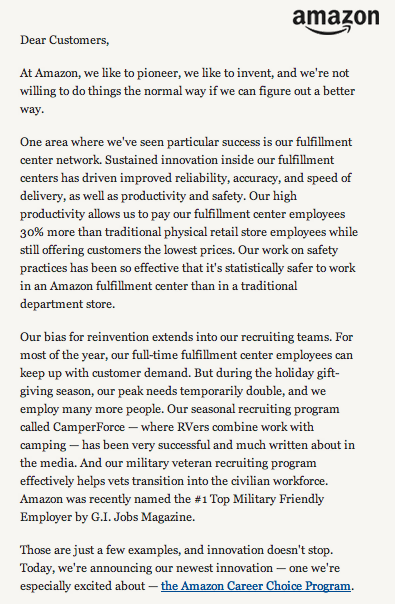 Today, July 23rd, 2012, right smack in the center of Amazon's Home Page, was a letter from Jeff Bezos, announcing a new program.
It is a tuition reimbursement program, up to 95% of costs, for warehouse ("fulfillment center") employees.
Not to be used for on-the-job skills.  Not to be used to relevant skills.
No, Amazon recognizes that many warehouse jobs are transition jobs, and intends for people in the program to take anything they want as long as job they are training for is in high demand, including Nursing, Mechanics, Electrical Trades, Accounting, you name it.
This is smart in all kinds of ways.
Benefits to Amazon
Instead of trying to hold on to senior employees in dead-end jobs, Amazon sets them free … sort of.  The employee has to work for the company for three years to enter into the program, and has to keep working for Amazon full-time in order to quality.
Most of these programs are two-year, community-college level programs.  At six credits per semester in the spring and fall, it will take five years to earn a community college degree.
That means that Amazon gets the employees for eight years, an impressive figure once you consider that the Average Job Tenure, according to the Bureau of Labor Statistics, was 4.6 years for men in 2010.
In my youth, if you wanted money for college, you could enlist in the Army.  They would provide some job training – you could pick your specialty – but you had to be careful.  The rumor was that the 'accounting specialist' was actually counting munitions and equipment.
Today, when I talk to young people about the service, I am still positive, but every friend I had had in the armed forces, except the navy, has had to do rotations to the middle east that were, at best, long, dull and boring.  The worst I don't really want to talk about here.  The navy was safer, but if you want to talk about boring, consider looking in every direction and seeing nothing but water for weeks on end.
Amazon is providing a better way; the option to trade a few years of your life away for a living job, paying a living wage, earning a high-value skill, for a whole lot less risk.
This is the kind of thing I would expect from a company that deals with it's seasonal staffing crisis by importing retirees in campers and RV's to deal with the overflow.
Know a young person who needs some direction, some discipline, a plan, and wants to fund their education without debt?
My grand-daddy joined the Civilian Conservation Corps.
Today?  Join a Fullfillment Center, young man!
Uncle Amazon Wants You.