Jun 21 2017 2:54PM GMT

Profile: Justin Rohrman
Tags:
I have worked in several agile projects over the years and they overwhelmingly look like a phased waterfall project got squished into two weeks. Take each phase of a waterfall project — planning, design, coding, testing, delivery/maintenance — put them into a two week delivery cycle, and that is my experience of agile. I suspect that is the agile experience for a lot of other people as well.
I went to another local tech meetup yesterday. This was an introductory agile talk for people that didn't have much exposure, but the content was driven mostly by audience questions. The content was very good. The speaker started drawing models of what a waterfall project looks like, what an agile project looks like, and then some process we like to wrap around modern software development.
That is when it clicked for me.
After the speaker went over basic models of software development he described two groups of people in the agile world. He described process people that take what a company is doing now, jam some process wrappers on top like Scrum and Kanban, and then leave for the next gig. The other group consisted of life coach type people that come in and "unleash the awesome". The coaches observe and help amplify the good things that are happening, and starve the aspects of the development group that are making software worse or development slower.
Most agile implementations look like waterfall for two reasons: the common process tools looks exactly like a waterfall, and software craftsmanship is usually missing.
Take a look at kanban for example. This tool was designed at Toyota in the 1940s as a way to visualize work and limit work in progress. Over the past 10 years or so, kanban has become pervasive in software, but it is missing its soul. Instead of having three columns — to do, doing, and done — there is one for most phases of a waterfall. I usually see the columns todo, in development, ready to build, in test, ready to demo, and done. Also, instead of reducing work in progress, each column on the board is tall enough to require a head tilt to get a full view. Every piece and phase of work in a waterfall project are thrown into these kanban boards.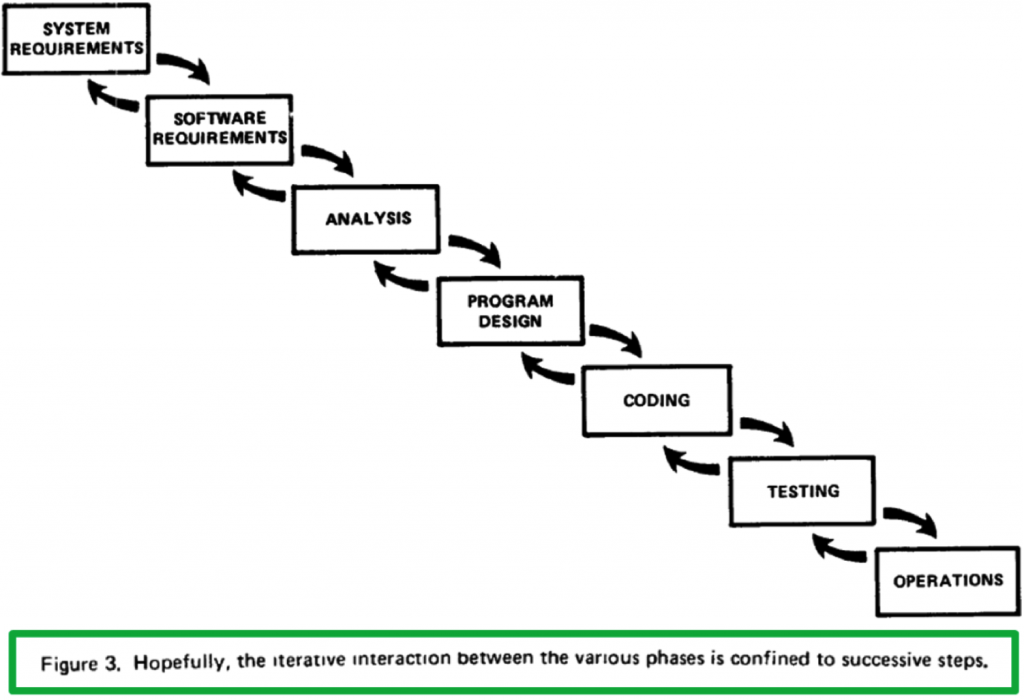 The important piece missing though is code and software craftsmanship. Traditional development methods are slow. We would write software in batches and then push to a test environment….eventually. Someone might write unit tests if they felt like going the extra mile. Testers were mostly separated from the development process and had their own special slow way of handing their job. The software craftsmanship people took a look at this and said "this is dumb, we have to change" They focused on changing how they work with technology by introducing collaborative methods like XP, making TDD popular, and creating fast build and deploy tools.
The bad agile projects I have worked on still deliver software in batches, just in two weeks instead of 6 months. They still have phases for development, testing, and so on. And they still struggle to get the right software to market, on time. Despite all of that, they can check all of the "we're agile" boxes for process and method.
The software craftsmanship people are successful regardless of what process tools they are given, because they are defining their own process.
Agile is still shaped like a waterfall because, at some point code still has to be written. Jamming a new process on top of archaic ways of developing new software doesn't change anything. The DevOps and Continuous Delivery people are winning right now because they are willing to actually change how they work. Popular agile tools and coaches seem to be holding software development in the past.