Oct 26 2015 9:40AM GMT

Profile: Justin Rohrman
Tags:
I do a lot of writing and have gotten to the point where I am passable, not terrible, but not outstanding. I enjoy writing, it gives time to be quiet and deliberate and think about a topic till the moment I'm ready to say something. Public speaking on the other hand, I am a complete novice at that. I have done 3 major conferences and a local meetup here and there.
One of those I completely bombed. It's ok, I'm glad that is out of the way now. The other two were not bad. At this point, I know how to prepare for a talk and how to put together a slide deck that doesn't suck. Preparation helps, but a talk isn't preparation, it is a performance.
My aspirations aren't in talking at conferences all over the world, but I do want to get more comfortable, and just plain better. Feedback is the next step, the next thing that will help me to do a better talk and performance on the next time around.
Some conferences give attendees a feedback form for each talk they go to. Theform has themes like — I can apply what I learned to my job, the session was what I thought it would be, and the speaker displayed strong knowledge of the subject matter. For each of these, there is a range from strongly agree, to strongly disagree. The attendee selects an option from 1 to 5 to explain how much they agree or disagree. Below this is a comments section where you can write in things that fall outside of the rubric. The comments section is usually pretty small.
This form is  like a performance review. You may have asked for feedback throughout the year, but this is the review that matters. This is also the review that determines your future in the organization.
My problem with this feedback is that it is not useful for anyone.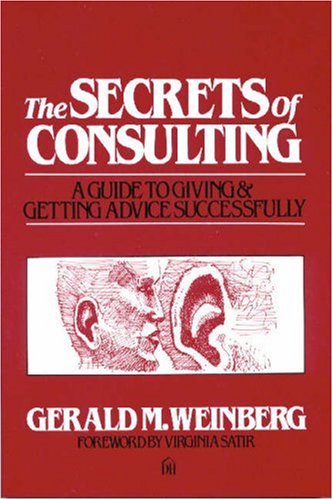 Attendees give feedback that is shaded by their own expectations and biases. An attendee that stays out too late drinking, doesn't eat breakfast and then comes to my talk distracted, might not get much out of it. The result, being a bad review. Someone that picked a talk that wasn't exactly what the imagined, can give a bad review for not getting what they wanted. None of this is a reflection on the comment or the speaker.
If you ever attend a conference where these forms are handed out, I have one request. Ignore the business of circling numbers and just use the comments section. You can actually say what you mean there and explain why you feel the way you do without subjecting the speaker to an overly simple grading system.
Jerry Weinberg uses the phrase 'You can't inflict help' in his book The Secrets of Consulting. I think that applies here.
I have a new strategy now that I'll be using the next time I do a conference talk.
First of all, I'll just completely ignore the attendee feedback forms. They might be helpful for conference planners, but they don't help the speaker. The real plan, the important part, is to invite someone I know and trust to join the session and talk with me after it is done. Ideally someone that has done, and been to, quite a few conference talks. Instead of giving structured feedback on a spectrum, we can just talk about what went well, what didn't, and experiments I can think about for the next time.
This has all been focused on conference talks so far, but I actually used this tactic when I was employed full time also. Most jobs I had used a yearly review process where my manager would walk through a rubric and tell me how I had done over the year. The feedback might help my managers to their administrative duties, but it didn't (usually) help me.
By inviting feedback through out the year from people I knew and trust, I was able to fix what wasn't working and keep up the good parts before review time.