---
November 30, 2017 10:37 AM
I am in a local Slack channel for software developers. There are individual threads for everything you can imagine all the way through mechanical keyboard enthusiasts. I tend to follow the quality assurance thread, and the jobs thread to stay on the lookout for work in my area. Nearly every job...
November 28, 2017 11:54 AM
Programming
,
Software testing
https://www.youtube.com/watch?v=q6dFxYIpUPM The argument of generalist or specialist, or "jack of all trades and master of one" (or some) has been going on in software testing long before I arrived, and may still be here after I am gone. Today I'll try to find some deep answers about trade offs...
---
November 22, 2017 1:53 PM
Burnout
,
overtime
,
Vacation
Tomorrow is Thanksgiving in the US. Many people take off Thursday and Friday to have a day with family and then a day of vacation leading into the weekend. This got me thinking about the hours many technical workers put in throughout the year. It's always more obvious to me in the winter. People...
---
November 17, 2017 8:54 AM
Development
,
Software testing
DHH (aka David Heinemeier Hansson, the creator of Ruby on Rails) wrote a blog post in the last week about the value of human exploratory testing. Usage of tools to make software development more sustainable...
---
November 7, 2017 4:49 PM
Lean
,
Testing
,
Unit testing
,
waste
Software development fads come and go every few years, and each time a new trend comes in something is demonized as waste. This time around, it is unit tests. I was recently pointed toward a summary article explaining why most unit testing is waste. This text mentioned the common reasons for not...
---
November 6, 2017 2:21 PM
Project planning
,
requirements
,
Software
,
templates
,
Writing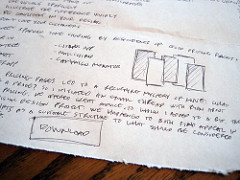 When people...
---