Jan 18 2013 2:16PM GMT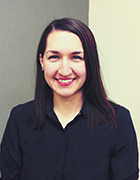 Profile: Laura Aberle
Steve Bigelow's fun introduction to this month's Modern Infrastructure cover story on "The Data Center of the Future" got me thinking about my love of science fiction. For me, the appeal isn't just the advanced, improbable technology—it's the characters who interact with it. Let's face it: If we don't engage with the characters' motivations, we don't care much about the outcome, no matter how many sentient androids, alien spacecraft or lightsaber duels a story may throw at us. And as companies build the data centers and IT teams of tomorrow, the same should hold true—understanding the people involved can be just as important as understanding the technology.
Bob Plankers gets it right in "Six Questions Your CIO Will Ask About the Cloud," where he outlines the best ways to communicate at the C-level about potentially daunting developments like building a private cloud or moving applications to the public cloud. Without some level of communication and cooperation, these major changes to infrastructure can't move forward smoothly. So if you're worried about being blindsided by questions from on high, gain a little insight into the mind of your CIO and walk into your next conversation armed with the right answers.
Read the entire issue of Modern Infrastructure (free registration required).