---
February 18, 2013 2:09 PM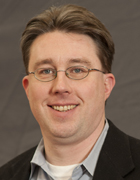 Profile: TTphil
When it comes to great crime thrillers set in colocation facilities, it's tough to find one better than Michael Connelly's "The Scarecrow." It's also difficult to find one that's worse, mostly because no other books come...
February 1, 2013 5:02 PM

Profile: Eugene Demaitre
Data centers have been using 10 Gigabit Ethernet for years, but momentum is building toward 40 GbE. Who doesn't want wider pipes for data and faster connections? Well, you'd be right to be worried about dealing...
---